Tell us a little bit about your background, and how you ended up where you are today.
I am 28. I went to music school right out of high school. I went to conservatory, so I did my undergrad at Peabody, and then I moved here [San Francisco] to go to the conservatory to study with Luis Baez and I was totally on the orchestra audition track—I'm a clarinet player—so up through the middle of, I guess, the end of grad school, I was totally orchestra audition centric. I started playing bass clarinet when I moved out here, so I started taking those auditions and doing that. In graduate school I did an internship with New Century Chamber Orchestra in PR and I ended up really liking it… and then while I was in school I founded my chamber music group (Nonsemble 6) with some other kids in my class and I started working with Minna (Choi) at Magik*Magik. When I graduated I got hired at the San Francisco Symphony in their PR department, so I worked there for two and a half seasons.
What are your current projects?
My chamber music group is still together, we do memorized performances of Pierrot Lunaire, which is how we got into what we do, which is staged theatrical chamber music. We have a singer and it's all story based, which is fun. We're usually stage directed so we memorize our music so we can walk around on stage. That's my chamber music group, and then Magik*Magik is an orchestra for artists and creatives to use as a platform or a tool to apply to their projects. Our mission is to attract new listeners and participants to the orchestral experience. So for them I check my title as the managing director, so I do a lot of the contracting and scheduling and communicating with outside parties. I also do the children's stuff for them so any time we do a kids event I program it and think of the activity we're going to do and how to do it with a group of kids. Then, from working at the symphony I learned how to do publicity so I do a lot of freelance work. I do a lot of publicity for young chamber groups around the area.
Who are your 2-3 most important influences?
My clarinet teacher Luis Baez and my bass clarinet teacher Jerry Simas, who are both in the symphony, were both pretty important influences for me. Especially in my lessons with Luis, we talked a lot about being a complete musician and being a happy performer, because music is a hard business so you may as well be happy with what you're doing. There's also this lady named Nan Keeton who used to work for the San Francisco Symphony and now she's deputy director at SFMOMA. She was really great to work under at the symphony, and she's a great role model, because she's a woman, and everyone loves her, and she's so great at her job. I'm also really inspired by all the community members here, especially centered at a place like the Center for New Music, just because there's so many things happening right now and everybody's very driven and ambitious.
Magik*Magik Orchestra does their own composing and arranging. What is that process like?
Our main thing is recording sessions with rock bands. The thing we wanted to do was to be the transition point between indie rock musicians, who may not read or notate music, and classically trained musicians like me who are not necessarily going to be comfortable if somebody's like, "Hey Annie, do you want to come just like improvise on my record?" Magik*Magik is sort of the transition point between those two parties. Usually a band who doesn't really speak the classical music language will come to us and say, "I want to add a string quartet on my record." Minna listens to their music, and talks with them about instrumentation ideas and sonic landscape ideas: Do they want it to be really busy, do they want it to be really lush, do they want it to be sparse and dreamy? Then she'll write an arrangement, usually in Pro Tools, and she'll do a mock up for them and send it to them. They'll send it back with comments, and they'll go back and forth until everyone's happy. So it's an original arrangement by Minna but it's also specifically designed to fit into the vision of the band. Then we'll print out sheet music and hire the players for the session. Minna has gotten really good at communicating with the players in the classical music language, but also knows how to be in a studio and communicate with the band in pop music language. She's kind of the translator on the day of the session. We record on top of a finished song, and then they mix it, they master it, and we're on the record. That's how it worked with Death Cab. This was on the Codes and Keys album? Yes. Was Magik*Magik on the tour with Death Cab for Cutie? For the tour, the eight person string section was Magik*Magik.
What's it like working with pop artists such as Death Cab for Cutie and The Dodos?
Usually at our sessions I'm sitting in the booth with our artists and listening to them react to hearing a string quartet played over a chop of their music, probably for the first time ever. It's so inspiring and amazing to watch because they've never seen that before and they didn't think that they would have that. Their eyes get really big and they can't believe it's happening and everyone is really happy. Also it's great to see classical musicians play on that kind of music because they're also really happy and it's a really positive environment. So it's inspiring to have that kind of positive environment around music making. We always need more of that.
 Minna Choi: Working with artists like Death Cab and the Dodos is my comfort zone. I absolutely adore it. I find that with pop musicians there is a really high amount of gratitude, openness and wonder when it comes to orchestral sounds and additions to their music. I grew up arranging pop music for fun, taking songs off the radio and arranging them for piano or for my friends to sing an A Capella arrangement at school. To be working with some of the artists I heard on the radio is an absolute thrill and honor.
 What's one project of yours that you are particularly excited about right now?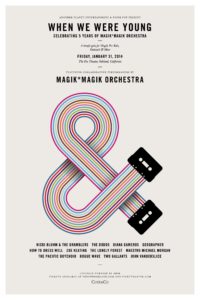 Well in the Magik world the big thing for us is this big event we're doing on January 31st. It's our five year anniversary and we're looking to expand ourselves into a San Francisco arts institution by adding an education department, so this performance is a fundraiser to start that. We've talked about doing this concert basically every year, and then this year we had decided this was our year, let's do it. We got Another Planet and Noise Pop to present for us, so we get to have it at the Fox in Oakland. We'll have ten bands playing with us, doing three songs each, and the concert is themed 'When We Were Young.' We had all of our artists pick a song that was one of their favorites from when they were growing up. So everyone is going to do a cover and a couple originals, with a thirty person orchestra. It's definitely a little bit of a flying-by-the-seat-of-our-pants experience, but its gonna be fun.
In addition, Minna and I are going to be teaching a new class at the conservatory this semester called 'Musical Startups' which is basically going to be our first couple years out of school condensed into a crash course in music business. Now, kids coming out of the conservatory who have a project idea, whether that be an ensemble or a concert series or a foundation or a music festival, will know how to get it off the ground and the best practices for getting something like that started.
I also work for the Switchboard Music Festival, which is an eight-hour new music marathon that happens every Spring, usually in April. This year we decided to expand our concert offerings, so instead of doing one festival every year we're also doing a monthly concert series. The series will actually be here [The Center for New Music, beginning February 21], and I got to have a lot of creative input in programming it so it's the Living Earth Show, the Mobius Trio, Nonsemble 6, George Hurd Ensemble, Areon Flutes, a lot of groups playing split bills. I had this idea to do a repeated concert on the third Friday of every month, and it would be all these groups from this certain kind of 'Switchboardian' community.
What's one project/act/event in the Bay Area (or at C4NM) that you are particularly excited about right now?
Probably the Switchboard Festival. I don't know if that's a fair answer because I work for them, is that too biased? I'm really excited about Switchboard, it's gonna be a good year for us, I think. Kronos is headlining the festival this year – David Harrington's been on our artistic board for a couple years now, and the rest of the artists are really good. I got to pull together a group to play a piece called the Deerhoof Chamber Varitions by Greg Saunier, who is in the band Deerhoof. Ensemble Dal Niente premiered the piece and I put together a group of new music aficionados and my friend Brian Dowdy is coming back into town to conduct us so that will be really fun.
 How has C4NM helped you as an artist working in the Bay Area OR what do you see as the potential impact that C4NM will have on you?
I think the Center for New Music is great because it's kind of like where… Did you ever hear about when Steve Jobs worked for Pixar? This is going to sound a little weird, but it'll all come together in the end. He put the bathrooms in the building in one place so everyone in all the different departments had to go to the bathroom in one place. So they all intermingled in the bathrooms, everyone from animation and music would cross paths and they'd throw ideas around. I think the thing that's great about the Center is that it's a location that you can point and say, "That is the place where all these different people from these different communities go." You can consistently go to a concert and you know that it will be interesting and there will probably be someone you know there and there will be all these other people, from all different groups. I feel like every time I'm here I meet someone and say, "Oh, I've heard your name 15 million times but I've never met you in person." I'd never met clarinet player Bill Kalinkos before, and I met him here because he was playing a concert with my friend Jeff Anderle and David Wegehaupt. Every time I come here I see all these people I know and meet all these new people and I think that's such a valuable thing, to have people crossing paths. It's really inspiring to be a central member.