Calendar
Past Exhibits
The Window Gallery presents the work of contemporary makers of unusual and newly invented musical instruments, including emerging artists as well as recognized pioneers. The emphasis is on originality in concept and design, recognizing the seminal role of the search for new sounds in the expansion of musical horizons. Equally essential to the exhibits are notions of beauty, craft, and humor.
The Window Gallery is curated by Bart Hopkin, David Samas, and Kirk Pearson. Located at 55 Taylor Street in San Francisco, the gallery is open to the public Monday through Friday, 9 am – 5 pm, and during performances.
Email the Gallery Manager for information, questions, comments or to propose an installation.
Support the Window Gallery's one-of-a-kind exhibits by making a contribution to the cause:
---
ATRIUM DISPLAY: THE EVOLUTION OF SKATCH
Sat, Sep 3 — Sun, Oct 30, 2022
Tom Nunn, the Evolution of Scatch
Sept 3- October 30.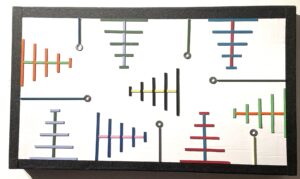 Tom Nunn designed, built, and performed with original musical instruments from 1976 to 2022. His instruments use commonly available materials, are sculptural in appearance, utilize contact microphones for amplification, and were designed specifically for improvisation with elements of ambiguity, unpredictability, and nonlinearity. Bearing little or no resemblance to conventional instruments, Nunn's constructed instruments are free of the hierarchy that separates non-musician or amateur from virtuosi; there was no history of technique or correct way to play these instruments. Considered in the social context of the collaborative groups in which they evolved, Nunn's instruments can be seen to embody idealized concepts of social, political, and spiritual activism. Nunn's instruments can also be seen as a form of composition; a compositional framework or a system with which the performer/composer interacts in real time. Nunn's catalog of instruments are the result of a lengthy period of refinement of instrument designs that began as a freely improvised process of experimentation and discovery.
Join us for Remembering Tom Nunn on October 8 to celebrate the life and work of the featured artist
---
The Harmonic Series Gamelan
Mon, Sep 5 — Mon, Oct 31, 2022
The Harmonic Series Gamelan is a special project of Pet the Tiger Instrument Inventors Collective, directed by David Samas. Inspired by a Harrison/Colvig instrument which was used for constructing just tunings, the HSG is a collection of over 30 instruments created by 17 inventors, all tuned to the Schumann Cavity Resonance as a fundamental. The ensemble performs songs and incidental music including exotic textures, whimsical pairings and tightly composed harmonic music.
This exhibition includes works by Bart Hopkin, Stephen Parris, Daniel Schmidt, Peter Whitehead, Bill Wesley, Sasha Leitman, Brenda Hutchinson, Ian Saxton, Krys Bobrowski, Sudhu Tewari, David Samas, Joshua Reff, and Randy Masters.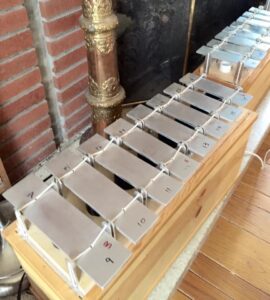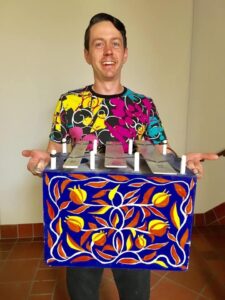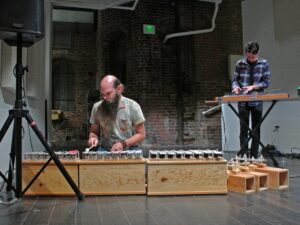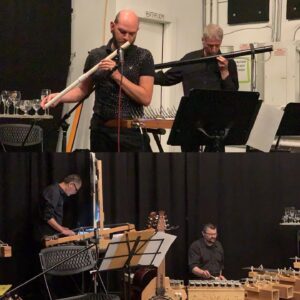 ---