Calendar
Past Exhibits
The Window Gallery presents the work of contemporary makers of unusual and newly invented musical instruments, including emerging artists as well as recognized pioneers. The emphasis is on originality in concept and design, recognizing the seminal role of the search for new sounds in the expansion of musical horizons. Equally essential to the exhibits are notions of beauty, craft, and humor.
The Window Gallery is curated by Bart Hopkin, David Samas, and Kirk Pearson. Located at 55 Taylor Street in San Francisco, the gallery is open to the public Monday through Friday, 9 am – 5 pm, and during performances.
Email the Gallery Manager for information, questions, comments or to propose an installation.
Support the Window Gallery's one-of-a-kind exhibits by making a contribution to the cause:
---
UPCOMING EXHIBIT: Moldover's HappenCraft Creations
Fri, Sep 1 — Tue, Oct 31, 2023
We're pleased to welcome Moldover to the Window Gallery for September and October! Be sure to join us for Moldover's Gallery Reception on September 7th at 6pm! RSVP for this FREE event on Eventbrite:
https://www.eventbrite.com/e/window-gallery-reception-for-moldover-happencraft-creations-tickets-676326128657?aff=oddtdtcreator
Artist Statement:
I love music and technology. Marrying them together in new ways, while preserving traditional artistic values, is the central theme of my work. In particular, live music making features a combination of immediacy and transpersonal human connection that has drawn me to musical instrument creation. It is moments of unique joy, which occur when exploring a newly born instrument, that inspire what I call HappenCraft.
I am honored and excited by this opportunity to present a variety of my physical instruments, encompassing three distinct categories: performance instruments, playable packaging, and jamboxes. Although less visible, the software component of these instruments is vital to their design and is represented in a limited fashion here with screenshots. Also on display are photos of various kinds of instruments I was commissioned to produce. This exhibit gives visitors a window into the evolution of my designs, how they have intersected over time, and what innovations make them noteworthy.
Performance instruments
These instruments have evolved in correlation with the needs of my solo performances. They are either augmentations of my preferred conventional instruments (guitar and microphone) or are novel creations for the playback and manipulation of pre-recorded sounds (i.e. The Mojo). Original songs are my favorite compositional conduits between personal experiences and an audience. Similarly, these bespoke instruments create distinctive conduits between my favored physical gestures and sonic expressions. They give me a direct and tactile relationship with sound, facilitating the development of muscle memory, virtuosity, and a transparent relationship between movement and music that benefits both myself as performer, and my audience. The ergonomic configuration of these instruments encourages intuitive play.  As my agility with them develops, I can improvise new gesture-combinations that exponentially broaden the sonic palette. Additional practicalities (durability, portability, repairability, modularity) all factor into the designs as well.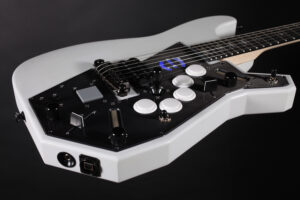 Playable packaging
At a time when many musicians struggled against the tide of online streaming platforms and declining album sales, I supported my career as a touring artist by selling an abundance of albums in playable packages. These packages function both as pocket-sized instruments and as containers for a piece of established music media, such as a CD or USB drive. What began as a novel method for injecting interactivity into a conventional CD case, blossomed into a multifaceted art form as I learned how to design printed circuit boards. I discovered that this utilitarian platform for assembling electronics could, simultaneously, be a medium for visual art, puzzles, and DIY education, while also functioning as a remarkable medium for my recorded music. I hope that fans enjoy investigating the intricate details embedded in these artifacts as much as I enjoyed designing them.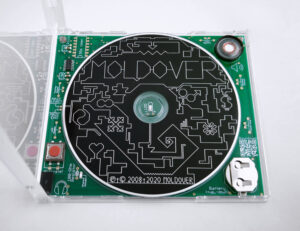 Jamboxes
These are multiplayer, electronic, musical instruments. My jambox designs have grown out of a love for interactive art, musical collaboration, and the unique joy that comes with facilitating the creativity of others. This unusual, under-explored, category of instrument presents several fascinating challenges. What sorts of interfaces will attract players, help them learn quickly, and encourage both experimentation and collaboration? How are ensemble roles (melody, harmony, percussion, etc.) divided, distributed, and connected? What kinds of sound-palettes will inspire individuals' self expression while also cultivating collective moods and emotions? What is an effective balance of practical concerns including cabinetry, visual feedback mechanisms, multichannel sound-system configurations, size, and cost? Although these are some of the more complex devices I construct, and searching for these answers often happens over long spans of time, the seductive excitement that jamboxes generate keeps them in heavy rotation among my projects.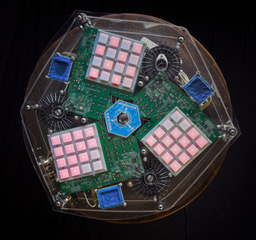 Commissions
Over the years, I have developed a rare combination of performer's wisdom and technical design skills. I've enjoyed mastering new techniques to bridge practical limitations and artistic visions. My interest and confidence with larger collaborations has grown; therefore, I now accept offers to create instruments as contracted work. I find great satisfaction in realizing shared goals for new instruments and in seeing other artists wield them in ways I never imagined.
Artist Bio:
Moldover is an American musician, artist, and inventor of musical instruments. He is best known for coining the term controllerism, encapsulating this set of rapidly expanding artistic practices and evangelizing it for a new generation. The principles of innovation, empowerment, and authenticity engendered by controllerist methods pervade his diverse body of work which includes live performances, eclectic compositions, and the creation of totally new kinds of electronic instruments.
As a performer, Moldover has appeared at international music festivals such as Sonar, Mutek, and Coachella, and is a frequent guest speaker at schools including NYU, Stanford, and MIT.  He has collaborated with renowned artists DJ Shadow, Mickey Hart, and Will-i-am, and developed new designs with leading music tech companies such as Ableton, Yaeltex, and Native Instruments.  His unique, self-released playable packaging albums merge traditional music media with miniature electronic instruments, garnering both critical acclaim and commercial success. His multiplayer instruments (jamboxes) are featured at clubs, conferences, and festivals, as well as being installed at museum exhibits across North America including Meow Wolf's Omega Mart in Las Vegas, The Museum of Making Music in Carlsbad, and The Tech Interactive Museum in San Jose.
As a pioneer, educator, and proponent of all things creative, Moldover is deeply committed to sharing inspiration and bridging the gap between traditional musicianship and modern music culture.  More information about his work can be found at moldover.com.
---