Gallery
The Window Gallery presents the work of contemporary makers of unusual and newly invented musical instruments, including emerging artists as well as recognized pioneers. The emphasis is on originality in concept and design, recognizing the seminal role of the search for new sounds in the expansion of musical horizons. Equally essential to the exhibits are notions of beauty, craft, and humor.
The Window Gallery is curated by Bart Hopkin and David Samas. Located at 55 Taylor Street in San Francisco, the gallery is open to the public Monday through Friday, 9 am – 5 pm, and during performances.
Email the Gallery Manager for information, questions, comments or to propose an installation.
Support the Window Gallery's one-of-a-kind exhibits by making a contribution to the cause:
---
Composing [De]Composition by J no.e Parker
Tue, Mar 3 — Mon, Apr 27, 2020

Artist Statement
Composing [De]Composition is a sonically-oriented BioArt research project that uses home compost as a rich site for creative exploration and sonic expression. This perceivably silent physical/biochemical activity is brought into the tangible range of human hearing via data sonification—the use of non-speech audio to convey information or perceptualize data. In this work, J no.e Parker parameter maps home compost temperature datasets collected by her in various parts of the world to sonic frequency and MIDI note numbers. This allows the changes in the compost's heat over time to be the source of a range of sonic experiences.
About the Artist
A doctor of Digital Music Composition, Parker is a pioneer female Dj and live electronic musician, co-founding the San Francisco Bay Area's SPaZ electronic music collective (1992), and the  Autonomous Mutant Festival (1996), publishing her music and mixes as saKAna, Dj sunflowrfish, and as part of the electronic music duos GrooveStation, Psychotropic Playground, Planet Six and Actsyllabod.
Parker earned her B.S. in Textiles and Apparel Design from Cornell University, and an M.F.A. in Digital Art/New Media at University of California, Santa Cruz. While at UCSC, no.e developed Gamelan Plesetan, a live non-idiomatic improvisation project incorporating live electronic musicians, traditionally-trained gamelan musicians, motion capture video, and gamelan-controlled video programmed with Max/MSP/Jitter.
Parker received a Darmasiswa grant from the Indonesian Government to study Javanese/Balinese gamelan and Sundanese drumming at the Indonesian National Conservatory of Art in Yogyakarta, Java. no.e's work has been exhibited, presented, performed and screened at the Qianyang Bamboo Museum (Fujian, China), the National Museum of Brazil, the National Library of Latvia, University of California Riverside's Culver Arts Center, the DNA Lounge (San Francisco, USA), Bledog Art Space (Ubud, Bali) and the San Jose Institute for Contemporary Art (USA).
no.e has participated in art, video and sound festivals such as Soundgate: Sound Art Festival (Danish Museum of Modern Art, Alaborg, DN), the Surabaya Biennale Video Festival (Java, IND), Yogyakarta International Media Art Festival (Java, IND), Ubud Earth Day Festival (Bali, IND), and the Ubud Readers & Writers Festival (Bali, IND).
Parker has also received commissions to create and perform live electronic music for performance artists Beth Stephens and Annie Sprinkle's Love Art Lab, as well as choreographers Crystal Sepulveda (Riverside, CA), Wendy Rogers (Berkeley, CA), Zubin Mohamad (Kuala Lumpur, Malaysia), and Rehane Abrahams (Capetown, South Africa). Other commissions include visual and sound environments for Theater Firefly (Bali, IND), and sculptor Keiji Ujiie  (Japan/Bali). See her dance related page for further information and soundbites.
---
Atrium Display; Musicians Make: Food
Wed, Apr 1 — Fri, May 1, 2020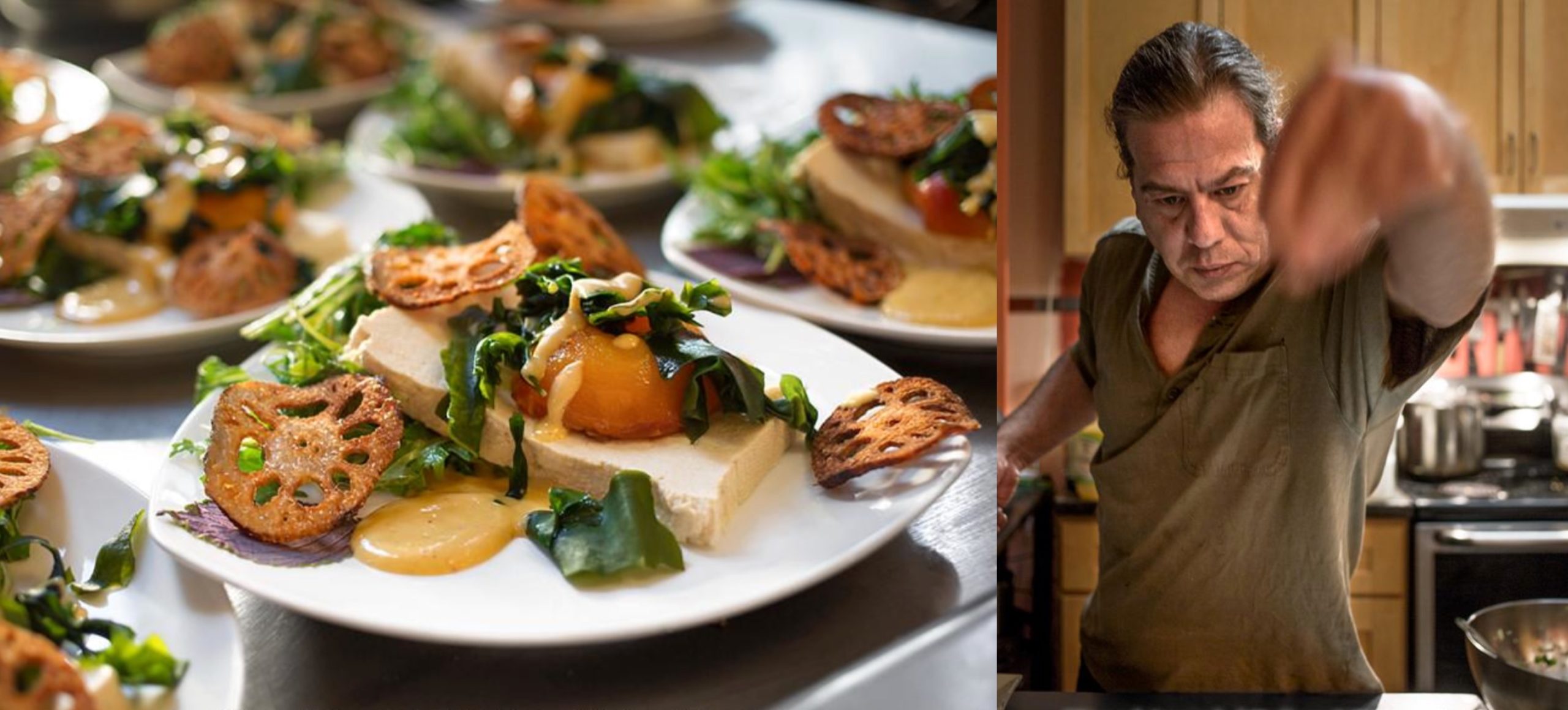 Curator Statement
Polymaths are often musicians and the talents and proclivities that make for great musicians quite often make for brilliant artists, engineers, mathematicians, activists, chefs, philosophers, poets, painters, cosmologists and gardeners. Society seeks to flatten these geniuses and too often these gifts are considered tangential rather than being celebrated as the facets on a single, complex jewel.
In this series of exhibitions curated by David Samas, we explore non-musical works of artistic and cultural value created by members of the community primarily known for their music. This latest exhibition, Musicians Make: Food features musician/chef Philip Gelb, and food photographer Hannah Kaminsky.
About the Artists
As a musician, Philip Gelb was a shakuhachi player, known for his work with new music and free improvisation. Due to dental issues and a lack of access to dental care, his flute playing career came to an unexpected end and thus started focusing on being a vegan chef. Now known for making everything fresh and from the finest ingredients, running a catering business and hosting an underground restaurant series in his loft in West Oakland. For over 14 years, his loft has been the site of gourmet meals combined with concerts by world-renowned musicians. Over 150 musicians from 18 countries have now performed on the series. He has published 2 books, "Notes from an Underground Restaurant: Improvisations Through Music and Food" and "Vegan Underground".
Imaginative, dedicated, and passionate about all projects big and small, Hannah Kaminsky's focus on food has brought sumptuous feasts into the homes of viewers across the globe. Breathing life into still images through vivid colors and sharp details, the end result always looks good enough to eat. Viewers can't help but become drawn into the luscious, bold compositions, and invariably walk away hungry; the benchmark for a successful day's work.
Hannah Kaminsky has developed an international following for her delicious recipes and mouthwatering food photography at the award-winning blog BitterSweetBlog.com. She is the author of Vegan à la Mode, Easy as Vegan Pie Sweet Vegan Treats, and many more cookbooks. Inspired by a flavor-first approach to creating new dishes while using and simple techniques, she works in Oakland developing recipes and capturing food imagery from morning to night.
---