Gallery
The Window Gallery presents the work of contemporary makers of unusual and newly invented musical instruments, including emerging artists as well as recognized pioneers. The emphasis is on originality in concept and design, recognizing the seminal role of the search for new sounds in the expansion of musical horizons. Equally essential to the exhibits are notions of beauty, craft, and humor.
The Window Gallery is curated by Bart Hopkin and David Samas. Located at 55 Taylor Street in San Francisco, the gallery is open to the public Monday through Friday, 9 am – 5 pm, and during performances.
Email the Gallery Manager for information, questions, comments or to propose an installation.
Support the Window Gallery's one-of-a-kind exhibits by making a contribution to the cause:
---
Hacked Found Repurposed V3
Mon, Feb 3 — Fri, Feb 28, 2020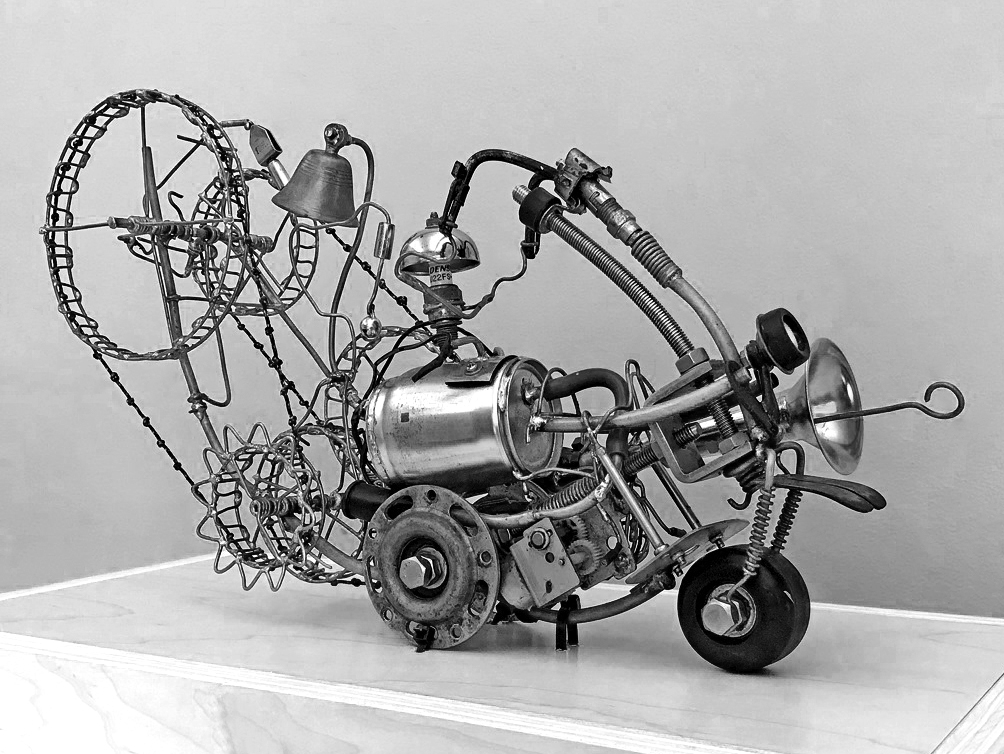 Artist Statement
Hacked-Found-Repurposed Vol. 3 is an exhibition of small-scale upcycled sound art pieces and invented instruments curated by instrument inventors Bryan Day and Kirk Pearson. The pieces on display highlight an ad-hoc approach to instrument design, using found objects to create both utilitarian and conceptual sound-art objects.
Artist Bios
Bryan Day started designing and building musical instruments in rural Iowa in the mid-1990s. Bryan has toured and has taught sound-invention workshops throughout the US, Southeast Asia, and across Europe and runs the experimental music record label Public Eyesore. He spends his days designing, building and fixing exhibits at the Exploratorium and Children's Creativity Museum in San Francisco.
Kirk Pearson is the founder of Dogbotic, a Berkeley-based creative audio lab where creative-driven inquiry meets inquiry-driven creativity. A graduate of Oberlin Conservatory, Kirk has written music, built installations, and designed experiences for the New Museum, the American Museum of Natural History, Museum für Kommunikation Bern, and for hundreds of films, stage productions, and new media projects. In 2017, Kirk was awarded a Thomas J. Watson Fellowship, through which they spent a year traveling the world composing works for experimental instruments.
---
Clamorworks by Bryan Day
Tue, Jan 7 — Fri, Feb 28, 2020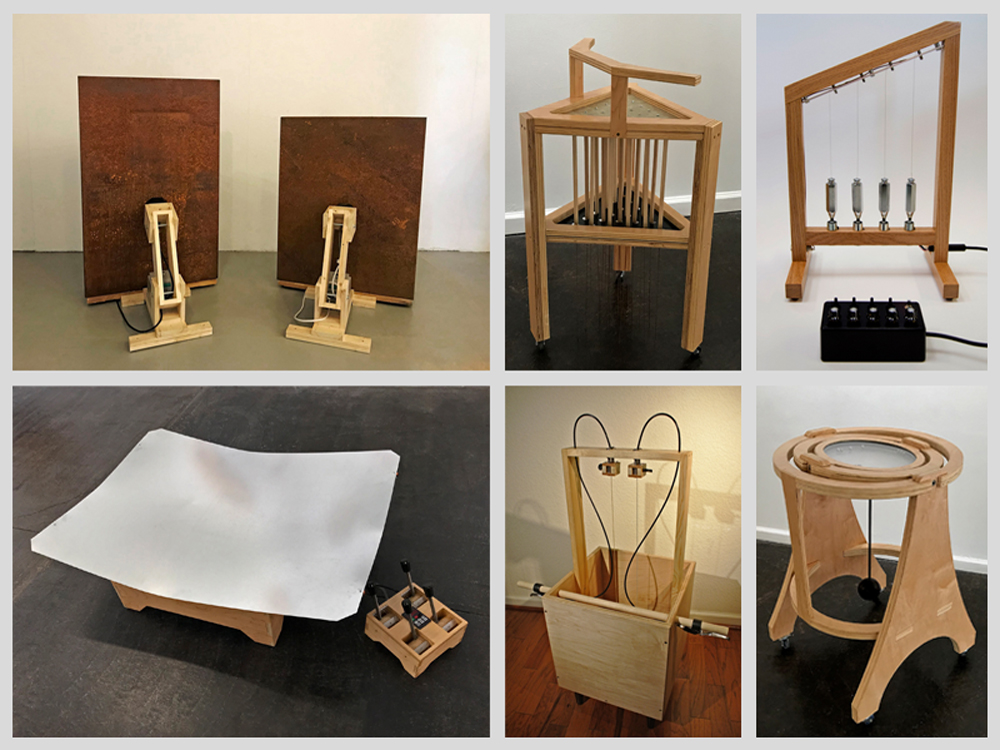 Artist Statement
With 'Clamorworks', I'll be displaying a collection of amplified, acoustic and electromechanical pieces developed after I moved from the Midwest to California in 2012. Many of these pieces explore new methods of instrument performance, such as utilizing repetitive whole-body movements or mirroring everyday actions such as cooking or exercising. My objective is to explore methods of incorporating sound and performance into typically non-musical activities, blurring the lines between commonplace activities and personal expression. I also like making a mess with whatever is available.
Artist Bio
Bryan Day is a sonic adventurer, painter, and inventor of curious things based in the East Bay. Using scavenged electronics, repurposed mechanical components, and amplified materials that you might find in your garage or your great uncle's office, he re-imagines them into constructivist sound sculptures. Day has performed, taught workshops, and built sound installations across Europe, Asia, and the Americas. He spends his days designing, building and fixing exhibits at the Exploratorium and Children's Creativity Museum in San Francisco.
---