Calendar
Past Exhibits
The Window Gallery presents the work of contemporary makers of unusual and newly invented musical instruments, including emerging artists as well as recognized pioneers. The emphasis is on originality in concept and design, recognizing the seminal role of the search for new sounds in the expansion of musical horizons. Equally essential to the exhibits are notions of beauty, craft, and humor.
The Window Gallery is curated by Bart Hopkin, David Samas, and Kirk Pearson. Located at 55 Taylor Street in San Francisco, the gallery is open to the public Monday through Friday, 9 am – 5 pm, and during performances.
Email the Gallery Manager for information, questions, comments or to propose an installation.
Support the Window Gallery's one-of-a-kind exhibits by making a contribution to the cause:
---
Tonal Relativity: Studies by Alyce Santoro
Mon, Mar 1 — Fri, Apr 30, 2021
Alyce Santoro will be discussing her work with David Samas on 4/8 at 5pm on YouTube Live.
The gallery will be open on 3/28 and 4/11 from 11am until 2pm. Reservations are required. Showings will be 20 minutes and only for small groups and individuals. Please contact annemarie@centerfornewmusic.com for information and booking.
About Tonal Relativity: Studies
The Tonal Relativity Studies are diagrams of musical intervals and sets of intervallic patterns for the purposes of contemplation and exploration (sonic, visual, or otherwise). A musical scale employing twelve equally-spaced tones is represented by a spectrum of 12 equally-spaced colors (from this basic concept, patterns derived from scales consisting of any number of tones or intervals can be imagined).
The current edition of the project employs concentric circles at a scale of ½ inch = ½ step in both color and pitch; one octave therefore equals 6". The prints displayed at the Center for New Music began as sketches in gouache on paper, all completed during 2020.
Any color can be associated with any pitch; all colors/pitches remain relative. For the sake of consistency and legibility, a somewhat arbitrary choice was made to use red as a starting point for all graphics in this collection.
The Studies consist of three parts: Intervals, Modes/Scale Sets, and the Overtone Series.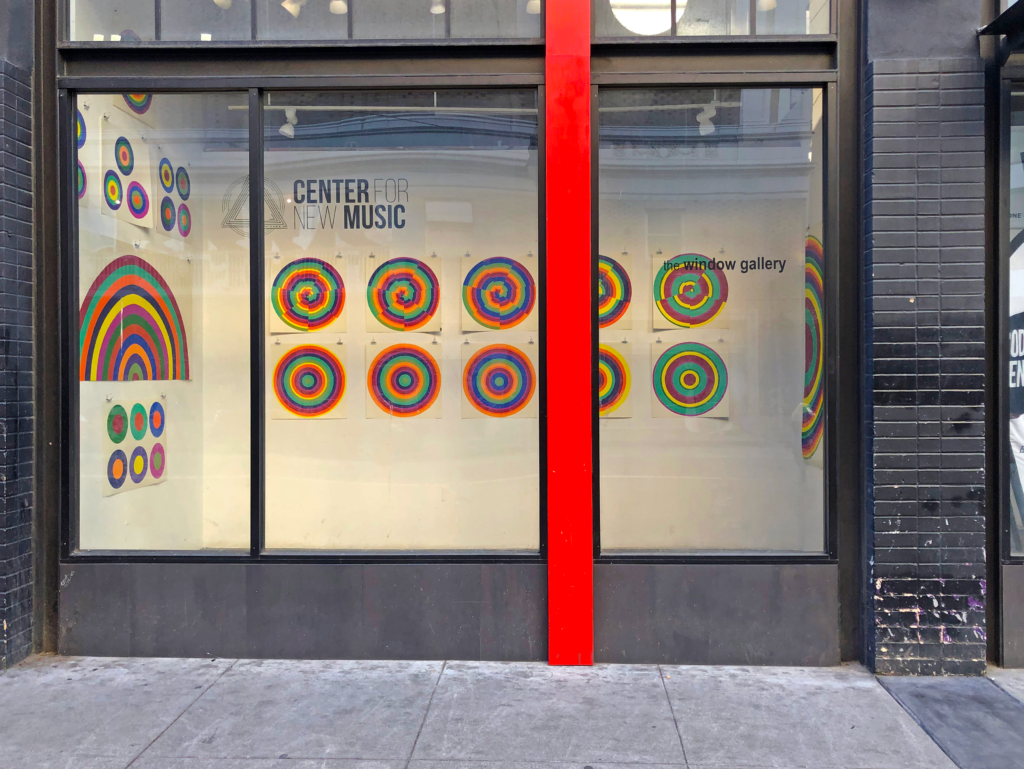 TONAL RELATIVITY – STUDIES
"I think music is an instrument. It can create the initial thought patterns that can change the thinking of the people." — John Coltrane, 1966 Interview with Frank Kofsky for KPFK Radio
An obvious yet fascinating feature of the human sensory system is that impressions evoked by color or sound shift according to context; the qualities of even a (seemingly) singular tone morph as pitches or hues are added. For many musicians, visual artists, and others, intentional focus on such basic relationships can serve as an entry into the appreciation of subtleties and the exploration of more intricate and complex interactions. Sensations, atmospheres, moods, and ideas can be communicated fluidly by those versed in the arts of tonal interactions.
The Tonal Relativity Studies offer a way of contemplating sound through color, and color through sound. They can be utilized by anyone interested in developing new pallets of possibility, sonic, visual, or otherwise.
Here a musical scale employing twelve equally-spaced tones is represented by a spectrum of 12 equally-spaced colors. For the sake of consistency and legibility, a somewhat arbitrary choice was made to use red as a starting point for all graphics in the current collection.
These diagrams are intended only as a starting point; patterns derived from scales consisting of any number of tones or intervals can be imagined using similar methods.
PART 1: INTERVALS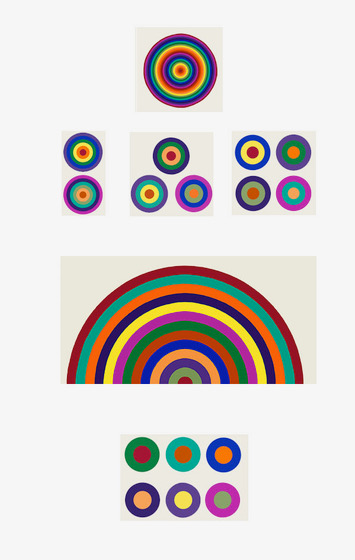 The interval series begins with a 2-octave chromatic scale—twelve rings consisting of all consecutive colors/tones repeated twice.
Next, a set of two diagrams each consisting of every other color on the spectrum represent, in musical terms, two possible sets of whole tone scales. In color theory, these would be considered a set of six primary colors, and a set of six corresponding secondary and tertiary colors.
A set of three diagrams each consisting of four colors one-and-a-half steps apart on the spectrum represent three sets of stacked minor thirds. In terms of color, these relationships are known as tetrads.
A set of four diagrams each consisting of three colors two steps apart on the spectrum represent four sets of stacked major thirds. In color theory, these relationships are known as triads.
A half-circle (depicted at the same scale as the other graphics, but as a half-circle due to size constraints) consists of twelve colors two-an-a-half steps apart on the spectrum. From center out, this chart represents fourths. From outer edge to center, it represents fifths. In terms of color, these relationships are considered split complementaries (directly opposite one another on the color wheel, offset by one).
The set of six diagrams consisting of two colors three whole steps apart represent tritones. In color theory, these colors—exactly opposite one another on a tertiary (12-hue) color wheel—are known as complementary.
PART 2: MODES/SCALE SETS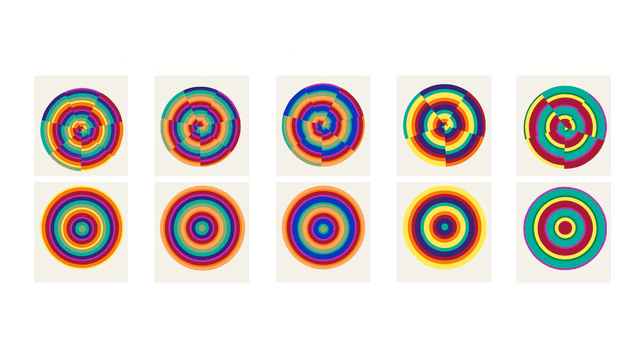 These sets of intervallic patterns can be imagined as three-dimensional, extending infinitely in all directions (as if each view is a slice of a ball-shaped object).
Each of the five images in the top row consists of complexes of intervallic patterns. Left to right, the first three are 7-note scales (Modes of the Major Scale, Modes of the Melodic Minor Scale, Modes of the Harmonic Minor Scale, respectively). The rightmost two are 5-note (pentatonic) scales.
Each of the five images in the bottom row depict an individual scale extracted from the complex above it.
PART 3: THE OVERTONE SERIES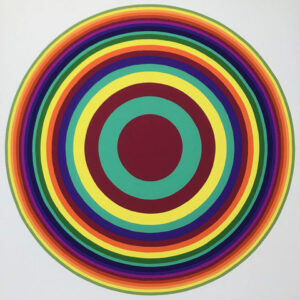 Most pitches emanating from a string or tube behave according to a physical phenomenon known as the Overtone Series. The oscillations of a primary tone in turn cause additional pitches to sound, resulting in a subtle cacophony contained within a seemly-singular tone. The order in which this subtle cacophony occurs in part forms the basis for musical scales around the world, and accounts for the variations in timbre of different voices and instruments.
In musical terms, the order is:
Prime, octave, fifth, octave, major third, fifth, minor seventh, octave, major second (or ninth), major third, tritone (sharp eleventh), fifth, minor sixth, minor seventh, major seventh, octave, minor second, major second, minor third, major third…and so on.
About Alyce Santoro
Informed by a background in biology, scientific illustration, and the environmental humanities, Alyce Santoro uses invented frameworks for experimentation, collage (sonic and visual), drawing, and writing to undo undue dualisms, explore new imaginaries, and otherwise remark on existence within an intricate ensemble.
Over the past 25 years, her multimedia works have appeared in over 50 exhibitions related to innovative textiles; experimental musical scores; sound and listening; social/environmental action; and the intersection of science and art.
Website: alycesantoro.com 
---
sounding flow by Doga Buse Cavdir
Mon, Mar 15 — Sat, May 15, 2021
This exhibit is experienced best with headphones.
Doga Cavdir discussed the work with Window Gallery curator Bart Hopkin on 3/18/21 YouTube Live.
Introduction
Doga Cavdir on sounding flow:

I design gestural interfaces and movement-based musical performances to create an intermediate medium between physical interfaces and the musician's body. My work explores the correspondences between music and the movements involved in sound creation. I employ cross-disciplinary gestures and expressive body movements, borrowed from dance, theatre, and sign language, into music.
I am interested in the transformation of communication and expression carried in one gestural domain to a musical one. As a designer, I create embodied and immersive systems that encourage musicians to extend their relationship with their body movement as a mean of compositional tools. These new musical interfaces inspire a natural flow of kinesthetic expression that would be left unnoticed otherwise. I hope my work offers new and inclusive ways of creating music that could bridge across domains and diverse abilities.
about sounding flow
The exhibit, sounding flow, is a series of sonic exploration of how we observe movement in music, from acoustic instruments to movement-based wearable instruments.
The first part of the exhibit presents In Vivo, an audio-visual installation. This installation explores the intersection of our perception of sound, movement, and action. It involves stationary musical instruments decoupled from their sound and excitation. The installation illustrates vibration patterns of acoustic instruments using projection mapping. The motivation behind it draws from the sonic potentials of stillness in movement and the gray areas in human sensorimotor perception.
Movement-based instruments, on the other hand, create an embodied body-to-instrument relationship by physically connecting the musician's body to the musical instrument. Bodyharp, a new musical instrument, borrows musical gestures from string instruments and extends them with dance gestures. Felt Sound incorporates American Sign Language gestures to low-frequency, high amplitude soundscapes that can be felt as much as it is heard. By amplifying the physical sensations of sound, Felt Sound hopes to offer a shared performance for Deaf and Hard of Hearing and for those who are not.
I. In Vivo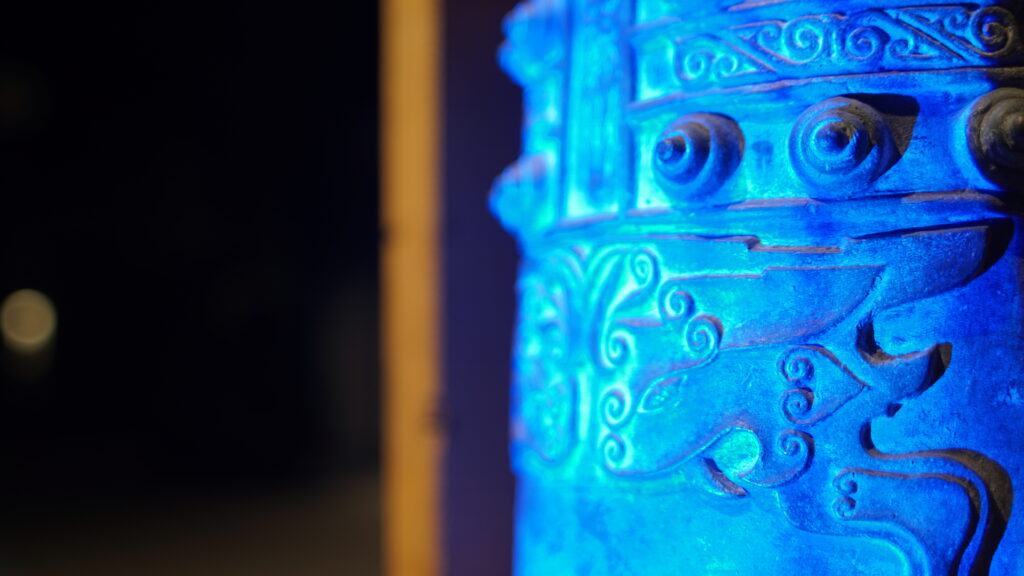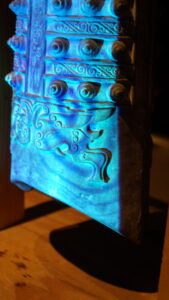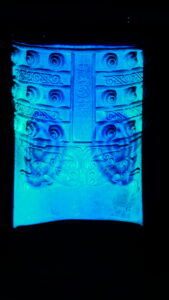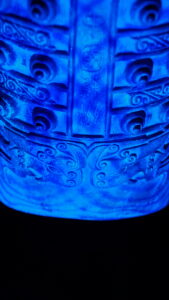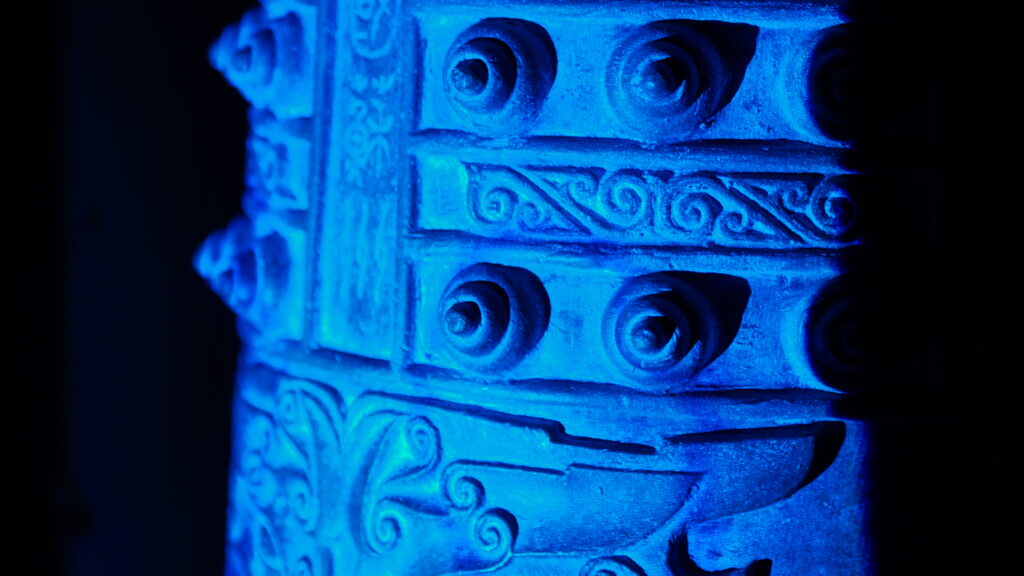 II. Felt Sound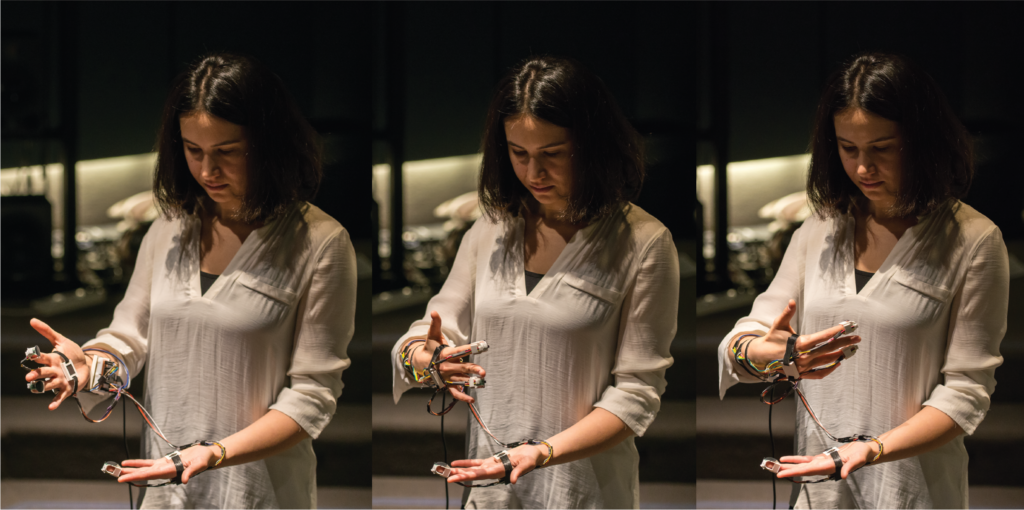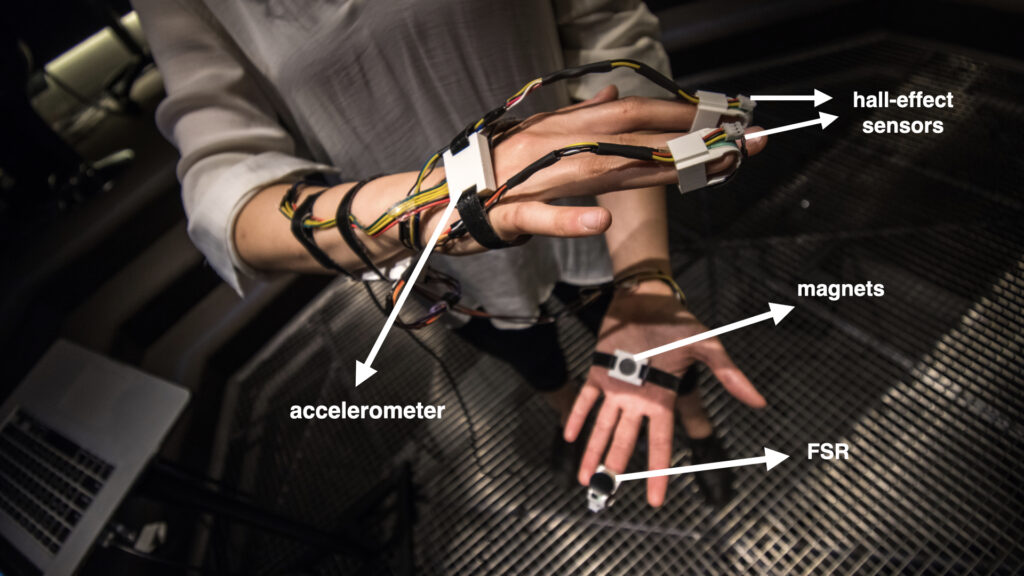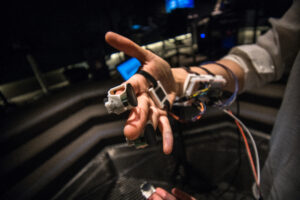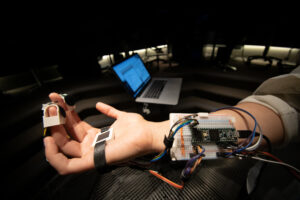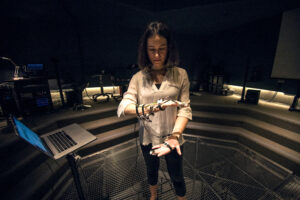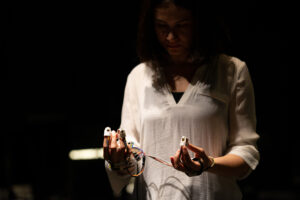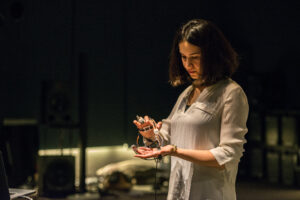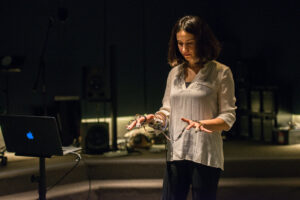 III. Bodyharp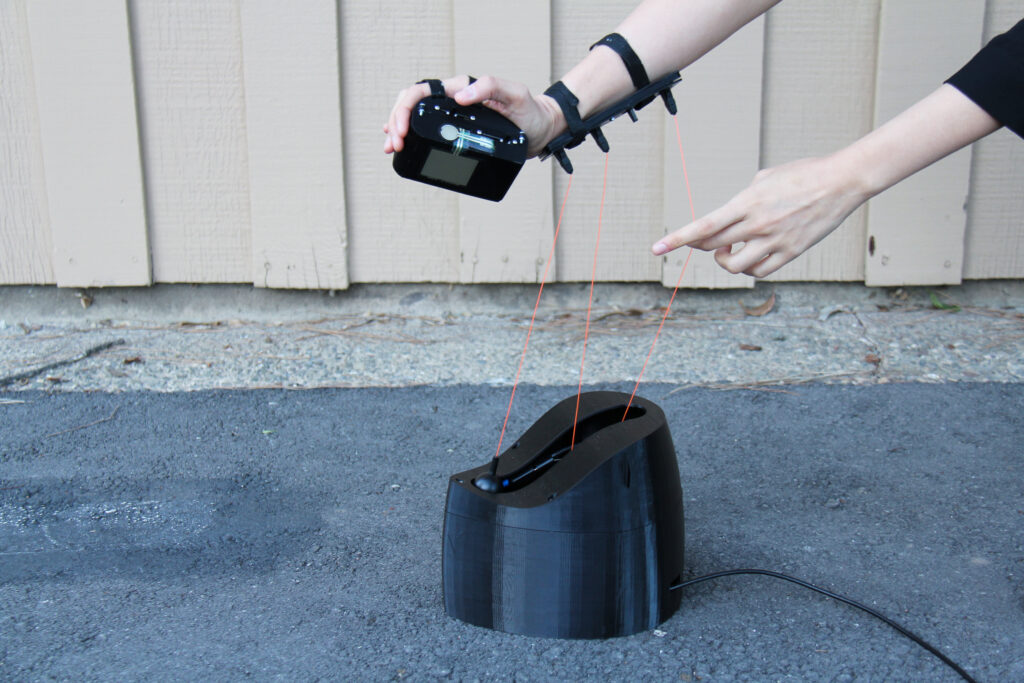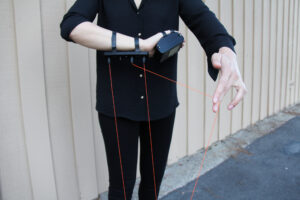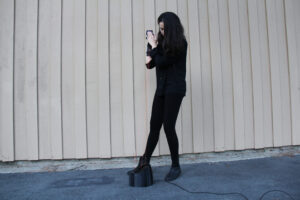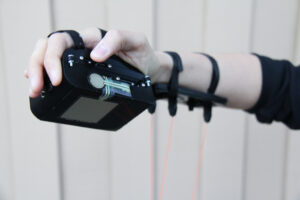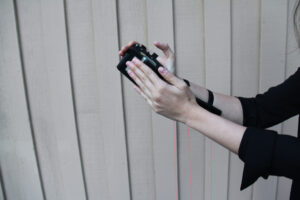 Doga Buse Cavdir is an artist, designer, and researcher whose work integrates body movement and expression into music performance. She explores the relationship of body, sound, and space, through embodiment and interaction.
Her process actively engages with kinesthetic, immersive, and shared experiences for inclusivity as a way to bridge diverse abilities that "shows how we can benefit from and contribute to increased accessibility, inclusivity, and collaboration". Her designs range from wearable, movement-based interfaces to audio-visual installations.
Doga uses extended piano techniques in her compositions and plays her custom-made instruments when she performs solo and in interdisciplinary female-identifying artist group fff. She holds a B.Sc. degree in Electrical Engineering from Middle East Technical University, and she is currently pursuing her Ph.D. at Stanford's Research Center for Computer Research in Music and Acoustics (CCRMA).
---