Calendar
Past Exhibits
The Window Gallery presents the work of contemporary makers of unusual and newly invented musical instruments, including emerging artists as well as recognized pioneers. The emphasis is on originality in concept and design, recognizing the seminal role of the search for new sounds in the expansion of musical horizons. Equally essential to the exhibits are notions of beauty, craft, and humor.
The Window Gallery is curated by Bart Hopkin, David Samas, and Kirk Pearson. Located at 55 Taylor Street in San Francisco, the gallery is open to the public Monday through Friday, 9 am – 5 pm, and during performances.
Email the Gallery Manager for information, questions, comments or to propose an installation.
Support the Window Gallery's one-of-a-kind exhibits by making a contribution to the cause:
---
Animal Magnetism: Tape Music of the 2020s
Wed, Sep 1 — Mon, Nov 1, 2021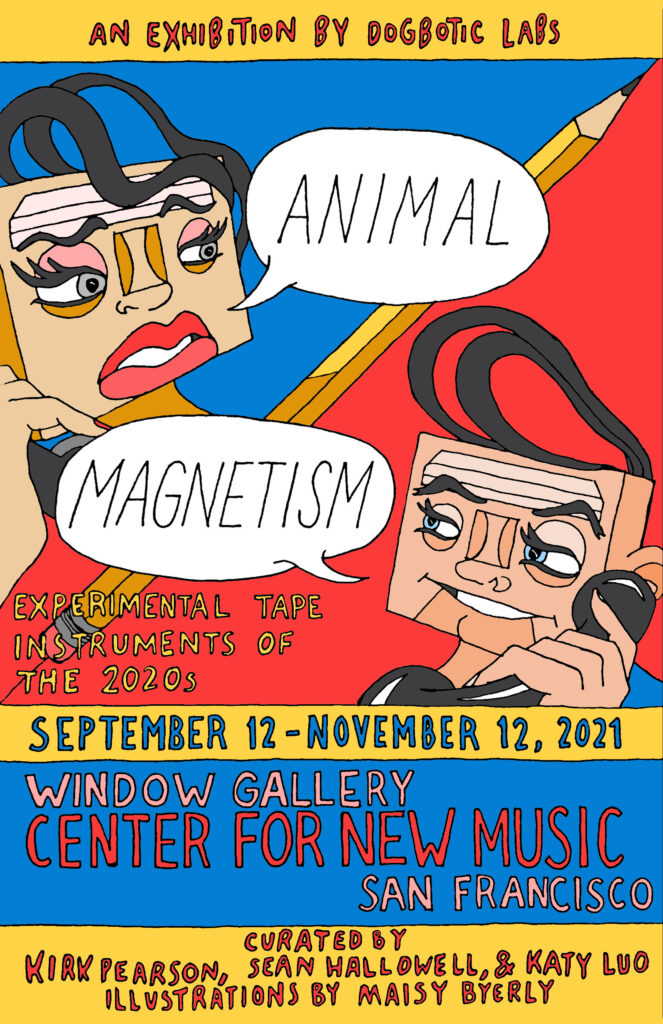 A menagerie of instruments, compositions, and other audio experiments that explore the myriad musical uses of magnetic tape in the 21st century.
About Dogbotic Labs
Dogbotic is a creative laboratory for music and sound based in Berkeley, CA. As part of a larger mission on promoting cultural equity, Dogbotic began hosting radical experimental arts workshops in the midst of the COVID-19 pandemic. One of these workshops, "Cassette Hacking," directly inspired this exhibit and the majority of its works were forged directly from the workshop.
The outgrowth of our passion for making technologically-enriched, culturally-aware music and sharing it with you (yes, you!), Dogbotic Labs is the collaborative enterprise of musicians Kirk Pearson (they/them), Katy Luo (she/her), and Sean Russell Hallowell (he/him). We have each followed our own unique path to the Labs — Kirk as a composer for film, stage, and multimedia with works and installations featured all over the world; Katy as a decorated concert pianist and arts community organizer who has founded award-winning educational initiatives; and Sean as a composer of experimental music whose works for audio and audiovisual media have been showcased internationally at festivals and galleries alike. Across our diverse interests and backgrounds runs a common thread — specifically, our mission to demystify areas of music education traditionally known as "theory" and "technology." By promoting diversity of thought and encouraging critical thinking about ways in which we collectively make, share, and think about music, we at Dogbotic Labs aim to make music technology a bit more human, human beings a little more technical, and everyone more appreciative of the special type of community music articulates through us all.
For those who collect lab mission statements, here's ours:
• We research innovative uses for audio tech that bridge the worlds of artistry and scientific exploration.
• We believe that a lab can serve as a playground for both the construction of new media as well as a critical voice for how it is used.
• We teach as a means to promote conversations about cultural equity, discourage mindless consumerism, and to help people become more autonomous + creative beings.
• We aim to spread confusion about what music is, what it needs to be, and who practices it.
---