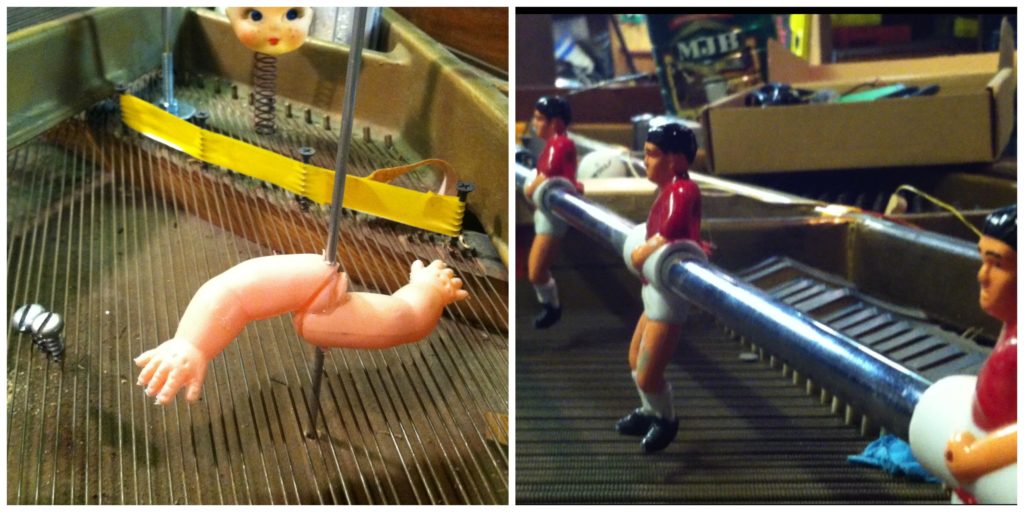 Artist's bio:
Sudhu Tewari has been called a professional bricoleur, junkyard maven and young audio-gadgeteer.   Sudhu builds electronic audio devices, electro-acoustic musical instruments, kinetic sculpture, interactive installations, wearable sound art, mechanical televisions, physical models of astrophysical phenomena, and sound sculpture.  Highly educated at Mills College in electronic music, Tewari has been seen performing improvised music on the east and west coasts of the US, Europe, and Japan. In 2006 Sudhu was selected to be the Artist in Residence program at the Recology in San Francisco. Since then, Tewari's visual and interactive art has been exhibited at many galleries and museums in the Bay Area and a few in Europe. Tewari is currently a PhD candidate at UC Santa Cruz in the Cultural Musicology program. Sudhu also teaches youth and adult classes at the Crucible in Oakland and has recently been working with young adults to create interactive, kinetic, and musical public art works.
Artist's statement:
I build non-traditional, experimental instruments. "Experimental" means the instruments themselves are experiments based on the question "what happens if I do this?" or "what if _______?" Innovation and experimentation are far more important to me than creating beautifully finished instruments. I'd rather have a pile of prototypes (on a pile of protoypes), suprises that present a plethora of options for future work.
I enjoy being surprised by music. After many years of playing improvised music I lost interest in my own playing, finding it harder and harder to surprise myself. One solution had been to continually build new "peripheral" instruments which could be plugged into my main instrument: a metal stereo receiver chassis to which were affixed a variety of sound making devices, amplified with contact microphones, electret microphones and electro acoustic pickups, which at various times has been named SHOZYG (Hugh Davies), Electro-acoustic Percussion Box (Tom Nunn), or heavily modified readymade (Fred Frith). Some of these peripherals, acoustic, electro-acoustic and electronic, and new experiments will be displayed in this show.
Another solution is to build self-governing/playing instruments so that I could turn them on, watch, listen, and occasionally be surprised. Thanks to the commission from Music for People and Thingamajigs I am able to return to building/experimenting with a large-scale self-governing instrument, my Prepared Player Piano Pinball system (PPPPs). PPPPs consists of several electronically controlled "interpretors", devices that perform a simple function which is, often counter to the purpose of other interpretors, creating web of complex interactivity based on the simplest reactive behaviours. Since the system is built from individual "modules" it is infinitely expandable (inspired by Jean Tingueley) and provides me with a lifelong project into which I can integrate all of the pieces of my substantial collection of useful (suefule) junk. What will be presented in November at the Center for New Music represents merely an iteration of a much larger (future) work that will never be complete.
Yet another solution is to create instruments for others to play, a means of extracting, vicariously, the pleasure of new experiences from others. Additionally, these non-traditional instruments are free of traditional expectations. "But, I don't know how to play that instrument." is not a hindrance/obstacle to people (musicians) who walk in off the street and play my instruments.
Finding that most people (unlike myself) are visually biased, my sculptural and kinetic instruments attempt to draw the viewer in to a sound world by providing engaging visual elements as "bait". Other pieces react to a human's presence in ways that are not immediately (if ever) apparent, requesting humans to spend time with them without understanding "what's going on."
In writing a dissertation on the work of Tom Nunn, instrument builder extraordinaire, I've been inspired to steal elements (physical and conceptual) from his instruments to try out in new ways. These elements appear in all my newly created work, along with elements inspired by Jean Tingueley, Hugh Davies, Fred Frith, Bart Hopkin, and Peter Whitehead, amongst others.
Above all, my instruments and devices are meant to be FUN!
Less tuxedos, conductor batons, compositional hierarchies, ruffled sleeves, serious Classical music, more free-for-all, bare feet in the grass, toothbrushes cleaning the street, pianos playing nothing, hippie bullshit vibrating together.