Mirror of Light (2021)
It is said that water has the ability to hold our collective memory, a comfort in knowing our connection to each other is already within us. After a year of pandemic lockdown prohibiting access to shared spaces and restricting our physical locations and interactions, it forces us to look with a different perspective at what connects us all. Our points of observation and action have shifted individually and collectively. How can we find comfort in our togetherness, while being separated spatially?
In four continuous movements, Mirror of Light explores the effect of perspective and time on relationship and memory. In this work, sound, water, and light move together, and are seen with different perspectives. Up close and from a distance, our vantage shifts from inside the water to its surface, to envelopes of light collecting and refracting through a curved surface. Water refines and reflects the connections between us; water is a mirror bridging our memories from the individual to the collective.
Building upon my macro-cymatic instruments, which translate sound to movement of water and light, this work spans the range of perspective from what is visible with the naked eye to the microscopic. The sound is composed according to how it moves water and light in the resonances of this particular vessel, and how the sound is amplified and muted by the shape of the glass and water together.
Materials: glass, LED lights, water, electronics
Sound: Electronic organ, synthesizers, voice, crystal bowls, steel drum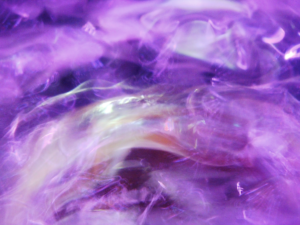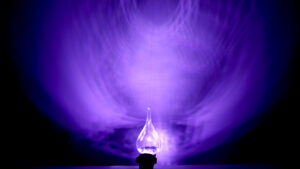 The Making of Mirror of Light
Watch the 6/24 Premier and Discussion with Bart Hopkin
About the Artist
Marielle V. Jakobsons is a prolific composer and intermedia artist based in Oakland, CA. Her compositions evoke minimalism with melodic drone and enveloping polyrhythmic soundscapes of synthesizers, strings, and voice. She builds installations and instruments which bring focus to the visceral experience of sound and light, most recently with her "Macro-Cymatic Visual Music Instrument." Marielle collaborates extensively in experimental arts and technology as a sound designer, audio engineer, and composer. She published recordings and toured internationally on Temporary Residence, Thrill Jockey, Mexican Summer, Students of Decay, and Important Records, as a solo artist and with her bands "Saariselka" "Date Palms", "Myrmyr", and other collaborations.
Marielle received her MFA in Electronic Music from Mills College, and BA from Case Western and the Cleveland Institute of Music. She has received numerous awards including the Djerassi Artist Residency, Dresher Ensemble Artist Residency, Brush Creek Arts Residency, American Composer's Forum Grant, NEXMAP Sounding Out California Composer's Award, Elizabeth Mills Crawford Award in Composition, among others. Her installations, photographs, and videos have been exhibited or screened at the Staunton International Film Festival (VA), The LAB (CA), Warehouse 1-10 (NM), Indiana University East's "Art + Science" Juried Exhibition (IN), Allegany Arts Council Juried Photography Exhibition (MD), Brand 44 Works on Paper Annual National Juried Exhibition (CA), and Madelife (CO). She has been a Visiting Professor at Mills College and San Francisco State University, and Visiting Artist at Eastern Washington University.
http://www.mariellejakobsons.com