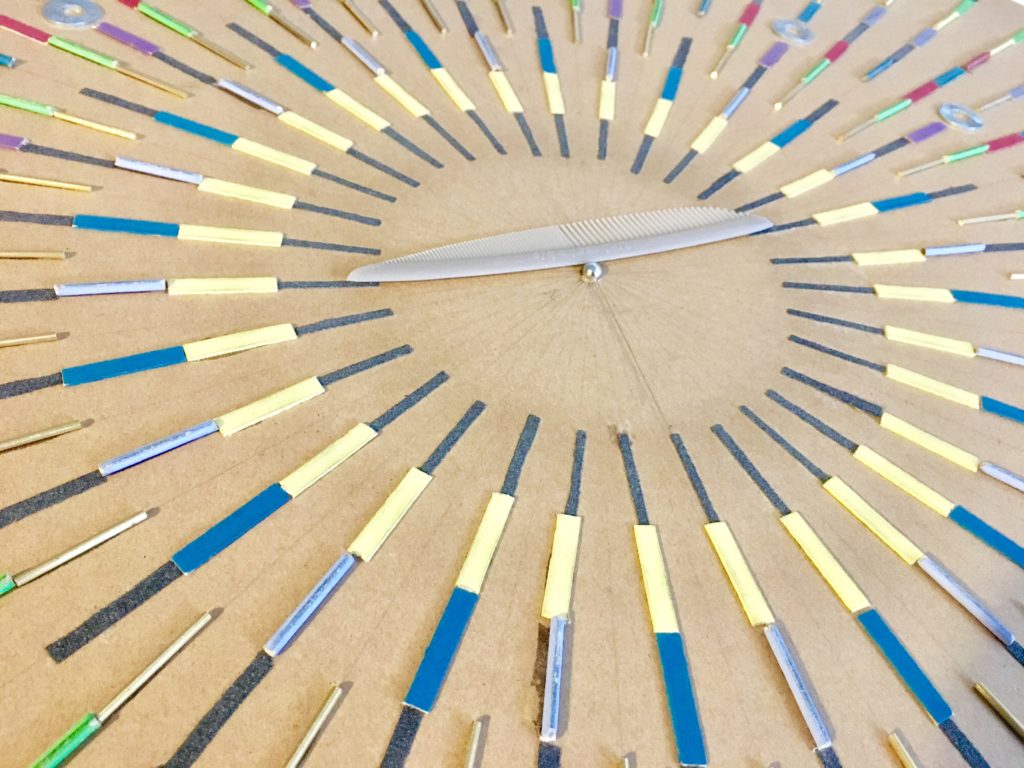 Atrium Display: Skatchplatters by Tom Nunn and Sudhu Tewari
Artist Statment
Skatchplatters (12" diameter), Skatchwheels (22" diameter) and Giant Skatchwheels (33" diameter) are circular cardboard plates onto which are glued various "devices" arranged in a 32-segment array. The devices include thin dowel, coffee stirrer sticks, bronze brazing rod, metal washers and non-skid self-adhesive surface material. These instruments have a center hole and are designed to be played on a turntable by "skatching" [sort of scraping] various kinds of plastic combs across the surface as the plate turns. The arrangements of devices create definite "tracks," as on a record, and these tracks are generally 1.25" in width (i.e. the devices [except washers] are cut to a length of 1.25"). The Skatchplatters have narrower tracks and overlapping devices of different lengths, creating track widths of 1" or less. There are generally 4 or 5 tracks. Using 1.25" as a standard device length, the Skatchwheels have 8 tracks, and the Giant Skatchwheels have 10 or 11 tracks.
Skatchplatters (made using 12" cake bottoms) can be played on an ordinary record turntable. Such turntables usually have two speeds, 33 and 45 (rpm). One can also turn the Skatchplatter by hand with the motor off, varying the speed. Skatchwheels and Giant Skatchwheels require the removal of the record player's tone arm and assembly because the plate extends over that area. Sudhu Tewari has adapted a record player turntable for live performance to allow a continuous range of speeds. He has also constructed special motorized turntables with variable speed control by pedal or computer program that can be used in performance or for installations such as this one.
Artist Bios
Tom Nunn has designed, built and performed with original musical instruments since 1976, having received a B.Mus. and M.A. in music composition from the University of Texas at Austin and S.U.N.Y. Stony Brook, and post-graduate work at U.C. San Diego. His instruments typically feature commonly available materials, are sculptural in appearance, utilize contact microphones for amplification, and are designed specifically for improvisation with elements of ambiguity, unpredictability and nonlinearity.
Tom has performed extensively throughout the San Francisco Bay Area for nearly 40 years, as well as in other parts of the U.S., Canada, Europe, and New Zealand, both as soloist and with other musicians. Tom has performed with various groups over the years and currently works with T.D. SKATCHIT, RTD3, GHOST IN THE HOUSE and MUSIC FOR HARD TIMES. In 1998, he completed writing and self-published WISDOM OF THE IMPULSE: ON THE NATURE OF MUSICAL FREE IMPROVISATION (now available through Frog Peak Press), a book that examines various aspects of this illusive art and presents a theoretical foundation for creative listening, analysis and discussion. Tom has also written a number of articles about the use of experimental instruments and improvisation in publications such as EXPERIMENTAL MUSICAL INSTRUMENTS, MUSICWORKS and LEONARDO.
Sudhu Tewari has been called a professional bricoleur, junkyard maven, and young audio-gadgeteer. Sudhu builds audio electronics, musical instruments, kinetic sculpture, interactive installations, wearable sound art, and sound sculpture. Highly educated at Mills College in electronic music, and the recent recipient of a PhD from UC Santa Cruz in Cultural Musicology, Tewari has been seen performing improvised music on the east and west coasts of the US, Europe, and Japan. Tewari's visual and interactive art has been exhibited at Swarm Gallery, 21Grand, ProArts, FLOAT Gallery, the Oakland Museum of California, the Center for New Music, SFMOMA, Montalvo Arts Center, UC Santa Cruz, UC Berkely, the Tech Museum, the Exploratorium, Laboratoire Village Nomade, and PROGR. Sudhu Tewari has been teaching electronics and sound art to children and adults since 2009 and continues to build and perform with self-governing musical systems and self-built musical instruments.
Special Thanks to David Samas for collaboratively conceiving of these instruments with Ian Saxton and Bart Hopkin; to Barney Haynes for custom 3d printing and Daniel Yasmin for custom machined parts.