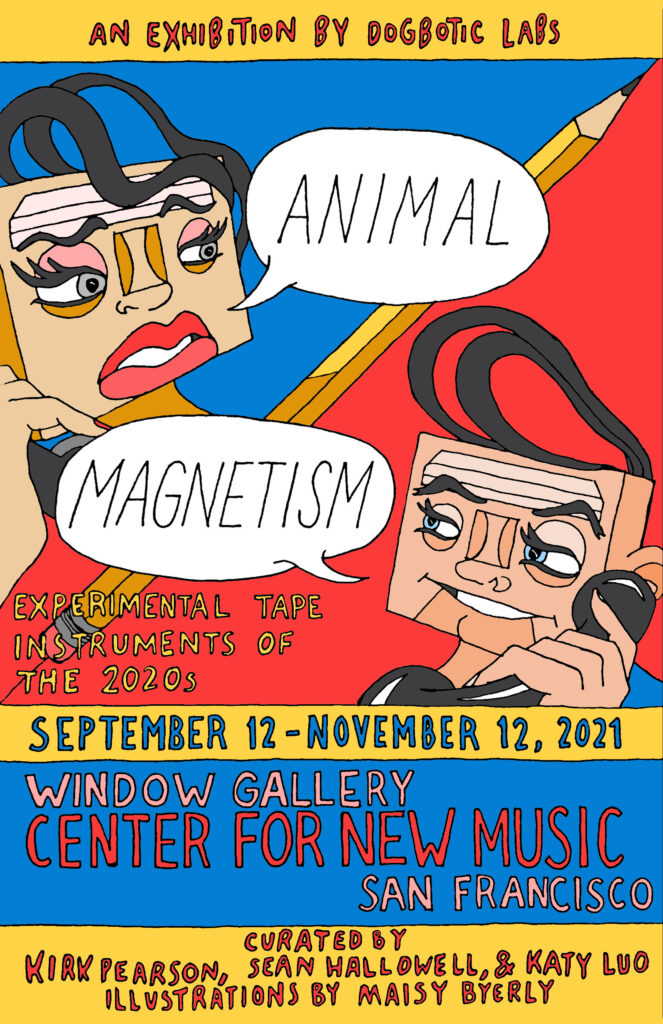 Join us on October 18 at 6pm for a discussion of this menagerie of instruments, compositions, and other audio experiments that explore the myriad musical uses of magnetic tape in the 21st century.
Watch the broadcast:
A menagerie of instruments, compositions, and other audio experiments that explore the myriad musical uses of magnetic tape in the 21st century.
About "Animal Magnetism"
People seem to be surprised when I argue that magnetic tape never fell out of fashion. It's certainly not due to the fidelity or ease of use, but its conceptual simplicity. Tape is tactile, easy to understand, and affords techniques with such nuance that elude even the most computer savvy producers. While showcases of tape music historically tend to focus on manipulation of the tape itself, this show does its best to invert that conception–by manipulating the machines used to read back magnetic information. Altering the internal logic of the tape machine allows for a radically new translation of iron-rich data, a re-interpretation of media that was recorded for very different playback circumstances. This show is an homage not only to the history of player manipulation, but to the political freedom of the humble cassette tape. One in which the audience, not a corporation, gets to decide on their own terms of playback. On tape, you have the ability to listen to history on your own terms. How might you do that with a streaming service's playlist?
Kirk Pearson
Curator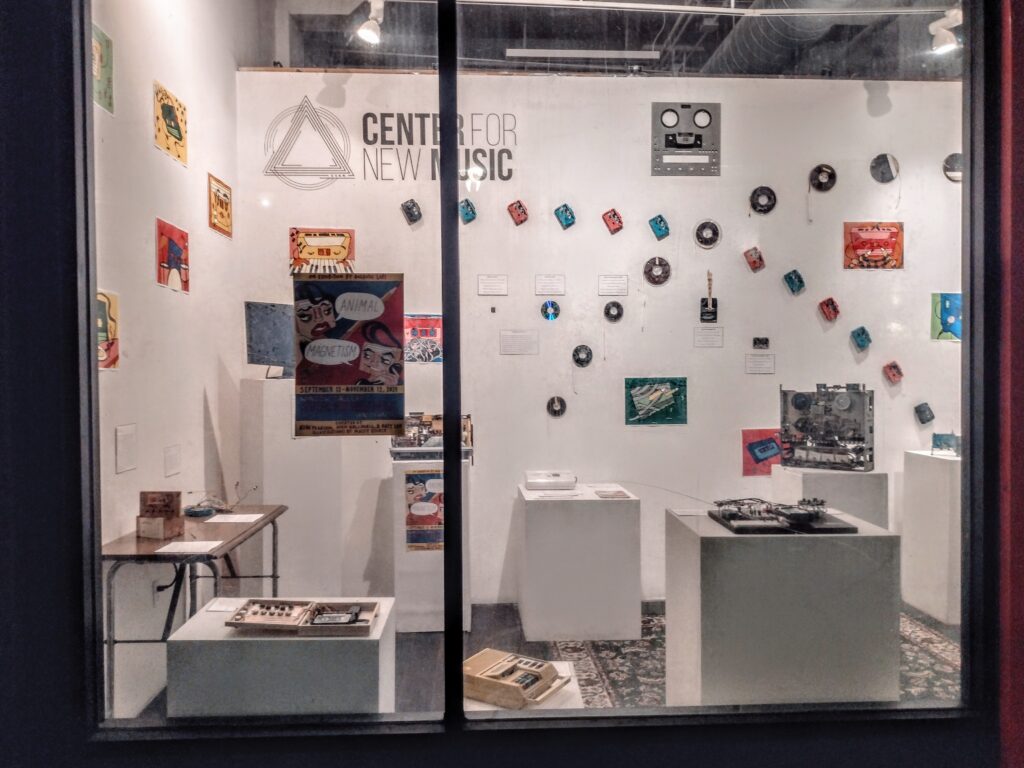 _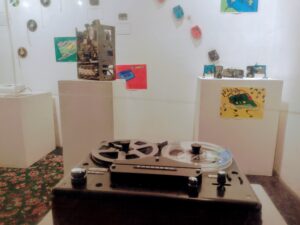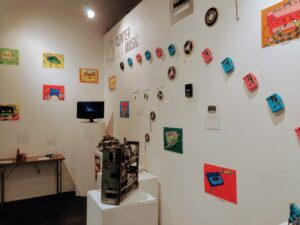 _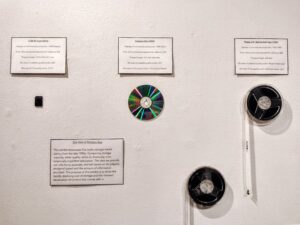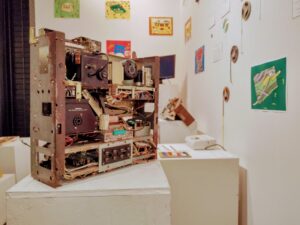 About the Curators
Composer, inventor, and multimedia artist Kirk Pearson spends half their time putting stuff together, and the other half taking stuff apart. They have written music, built installations, and designed experiences for the the New Museum, the American Museum of Natural History, Museum für Kommunikation Bern, and for hundreds of musical ensembles, films, stage productions, and new media projects. In 2017, Kirk was named a recipient of the Thomas Watson Fellowship, through which they spent a year traveling the world composing works for experimental instruments. Pearson has a BMus from Oberlin Conservatory, which people seem to think is important so we'll mention it here. They cut their sandwiches diagonally.
Sean Russell Hallowell is a musician and composer based in San Francisco, CA. Building on musique concrète and modal counterpoint in equal measure, he makes music for phonons, electrons, and photons that elaborates the potential energy within sounds and sound-making devices. Concert works and installations of his have been showcased at festivals across the US as well as in Latin America, Asia, the UK, and Europe. During the summer of 2021 he will be an Artist-in-Residence in the Westfjords of Iceland as part of ArtsIceland's Kol&Salt program, for which he will compose a site-specific audiovisual work. He holds a PhD in Medieval polyphony from Columbia University, in which cosmically-attuned tradition his experimental music is steeped.
Katy Luo is a pianist, educator, and lecturer of music at both the University of Hawai'i at Mānoa and the University of Hawai'i at West O'ahu. For the last 25 years, Katy has taught and performed extensively throughout the US, mostly in New York City, where she resided for 14 years. Katy's performing experience ranges from the works of the classical masters performed on period instruments to the works of Cage, Ligeti, Schnittke, and other contemporary composers. Katy is an alumna of the Young Musicians Program, a community outreach program at the University of California at Berkeley. Her passion for community organization led to her involvement formerly at the Boys Choir of Harlem and at the Bloomingdale School of Music, where she was both Resident Teaching Artist and the Founder/Director of A4TY (Album for the Young): Student New Music Project, a program that provides children the opportunity to compose original compositions for fellow young musicians and to premiere works written by living composers. This program, now in its 16th season, was a recipient of the National Endowment for the Arts Grant. Katy holds a BMus from Oberlin Conservatory, and a M.M. & D.M.A from Stony Brook University.
About Dogbotic Labs
Dogbotic is a creative laboratory for music and sound based in Berkeley, CA. As part of a larger mission on promoting cultural equity, Dogbotic began hosting radical experimental arts workshops in the midst of the COVID-19 pandemic. One of these workshops, "Cassette Hacking," directly inspired this exhibit and the majority of its works were forged directly from the workshop.
The outgrowth of our passion for making technologically-enriched, culturally-aware music and sharing it with you (yes, you!), Dogbotic Labs is the collaborative enterprise of musicians Kirk Pearson (they/them), Katy Luo (she/her), and Sean Russell Hallowell (he/him). We have each followed our own unique path to the Labs — Kirk as a composer for film, stage, and multimedia with works and installations featured all over the world; Katy as a decorated concert pianist and arts community organizer who has founded award-winning educational initiatives; and Sean as a composer of experimental music whose works for audio and audiovisual media have been showcased internationally at festivals and galleries alike. Across our diverse interests and backgrounds runs a common thread — specifically, our mission to demystify areas of music education traditionally known as "theory" and "technology." By promoting diversity of thought and encouraging critical thinking about ways in which we collectively make, share, and think about music, we at Dogbotic Labs aim to make music technology a bit more human, human beings a little more technical, and everyone more appreciative of the special type of community music articulates through us all.
Dogbotic Labs Mission Statement
• We research innovative uses for audio tech that bridge the worlds of artistry and scientific exploration.
• We believe that a lab can serve as a playground for both the construction of new media as well as a critical voice for how it is used.
• We teach as a means to promote conversations about cultural equity, discourage mindless consumerism, and to help people become more autonomous + creative beings.
• We aim to spread confusion about what music is, what it needs to be, and who practices it.