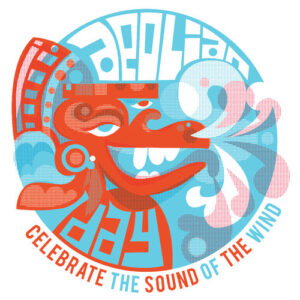 In partnership with Thingamajigs.

Presenting Bay Area instrument inventors' collaborations with a force of nature, Aeolian Day is a recurring festival in Oakland, CA, mounted by Thingamajigs. Aeolian Day exhibits solo works and installations created with local OUSD schoolchildren. The event fosters the creative interplay of art, music, and science through innovative sound sculptures.
Join the artists for a reception celebrating their works on 12/17 at 6pm. Stay tuned for more information!
Aeolian Day is made possible in part by the generous support of the Alameda Art Commission, Arts for Oakland Kids, California Arts Council, City of Oakland Cultural Funding, and individual donations from the community.
Thingamajigs is a genre-crossing arts organization that promotes music and other art forms created with made and found materials or alternate tuning systems.
Our mission is to develop and nurture the exploration of alternate materials and methods of creating sound and promote collaborative efforts between artists and local communities.
With open workshops, performances, and a robust education program, we welcome audiences/participants of all ages and backgrounds to join in the tradition of Bay Area visionaries such as Harry Partch, Lou Harrison, and John Cage.
   
The Artists
Krys Bobrowski is a sound artist and musician. In addition to concert works, she has created interactive installations and designed day long performances. Krys often transforms natural and everyday objects such as kelp and bowls into musical instruments.
Larnie Fox is a visual and sound artist known for monumental bamboo sculpture, sound installations, performances and painting. His kinetic/sound sculptures and new instruments have been shown in numerous one-person and group shows and performances in the SF Bay Area and nationally. He is a founding member of 23five, a non-profit to promote sound art, directed the Crank Ensemble who performed on hand-cranked instruments he built, and currently is performing with the new music group Contraption Quartet. He holds an MFA in Painting from the University of Utah and is the former Executive Director of Arts Benicia and former Director of the Children's Fine Art Program at the Palo Alto Art Center. He lives, works and collaborates with his wife Bodil in Benicia.
Sudhu Tewari is an electro-acoustic composer, improvisor, and tinkerer in sound, kinetic and interactive art. He has been called a professional bricoleur, junkyard maven and young audio-gadgeteer. An early interest in disassembling alarm clocks and coffee makers gave rise to electro-acoustic instruments constructed with the remains of discarded stereo equipment, kinetic sculptures and sound installations. Sudhu builds audio electronics, acoustic instruments, kinetic sculptures, interactive installations, wearable sound art and recently began working with bicycles with wide variety of end results.
Tom Nunn has designed, built and performed with original musical instruments since 1976, having received a B.Mus. and M.A. in music composition from the University of Texas at Austin and S.U.N.Y. Stony Brook, and post-graduate work at U.C. San Diego. His instruments typically feature commonly available materials, are sculptural in appearance, utilize contact microphones for amplification, and are designed specifically for improvisation with elements of ambiguity, unpredictability and nonlinearity.
David Samas is a queer, SF native polymath composer, conceptual artist, wilderness advocate, poet, and wizard working in the grey areas between science, magic and art. His work has been seen in most major Bay Area museums, and concert halls. He is director of Pet the Tiger, an instrument inventors collective and curates the Window Gallery for invented instruments at the Center for New Music SF. He was curator of the Meridian Gallery's Composers in Performance Series, six seasons at the Turquoise Yantra Grotto, and the director of the 18th Annual Thingamajigs Festival and MicroFest North.