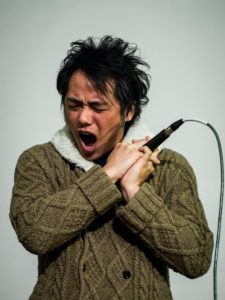 Ken Ueno is a curator at the Center for New Music, a board member of the San Francisco Contemporary Music Players (a C4NM resident organization), a diehard foodie, international traveler, composer and vocalist, and Associate Professor at UC Berkeley. Our intern Lillian Yee pulled a few interesting bits of info out of Ken for this profile:
Tell us a little bit about your background, and how you ended up where you are today. 
Ha! Long story. Check this out: http://opinionator.blogs.nytimes.com/2011/06/22/finding-the-score-within/?_r=0
Who are your 2-3 most important influences?
Hendrix, Coltrane, and Samuel Beckett.
What's one project of yours that you are particularly excited about right now?
Presently working on a two-bow cello concerto for Frances-Marie Uitti to be premiered in Boston in January.  I'm also very excited that Living Earth Show has started playing my piece for them for quarter-tone electric guitar and quarter-tone vibraphone. The piece is called Pork Roll, Egg, and Cheese on a Kaiser Bun, in reference to the music that inspired the name of their group, Living Earth Show (it's a Ween reference, for those of you playing at home!).  The premiere was October 11 at the Berkeley Art Museum.
What's one project/act/event in the Bay Area (or at C4NM) that you are particularly excited about right now?
As a board member of SFCMP, I'm really happy that we have moved into the C4NM as well.  This will, hopefully, mean more synergy and more creative collaborations with other SF groups, which had not happened in the past.  The recent show at C4NM curated by David Tanenbaum is an example.  The upcoming big festival of electronic music, Sweet Thunder, will be another.  SFCMP will the be host institution, but the event will feature many local talents (like Pamela Z and Matt Ingalls) as well as bring into town stars of new music from the East Coast like the International Contemporary Ensemble. Look for it in April!
How has C4NM helped you as an artist working in the Bay Area OR what do you see as the potential impact that C4NM will have on you?
C4NM has been a great hub for local new music culture.  Not only is it a cool place to perform, we've had get-togethers bringing my students at Cal together with composers at Mills, where they broke bread and played their music for each other. C4NM is a convenient place for meetings and sharing ideas. As a curator, I am energized to have been able to do my little part in helping make some cool things happen—especially help talented friends traveling from the East Coast have a place to play, or some local personalities who feel "out-of-the loop." C4NM is a democratic space where anything can happen. Musically, I was honored to perform with my hero, Ikue Mori, in the first concert event inaugurating the series here!
—
Ken will be performing in a special Halloween concert with fellow curator Matt Ingalls, and percussionist Tim Feeney, visiting from the University of Alabama. He also continues to curate "cool things" at the Center, doing more than just a little part to activate the space and enliven the community!