…and the reassertion of the SF Bay Area as an international new music hub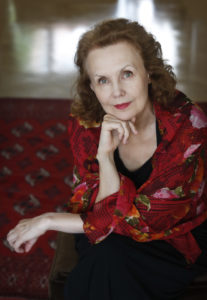 For the second time in three years, the UC Berkeley Department of Music will be hosting a high-profile and widely admired composer. Beginning this month, Finnish composer Kaija Saariaho will be in residence at UC Berkeley, together with her husband, the French composer Jean-Baptiste Barrière. Our San Francisco Bay Area new music community will be taking full advantage.
Two years ago, our community welcomed composer-performer-educator George Lewis with a similar outburst of events. Lewis spearheaded a symposium on improvisation that featured workshops, presentations, discussions, and performances over the course of three days. The events were all highly collaborative within academic circles: our concert here at the Center for New Music, titled "People are Machines, Too," integrated improvisers from the faculties and student bodies of UC Berkeley and Mills College.
Despite annual hand-wringing in the classical world over "graying" and "declining" audiences, the Bay Area's community of enthusiasts for new, experimental, creative music has long been supercharged by a steady influx of artists from across the musical spectrum. That human resource—of committed and creative artists—and its inherent potential was a major motivating force behind the founding of the Center for New Music, and the launch of our facility in San Francisco.
Now, a transformation is underway. We believe the result will be the SF Bay Area's reaffirmation as an international new music hub.
Where commercial music scenes make their reputation on a singular aesthetic (Bronx hip-hop, Oakland punk, Seattle grunge), new music thrives in the Bay Area thanks to its diversity of artists, organizations, and institutions. Saariaho's artistic genesis through Paris's IRCAM does make her a logical choice for UC Berkeley's Department of Music, whose recent history is heavily weighted towards composers with similar ties. But for that reason, the eagerness of the community to present a dozen concerts and lectures related to her music demonstrates just how much power and potential has been latent here.
This fall will prove that leading figures from opposing ends of the contemporary music spectrum can be welcomed with fervor in the Bay Area. Our scene is no longer solely a home for post-minimalists, for instrument builders, or for electronic music innovators. Thanks to the kind of mutual support and collaboration that is fostered by the Center for New Music, and growing amongst others, the Bay Area is fast becoming a home for the world's leading musicians in multiple, diverse, and often opposing idioms.
---
Buy 1, get 25% off the rest! All presenters of the events mentioned above have agreed to provide a 25% discount for anyone who has purchased a full-price ticket to one Saariaho concert. You'll receive a code at checkout for any of the above events; if you've already purchased tickets, contact the presenter for the discount code.