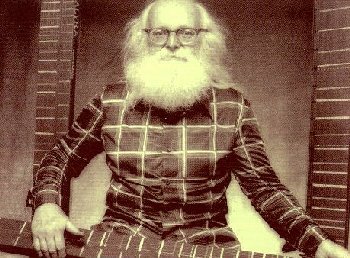 All Equal Divisions is an exhibition of the work of Ivor Darreg who will have turned 100 on May 5, 2017. Megalyra instruments and original tuning charts from the Ivor Darreg Archives in San Diego are exhibited near the just intonation charts by Lou Harrison.
About the Artist
Ivor Darreg (1917-1994) was interested in both just intonations (tuning systems based on whole number frequencies ratios) and equal temperaments (tunings based on an even division of a pitch interval, such as the octave). He was fascinated by the unique aesthetic effect–the characteristic "mood"– created by each tuning. The charts included in this exhibit are representative of his thorough approach to comparative tuning system visualization. As an instrument maker he created another sort of tuning graphic in his Megalyras. These were two- or four-sided string instruments, playable with a slide, with the slide locations for various tunings laid out in full color along the necks.
Original tuning charts courtesy of Jonathan Glasier, curator of Sonic Arts Gallery in San Diego.