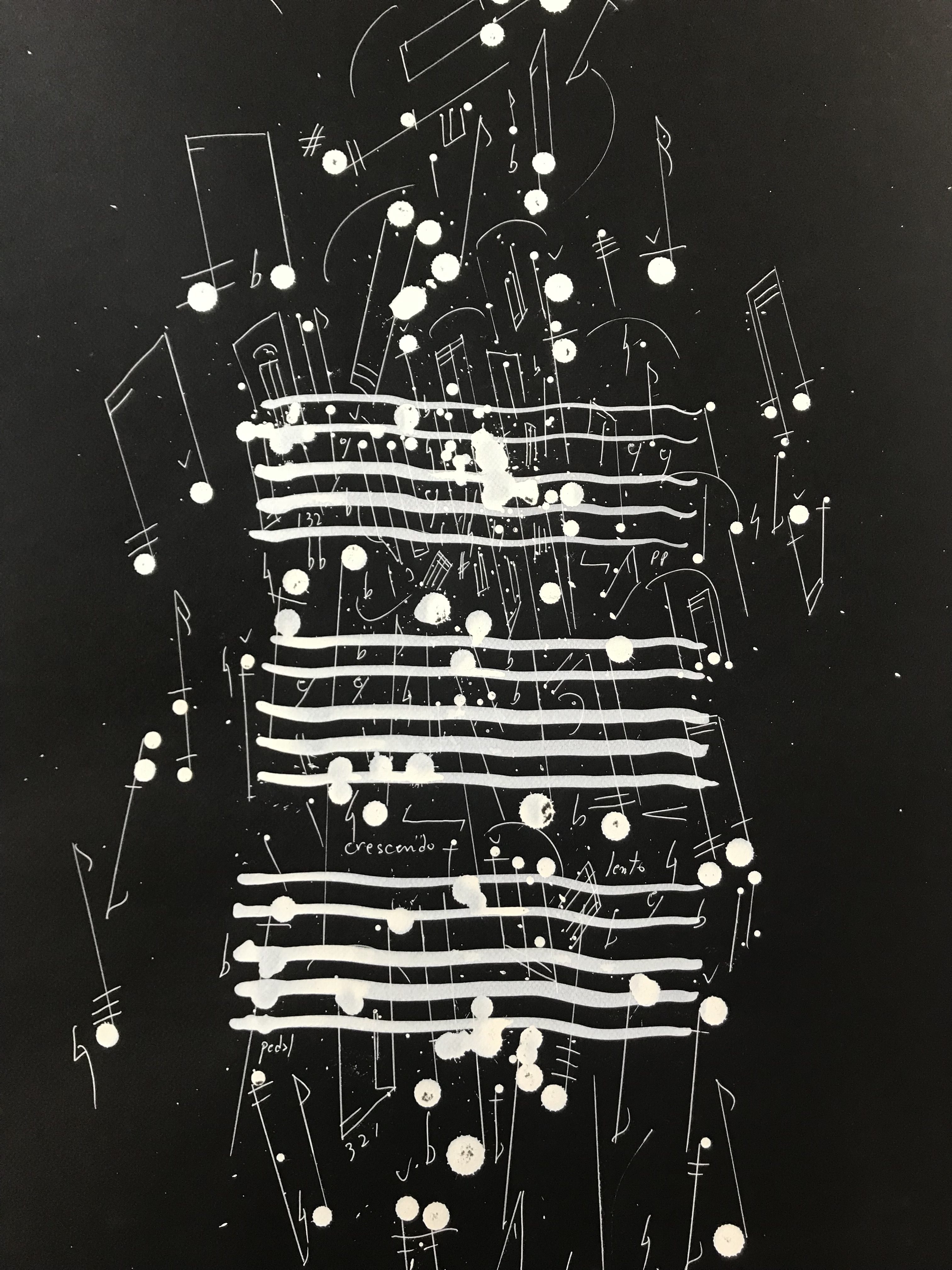 Atrium Display: Hammer, Ink & Key: Scores and Sculptures by Mauro ffortissimo
Opening Reception and Concert July 22, 5pm
Mauro's work is complex and varied, ranging from hand painted scores which express the immediacy and humanness of intention while relying prominently on chance operation; to prepared, burning, planted and "liberated" pianos; to Flower Piano, a massive social event with a 12 ring piano music-circus installed annually at the San Francisco Botanical Gardens.
The Scores feature carefully painted staff lines juxtaposed by a chaotic splatter of notes whose liquidity is reflected in the watery sounds of the "Liberated Piano". The use of player piano rolls as the foundation of a visual score creates a kind of conceptual synesthesia for the viewer. His scores blend serious musical practice and contemporary painting, displaying both education and humor.
Mauro's "Liberated Piano" is an instrument whose keys and hammers have been removed presenting the performer with unimpeded access to the strings with mallets, filament bows and stroked, rosined rods. Ffortissimo gives a second life to these complex and beautiful musical instruments that are otherwise destined to the dump and creates assemblage sculptures using the piano's parts: wood, strings, hammers & screws.
Flower Piano happens each summer (7/5-7/16/2018) at the SF Botanical Gardens and is sponsored by Sunset Piano, Mauro's collaboration with Dean Mermell. Over a dozen grand pianos are installed at the spectacular 55 acre garden for everyone to play, with performances by brilliant local musicians scheduled on weekends and is free to SF residents with ID. NightGarden Piano (7/12, 13, & 14), is a mystical evening with music of every genre, food and drinks, and all beautifully light.
About the Artist
Mauro ffortisimo (b. 1962-), Argentinean/Italian/American, Grew up in Argentina, where interest in art and music lead him to study classical piano and visual arts. He emigrated to California in 1981 to further his artistic explorations, taking classes in print making, sculpture and painting at San Mateo College, Art Institute, and Berkeley Extension. Mauro is a founding member of "849 Folsom Music", a 13 member music and spoken word performance troop that brought vital energy to the San Francisco "South Market" artist underground scene in the pre-dot com years of the late 80's.
As a founding member of the Enso Art Collective and the Miles Davis Memorial Hall, Mauro has been investigating sounds with the deconstruction of pianos, becoming more able to expand the 12-tone scale. He does not subscribe to the romantic notion of a solitary artist, a suffering individual, hidden in a state of despair, creating work that only few can appreciate; instead Mauro travels the world, looking to the mundane, the sacred and the original with the same eyes, and listening to the music of diverse cultures, bringing it all home to work with it's particular way of assimilation making art and music available to the community. When not traveling, Mauro lives in Half Moon Bay, California, where, with wife/artist Carrie Hollister and nine cats, runs the Enso Yoga Studio and Art Center.