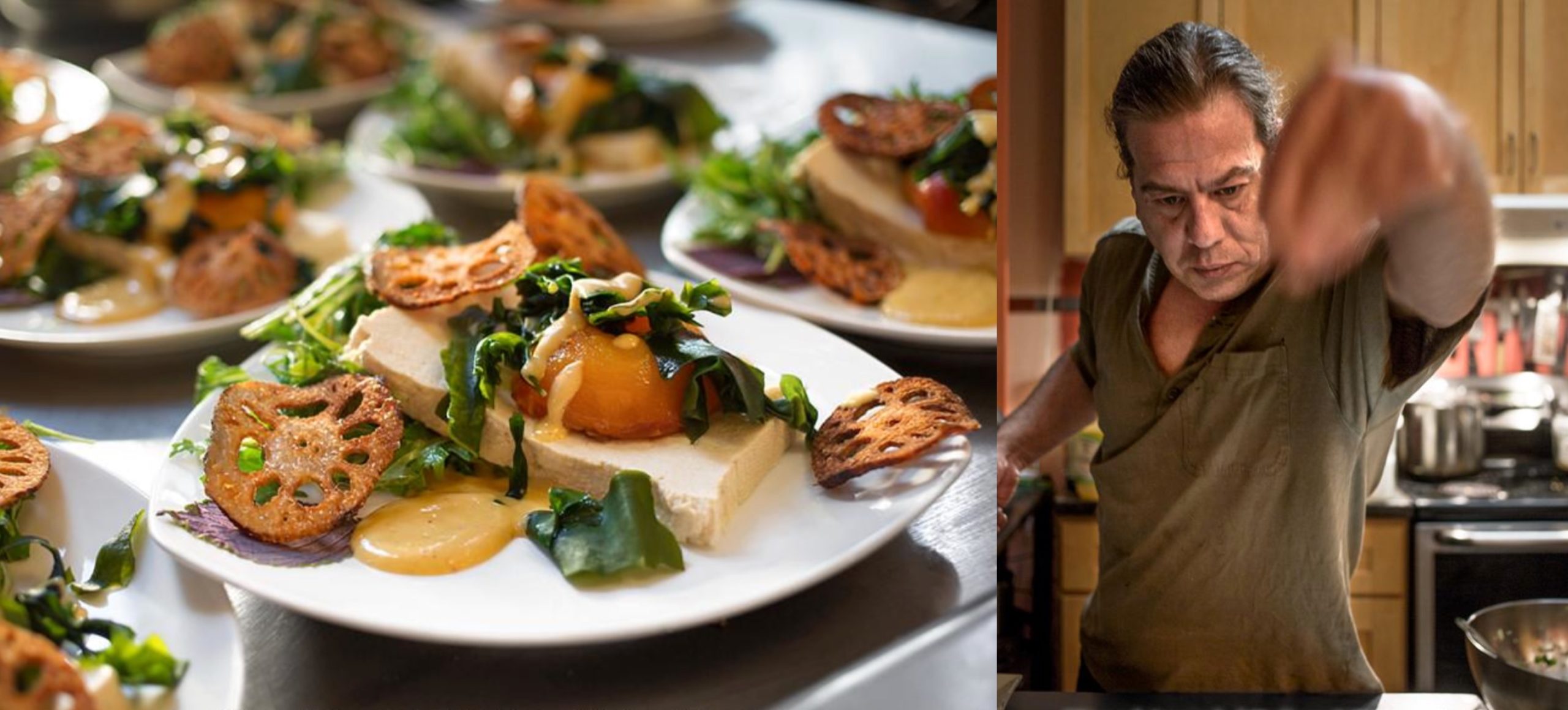 Curator Statement
Polymaths are often musicians and the talents and proclivities that make for great musicians quite often make for brilliant artists, engineers, mathematicians, activists, chefs, philosophers, poets, painters, cosmologists and gardeners. Society seeks to flatten these geniuses and too often these gifts are considered tangential rather than being celebrated as the facets on a single, complex jewel.
In this series of exhibitions curated by David Samas, we explore non-musical works of artistic and cultural value created by members of the community primarily known for their music. This latest exhibition, Musicians Make: Food features musician/chef Philip Gelb, and food photographer Hannah Kaminsky.
About the Artists
As a musician, Philip Gelb was a shakuhachi player, known for his work with new music and free improvisation. Due to dental issues and a lack of access to dental care, his flute playing career came to an unexpected end and thus started focusing on being a vegan chef. Now known for making everything fresh and from the finest ingredients, running a catering business and hosting an underground restaurant series in his loft in West Oakland. For over 14 years, his loft has been the site of gourmet meals combined with concerts by world-renowned musicians. Over 150 musicians from 18 countries have now performed on the series. He has published 2 books, "Notes from an Underground Restaurant: Improvisations Through Music and Food" and "Vegan Underground".
Imaginative, dedicated, and passionate about all projects big and small, Hannah Kaminsky's focus on food has brought sumptuous feasts into the homes of viewers across the globe. Breathing life into still images through vivid colors and sharp details, the end result always looks good enough to eat. Viewers can't help but become drawn into the luscious, bold compositions, and invariably walk away hungry; the benchmark for a successful day's work.
Hannah Kaminsky has developed an international following for her delicious recipes and mouthwatering food photography at the award-winning blog BitterSweetBlog.com. She is the author of Vegan à la Mode, Easy as Vegan Pie Sweet Vegan Treats, and many more cookbooks. Inspired by a flavor-first approach to creating new dishes while using and simple techniques, she works in Oakland developing recipes and capturing food imagery from morning to night.