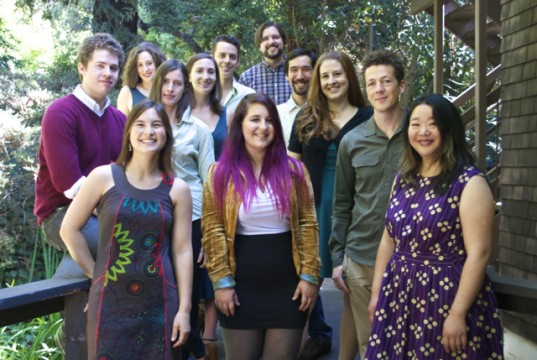 The Bay Area's own Wild Rumpus teams up with Los Angeles composer collective Synchromy to present a series of visceral works by LA and Bay Area composers. The program will include brand new pieces by Jason Barabba, Nick Norton, and Jen Wang, as well as works by Joshua Carro, Ursula Kwong-Brown, Richard Valitutto, Dan VanHassel, and Scott Worthington.
About Wild Rumpus:
Wild Rumpus is a contemporary chamber music ensemble dedicated to performing the music of the present. Founded in San Francisco in 2011 and led by composers Jen Wang and Dan VanHassel and clarinetist Sophie Huet, the ensemble brings together stellar musicians who share a passion for risk-taking, collaboration, and working with living composers. The ensemble has commissioned thirty new works to date, showcasing premieres alongside new music that highlights shared threads of influence and inspiration. With performances praised as a "showcase of virtuosity and imagination" by San Francisco Classical Voice, Wild Rumpus hopes to challenge and delight audiences by revealing beauty in unexpected places and resonances that transcend boundaries of generation, geography, and genre.
About Synchromy:
Synchromy is a composers' collaborative producing engaging new music events that foster greater understanding and connections between the people of Los Angeles, elevating the presence of the music being created here and around the world. Synchromy creates the space needed for musicians, composers, and music-lovers to come together and experience work being written right here and right now. The individuals of Synchromy do not have a unified compositional style. We will never limit ourselves to one school of composition, or one genre, or one anything. There can never be a single Los Angeles style of music because of the stunning diversity of cultural influences and backgrounds that serve to make Los Angeles an exciting place to live. Our concerts aim to reflect the variety of musical voices sounding in this vibrant city.