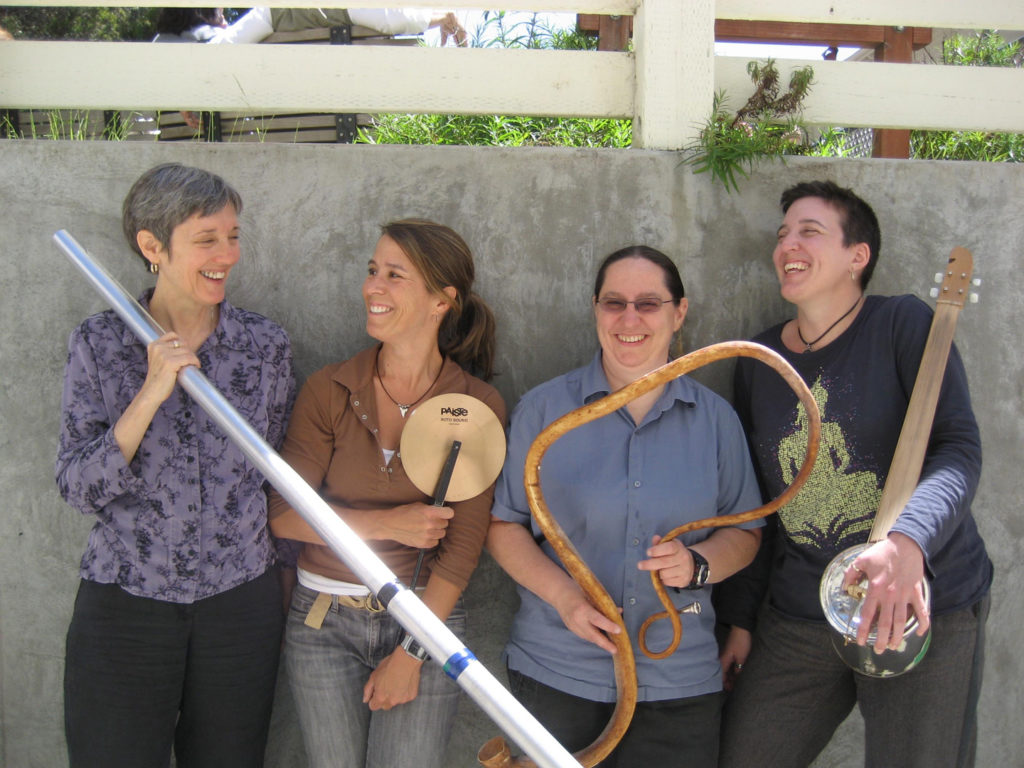 Vorticella
Wet Invention:
an evening exploring aquatic sound
with instrument inventors Cheryl Leonard, Krys Bobrowski, Brenda Huchinson, David Samas and Tom Nunn
Co-presented by Thingamajigs and Soundwave
In partnership with the Window Gallery at the Center for New Music
---
Cheryl Leonard
Cheryl E. Leonard performs music for amplified water, natural-object instruments, and field recordings of caves, rivers, and oceans from around the world.
Cheryl E. Leonard is a composer, performer, and instrument builder. Over the last decade she has focused on investigating sounds, structures, and objects from the natural world. Her recent works cultivate stones, wood, water, ice, sand, shells, feathers, and bones as musical instruments. Leonard is fascinated by the subtle intricacies of sounds. She uses microphones to explore micro-aural worlds hidden within her sound sources and develops compositions that highlight the unique voices they contain. Her projects often feature one-of-a-kind sculptural instruments that are played live onstage and field recordings from remote locales.
Leonard holds a BA from Hampshire College and an MA from Mills College. Her music has been performed worldwide and she has been commissioned to create instruments and music for Kronos Quartet, Illuminated Corridor, and Michael Straus. She has received grants from the National Science Foundation's Antarctic Artists and Writers Program, ASCAP, American Composers Forum, American Music Center, Meet the Composer, and the Eric Stokes Fund. Leonard has been awarded residencies at Oberpfälzer Künstlerhaus, Djerassi, the Arctic Circle, Villa Montalvo, and Engine 27. Recordings of her music are available from NEXMAP, Unusual Animals, Ubuibi, Pax, Apraxia, 23 Five, and Great Hoary Marmot Music.
---
Gliss Glass Solo
Krystyna Bobrowski
Gliss Glass is an original instrument consisting of a series of custom glass vessels of various sizes, filled with water, interconnected by a system of tubes and valves. Though much larger than a wineglass, the instrument is played in much the same way, by running a wet finger or hand around the rim. The glass vessels may be lightly amplified to pick up subtle squeaks, sloshes and scrapes.
The musician controls the water level and flow through the instrument by manipulating the valves and vessel heights. As water drains or fills a glass vessel, the frequency rises or falls respectively. By making use of the basic principle of hydraulic equilibrium, the instrument creates naturally slow, shifting glissandos.
Originally, Gliss Glass was designed and built to be played by a small group of musicians spread throughout the performance space where each person plays one glass vessel. Over the years, Bobrowski has adapted the instrument to a solo configuration that will be presented this evening.
Gliss Glass was created by Krystyna Bobrowski during a residency at the Akademie Schloss Solitude in Stuttgart, Germany, 1997-98, and debuted by Bel Canto at the Internationale Ferienkurse für Neue Musik, Darmstadt, 1998.
---
Vorticella
Vorticella is comprised of four women, Krystyna Bobrowski, Erin Espeland, Brenda Hutchinson and Karen Stackpole, improvising on a variety of conventional and homemade instruments as well as found objects. Instruments include French horn, kelp horns, percussion (a vast collection of gongs, metal bits, wooden bits, exotic sound makers, and everyday household objects), cello, paint can banjo, voice and the Long Tube (9 1/2 foot bionic tube).
Vorticella are inverted bell-shaped ciliates. Each of these single-celled organisms has a separate, anchored stalk. Some are grouped as colonies, but because each Vorticella has its own individual stalk it can detach from the cluster at any time. We are a complex sound generating entity bearing a strong resemblance to the Vorticella.
Krystyna Bobrowski is a sound artist, composer and musician. In addition to French horn she plays acoustic and electronic instruments of her own design. Her collection of original instruments includes bull kelp horns, prepared amplified rocking chairs, leaf speakers, Gliss Glass and the Sliding Speaker Instrument.
Erin Espeland has been an improvisational cellist for over 20 years. She uses unconventional techniques to generate interesting sounds from this instrument. She has played in ensembles throughout northern California, with performances ranging from John Cage festivals to parades.
Brenda Hutchinson, composer and sound artist, has been making sounds and singing into one end of a 9 1/2 foot Long Tube for the past 24 years. She has developed a more bionic, electronically enhanced version of the Long Tube that she uses for both solo performance and to improvise with other musicians.
Karen Stackpole is a drummer/percussionist who specializes in gongs and metals in particular. She has a penchant for subtle sounds and experimental music, playing both solo and in collaboration with others. Over the years she has managed to amass a wide collection of traditional and exotic percussion instruments as well as an arsenal of found objects that she uses to create some truly unique soundscapes.
---
Symphony at Sea
David Samas
Through an unusual orchestra of invented instruments, we will journey with the audience away from the familiar shore out into the sea which is both calm and wild. An extremely dynamic composition for improvisors, this work includes ecstatic poetry and comical songs, ranging from traditional indigenous spirit tunes and the melodies of whales, to the stormy noise of the imagined monsters. The players dressed in loud hawaiian shirts feature 3 large new inventions: a large scatch painting made from sand, shells and beach trash; a beach umbrella laden with coastal chimes; and the cantramast, a huge muti-stringed instrument made from a ships mast and a pirate chest. This performance will also feature a new sonic suit made of sea trash called the Kracken.
The Shorekestra:
David Samas, composer, inventor, voice, ideophones
Tom Nunn, inventor, skatch painting, plates, waterphones
Doug Carroll, contra mast, field recordings
Ron Heglin, Shells, voice and Trombone
Peter Bonos, shells, chimes, trumpet
Ian Saxton, percussion
David Samas is a composer, cosmologist, poet, painter, performer, philosopher, farmer and father of 4; he is a practitioner and professor of arcane healing technologies and traditional magics- a field which includes massage, herbalism, hypnotherapy, psychoacoustics and shamanism. He has a BFA from the SF Art Institute in conceptual art and studied poetics at the New College of California, Vassar, Bennington and S.F. State. As a young man he performed with the SF Boys Chorus, the SF Opera and the SF Symphony with which he won a GRAMMY for the "best classical recording" of 1994. He also makes sacred geometry amulets and talismans, is an excellent cook, and self publishes small editions of hand bound art books.
Lately, he focuses on inventing instruments and extended vocal techniques. He is the creator of the Superb Metaliphone, the Gamelan Piano, the Crystalithaphone, Glassilalia and a number of musical paintings which serve as sets, orchestras and characters for his inventive operas and shadow plays. He uses Tuvan overtone singing and Tibetan deep chanting along with a host of birdsongs, whale songs, howling and polyphonic split tones to weave a dense tapestry of unusual sounds.
Tom Nunn has designed, built and performed with original musical instruments since 1976, having received a B.Mus. and M.A. in music composition from the University of Texas at Austin and S.U.N.Y. Stony Brook, and post-graduate work at U.C. San Diego. His instruments typically utilize commonly available materials, are sculptural in appearance, utilize contact microphones for amplification, and are designed specifically for improvisation with elements of ambiguity, unpredictability and nonlinearity.
Tom has designed and built over 200 instruments, representing three basic types: space plates, electroacoustic percussion boards, and skatchboxes. Space plates are metal sheets with bronze rods that are bowed; the plate is supported by inflated balloons, allowing the plate to resonate. Electroacoustic percussion boards are plywood sheets with various hardware devices attached such as nails, threaded steel rods, bronze rods, combs, etc., played with a variety of small percussion implements. Skatchboxes are cardboard boxes with objects such as washers, combs, toothpicks, bronze rod, dowel, etc. taped or glued to the exterior that are played with various modified combs. All of Tom's instruments are amplified using contact microphones and have sculptural qualities.
International cellist and composer, Doug Carroll expands into new sound domains with the use of electronic processing and creative thought. Carroll's compositions for electronic cello and tape feature the spontaneity and drama of a live performance combined with the richness and diversity of the taped material. His solo improvisations have received international acclaim for their stark originality and musical sensitivity. Additionally, he has composed for a variety of multimedia events, including modern dance, theatre, film, and video, as well as collaborations with visual artists. He studied composition with Karlheinz Stockhausen, Lou Harrison, and Anthony Braxton. He has an MFA in Electronic Music and Recording Media from Mills College and a BA in Music from the University of Alabama in Birmingham. Other studies include the Darmstadt International Course for New Music and the Royal Conservatory at the Hauge, Netherlands.
Ron Heglin is a Trombonist and Vocalist working with extended technique on the Trombone and with spoken and sung imaginary languages as a Vocalist. His vocal music has been influenced by his study of North Indian vocal music. He works both compositionally and in an improvisational mode and is a member of the Bay Area music context as well as performing internationally. He is a founding member of the groups MUSIC FOR ALL OCCASIONS, ROTODOTI, and BRASSIOSAURUS, and has performed with the Merce Cunningham Dance Company, Leo Smith, Henry Brant, Logos Duo, Tim Perkis, John Bischoff, Tom Djll,and Toyoji Tomita.