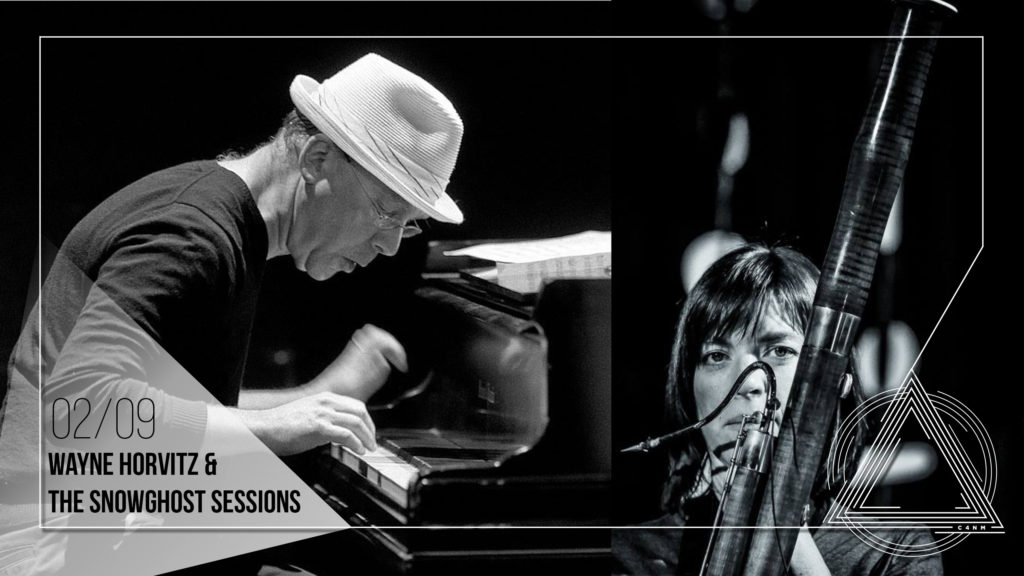 Wayne Horvitz Trio & The Snowghost Sessions with special guest Sara Schoenbeck
Composer and pianist Wayne Horvitz continues touring in 2019 in support of his new CD, "The Snowghost Sessions," with four dates Washington Oregon and California. Horvitz may be best known for his work with John Zorn, Reggie Watts, Bill Frisell, Butch Morris, William Parker, Robin Holcomb, Gus Van Sant and many others. In this project, Horvitz teams with two of his favorite Seattle musicians, drummer Eric Eagle and bassist Geoff Harper.
"The Snowghost Sessions" was recorded over a weeklong residency at Snowghost Studios in Whitefish Montana. In addition, these four dates will feature special guest bassoonist Sara Schoenbeck. Sara and Wayne will also be playing select duo concerts in and around these dates. For a full schedule please visit: http://www.waynehorvitz.com/calendar/
---
Recipient of the 2016 Doris Duke Performing Artist Award, composer Wayne Horvitz own ensembles include The Snowghost Trio, Sweeter Than the Day, and the Royal Room Collective Music Ensemble. Mr. Horvitz's commissioners include The Kitchen, The Seattle Symphony, Kronos, BAM, New World Records, The Flynn Theater, and Vienna Jazz. He has received 3 MAP Fund awards, the NEA American Masterpiece Award, 3 Artist Trusts fellowships and more. As a collaborator or producer, he has worked with Bill Frisell, Robin Holcomb, Butch Morris, Bobby Previte, George Lewis, Reggie Watts, John Zorn (Naked City etc.), World Saxophone Quartet, Fontella Bass, John Adams, and Eddie Palmieri. Collaborators in theater, dance and film include Carey Perloff, Bill Irwin, Gus Van Sant, Paul Taylor and Paul Magid.
"there's nobody else out there I hear even attempting to cover some kind of similar range, and do it so convincingly" — All About Jazz
Eric Eagle: Seattle's first call drummer, Mr. Eagle has recorded with Jesse Sykes, Amy Ray, Wayne Horvitz, Mark Pickeral, Danny Newcomb, Dave Peck, and produced records with The Westerlies, Naomi Siegel, and The Seattle Symphony (featuring Bill Frisell) and others. 
Geoff Harper has recorded and performed with, among others, Julian Priester, Evyind Kang, Timothy Young, Gary Bartz, Wayne Horvitz, BeBop and Destruction, Matt Cameron, Thomas Marriott and Stone Gossard.
Sara Schoenbeck is a bassoonist who dedicates herself to expanding the sound and role of the bassoon in the worlds of classical, contemporary notated and improvised music.. Sara performs regularly with Petr Kotek's SEM ensemble, the composers group WetInk, Wordless Music Orchestra,  Anthony Braxton's Tri-Centric Orchestra, Wayne Horvitz Gravitas Quartet, Harris Eisenstadt's Golden State Quartet, Eve Risser's White Desert Orchestra, Nels Cline Lovers Ensemble, Adam Rudoplph's Go Organic Orchestra and the Michael  Leonhart Band as well as performing with including Roscoe Mitchell, the legendary musicians Butch Morris and Yusef Lateef,  Wadada Leo Smith, Robin Holcomb, Matt Mittchell, Pamela Z, Taylor Ho Bynum, Joe Morris, Miya Masaoke, Ingrid Laubrock, Marty Ehrlich,  Ben Goldberg, Stew and Mark Dresser to name a few. She has performed at major venues and festivals throughout North America and Europe, including Carnegie Hall, Lincoln Center Out of Doors, the Kitchen, Iridium, Disney Hall, the Kennedy Center,  SXSW, New Orleans Jazz Festival, Newport Jazz Festival, Berlin Jazz Festival, Free Music Festival in Antwerp Belgium, Biennale Musica in Venice Italy, Montreal Jazz Festival, Ottawa Jazz Festival, the Vancouver International Jazz Festival, and The Angel City Jazz.