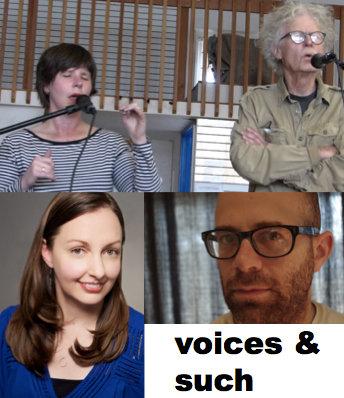 Lorin Benedict is an improvising vocalist (scat singer, essentially) living in Oakland. He attempts to introduce more structurally involved elements into the field of vocal improvisation. Most of his work in this area is centered loosely in the jazz idiom. Recently, Lorin has co-led small groups (duos, trios) in which the roles of the musicians are somewhat mutable even in contexts where highly structured forms are being played. Examples include Bleeding Vector with Berkeley guitarist Eric Vogler, and another duo project with east bay saxophonist Kasey Knudsen. Together, these three musicians jointly lead the trio project, The Holly Martins. He has also co-led another duo project with Brooklyn-based drummer Sam Ospovat. Lorin joined the fold of musicians rather late in life, at the age of 31, after many years of listening to recordings and live performances, many of which involved members of his immediate family (all of whom are/were orchestral musicians in the western classical tradition).
Since becoming professionally active in 2003, Lorin has performed in various groups led by saxophonist Howard Wiley at places such as Yoshis, Intersection for the Arts, the 2006 Stanford Jazz Festival, and the De Young Museum. During 2004 he was a member of guitarist John Schott's Typical Orchestra (with Ben Goldberg, Ches Smith, and Devin Hoff) with which he performed at The Elbo Room, Starry Plough, the Jazzschool, and Yoshis among other venues. Since 2013, he has performed with Sheldon Brown's Distant Intervals, and has joined that group in performances of the commissioned suite, Blood of the Air, at the SF Jazz Center and Duende. With his own projects, his performances have been confined to more intimate places such as The Stone, Local 269 (as part of the on-going "Evolving Voices Series"), and the Douglas St. Music Collective in NYC, and similarly curated venues in northern California: Ross Hammond's spaces in Sacramento, Luggage Store and SIMM series in San Francisco, Temescal Arts Center, Berkeley Arts, Studio Grand, etc.
Lorin appears on a few commercially available recordings in projects led by others: with rapper Malik Ameer- Sanctified (Satori Recordings, 2003), Nothing Better To Do (Satori Recordings, 2006), The Roseline (2007), and Just Because It's a Dream Don't Make it a Lie (2012); with Steve Coleman and Five Elements- Lucidarium (Label Bleu, 2004); with John Schott- John Schott's Typical Orchestra (Smash the State, 2005); with Howard Wiley- The Angola Project (2007), and 12 Gates to the City (2010); with the Mitch Marcus Quintet- Countdown 2 Meltdown (Porto Franco, 2010); with a Sam Ospovat-led large ensemble- PIKI (2012); with the trio, Beep!- Too Physical, (Data Garden, 2014). The albums, No. No. Yes. No. (2010) by The Holly Martins, Home Is Where the House Is (2011) by the duo of Malik Ameer and Lorin, Passwords (2012) by the duo of Sam Ospovat and Lorin, and the new You Know, I Was Just About To… (2016) by the Holly Martins, are recordings on which he has shared creative control.