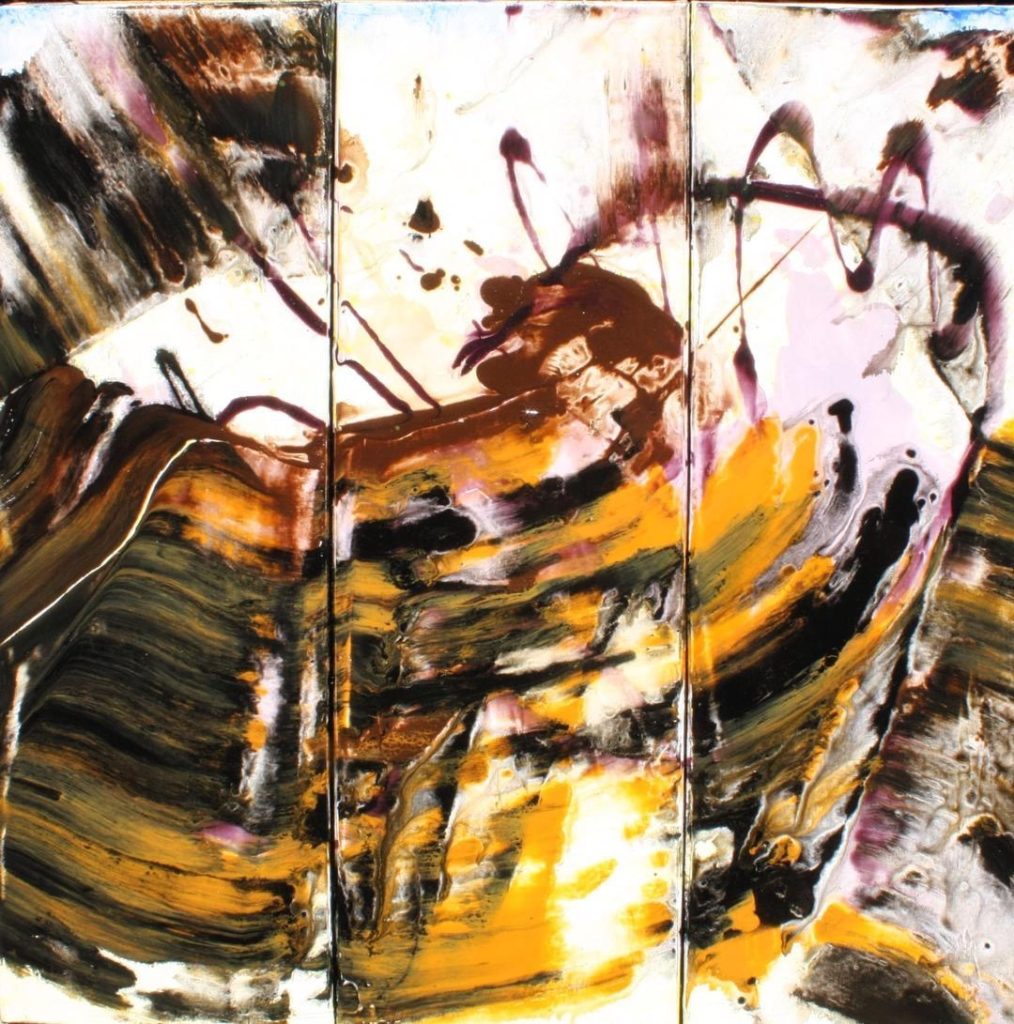 Visible Transitions
Improvised Painting from Live Music
& Improvised Music from Visual Compositions
Live Abstract Painting by Ethan Cranke
w/ Music by Gino Robair, Palle and Per Anders from Sweden
+ Tomas Dimuzio, Phillip Greenlief, and David Samas
GAZE EMANATIONS, drawings by Brian Lucas
Performed by Pet the Tiger and Co.
Cheryl Leonard, Tom Nunn, Tom Djll, Gino Robair, Bryan Day, Phillip Greenlief, David Samas
Having been a professional painter for over twenty years, Ethan Cranke continues to challenge himself within his daily art practice via a plurality of approaches and methods, the results of which have currently led him down the path of abstraction.
"I have always looked at my palette as a keyboard/fretboard/etc. Having received my first electric guitar and amplifier at age five, plunked my first piano keys much earlier, and having spent many years singing with my sister and mother (a trained classical musician and choral singer), learning harmony, pitch, key, etc., the relationship between my approach to a keyboard and my palette has always been quite simpatico. Rhythm, harmony, and key are always foremost in my mind. So, to combine a performance of my mark making skills and the sound making skills of my fellow performers seems like a perfect fit."
Brian Lucas's exhibitions include: Defasaje Polícrono (Airesis, Guadalajara); Dark Star: Abstraction and Cosmos (Planthouse, New York); Divine Invasions (Krowswork Gallery, Oakland); Terra Incognita (Art@Archer, Oakland), and Naked Metaphysics (The Emerald Tablet, San Francisco). His book, Eclipse Babel, was co-published by Ensemble Editions and Bootstrap Press in 2015. He plays in the bands Dire Wolves and Angel Archer.
"My paintings and drawings speculate on the visual similarities between micro- and macrocosmic worlds and the liminal spaces between their supposedly opposite extremes. The biomorphic growths, nodes, and nebulae on display reflect my interest in organic processes: they are at once cosmic and microbial, quantum and expansive. I have evolved ed this personal visual grammar consistently over the last twenty years."
Per Anders Nilsson (1954) is an improvising musician and electroacoustic composer from Gothenburg, Sweden. Studied saxophone and electroacoustic music 1981-87 at the School of Music at University of Gothenburg. In 2011 he finished his PhD thesis A Field of Possibilities: Designing and Playing Digital Musical Instruments. In the 70s and 80s he managed his own bands as well performed occasionally with musicians such as Willem Breuker, Anthony Braxton, Palle Mikkelborg, Karin Krog and John Surman.
Gino Robair has performed and recorded with Tom Waits, Anthony Braxton, John Zorn, Nina Hagen, Terry Riley, Lou Harrison, John Butcher, Derek Bailey, Peter Kowald, Otomo Yoshihide, and the ROVA Saxophone Quartet. He is one of the "25 innovative percussionists" included in the book Percussion Profiles (SoundWorld, 2001), as well as a founding member of the Splatter Trio and Pink Mountain. His opera, I, Norton, based on the life of Norton I, Emperor of the United States, has been performed throughout North America and Europe.
Since his emergence on the west coast in the late 1970s, Evander Music founder and saxophonist Phillip Greenlief has achieved international critical acclaim for his recordings and performances with musicians and composers in the post-jazz continuum as well as new music innovators and virtuosic improvisers. He has performed and recorded with Wadada Leo Smith, Meredith Monk, Nels Cline, Fred Frith and They Might Be Giants; albums include THAT OVERT DESIRE OF OBJECT with Joelle Leandre, and ALL AT ONCE with FPR (Frank Gratkowski, Jon Raskin, Phillip Greenlief).
Cheryl E. Leonard is a composer, performer, and instrument-builder whose works investigate sounds, structures, and objects from the natural world. Her projects often feature natural-object instruments and field recordings from remote locales. Leonard has received grants from the NSF's Antarctic Artists and Writers Program, American Music Center, American Composers Forum, and ASCAP.
Tom Nunn has designed, built and performed with original musical instruments since 1976, and has built over 250 instruments. His instruments typically utilize commonly available materials, are sculptural in appearance, utilize contact microphones for amplification, and are designed specifically for improvisation with elements of ambiguity, unpredictability and nonlinearity.
San Francisco-based Thomas Dimuzio is one of those unsung artistic figures whose influence and abilities have substantially outstripped his visibility. Composer, collaborator, experimental electronic musician, multi-instrumentalist, improvisor, sound designer and mastering engineer – Dimuzio has been busy doing his thing(s) since the late 1980's, but is still only known to a small circle of electronic music enthusiasts.
Tom Djll is a composer, improviser, performer and writer, long associated with the Bay Area improvised music scene. His music may be heard on Emanem, Artifact, Creative Sources, Tzadik, and Other Minds.
Bryan Day is a improviser, instrument inventor, illustrator and installation artist based in Richmond, CA. His work involves combining elements of the natural and man-made world using field recordings, custom audio generation software and homemade instruments. Day's work explores the parallels between the patterns and systems in nature to those in contemporary society.
David Samas is a teaching artist, composer, instrument inventor, curator, conceptual artist and social sculptor. A queer, native San Franciscan from mixed immigrant roots, David got his a BFA from the SF Art Institute in conceptual art in 2000 and studied poetics at the New College of California. He is the director of Pet the Tiger Instrument Inventors Collective and curates the Window Gallery for Invented Instruments at the Center for New Music.