Under Weather Kitten:
Phillip Greenlief – tenor saxophone
Bret Carson – piano
Kazuto Sato – bass
Jason Levis – drums
Under Weather Kitten explores the rich terrain of free jazz with more surprises and zero cliches. The quartet features recent bay area transplant Kazuto Sato (from Tokyo). Motivic ideas flow like a mad river, deep listening and virtuosic in the moment compositions drive the music rather than bluster and energy peaks.
Phillip Greenlief:
Since his emergence on the west coast in the late 1970s, saxophonist/composer Phillip Greenlief has achieved international critical acclaim for his recordings and performances with musicians and composers in the post-jazz continuum as well as new music innovators and virtuosic improvisers. He has performed and recorded with Fred Frith, Meredith Monk and They Might Be Giants; albums include THAT OVERT DESIRE OF OBJECT with Joelle Leandre, and ALL AT ONCE with FPR (Frank Gratkowski, Jon Raskin, Phillip Greenlief). Recent residencies have included Headlands Center for the Arts and from 2012 to 2014 he was the curator at Berkeley Arts, a home for progressive music. He is the recipient of a San Francisco Bay Guardian Goldie Award.
""The Bay Area's do-it-yourself ethos has produced a bevy of dazzlingly creative musicians, but few have put the philosophy to work as effectively as Phillip Greenlief."" – Andrew Gilbert, San Francisco Chronicle (www.evandermusic.com)
""Phillip Greenlief is a reedman versatile enough to achieve anything except peace in Palestine"" – Greg Burke, LA WEEKLY
Brett Carson:
Brett Carson explores the dynamic intersection of materials and the excavation of myth through his compositions, at once volatile and highly structured. Using architectural elements borrowed from composers such as Braxton, Cage, and Messiaen, and deriving inspiration from such fields as mysticism, science, and archaeology, his work aims toward the deconstruction of a musical reality, to be reassembled in a way that is fragmented though still recognizable.
A native of Georgia, Brett became active in Atlanta's experimental music scene while working in more conventional contexts, particularly as a jazz pianist. In 2012, he released two independent recordings with his group Alembic Circle. He moved to Oakland the same year, and is currently involved with his project Quattuor Elephantis in addition to several Bay Area groups including the Medium-Sized Band and Noertker's Moxie. As a performer he has worked with a wide variety of musicians, including Bill Baird, Nicolas Collins, George Lewis, Rent Romus, Wolter Wierbos, and William Winant. He holds an MA in Composition from Mills College, where he studied with Roscoe Mitchell, Zeena Parkins, Fred Frith, Les Stuck, Joan Jeanrenaud, and Robert Schwartz.
Kazuto Sato:
Bassist Kazuto Sato, hailing from Tokyo, Japan, is a recent transplant to the San Francisco Bay Area music scene. He has performed with New York heavyweights Charles Downs, Charles Gale, Dennis Charles, Daniel Carter, and Sabir Mateen. He has also performed with luminaries such as Jo Jones, Jr., Evelyn Blakey, Kalir Madi, C. Sharp, Members of Duke Ellington orchestra, Bruce Edward, and Jay Hoggerd.
Jason Levis:
The music of composer, drummer, and percussionist Jason Levis lives in the rich spaces where styles intersect and musical languages merge. His career began playing guitar in a high school reggae band, and he has since broadened his artistic scope to include jazz, contemporary improvisation, and modern classical composition. His wide-ranging creative efforts are skillfully bound by his innate sense of timbre, sonic space, rhythmic force, and his insatiable interest in discovery. Over the years his passion and curiosity have led him to search out the intersections of musical paths less traveled, and the resulting unique perspective is reflected in his music. Levis holds a Ph.D. in composition from the University of California, Berkeley and currently teaches at the California Jazz Conservatory. He is active as a performer and composer in the United States and Europe.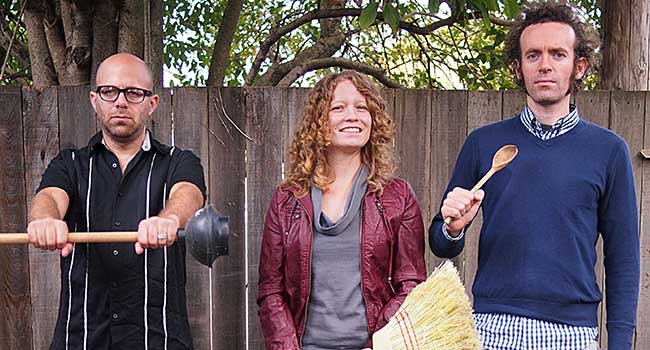 The Holly Martins:
Kasey Knudsen – Alto Saxophone
Eric Vogler – Guitar
Lorin Benedict – Voice
Named after the main character in the classic postwar film, The Third Man, The Holly Martins is a trio of Bay Area musicians dedicated to exploring the boundaries of jazz-infused improvised music, but without the trappings of a traditional ""rhythm section"". This configuration requires each individual to simultaneously take on multiple roles typically assigned individual players (soloist versus accompanist), thereby promoting more open-ended explorations of the material. As to said material, The Holly Martins often construct mutations of normal jazz standards, transformed from their more familiar forms in the time domain. Likewise, their original compositions are often ""jazz-like"", but with twists and turns such as asymmetric harmonic rhythms, cycling rhythmic and pitch patterns, etc.