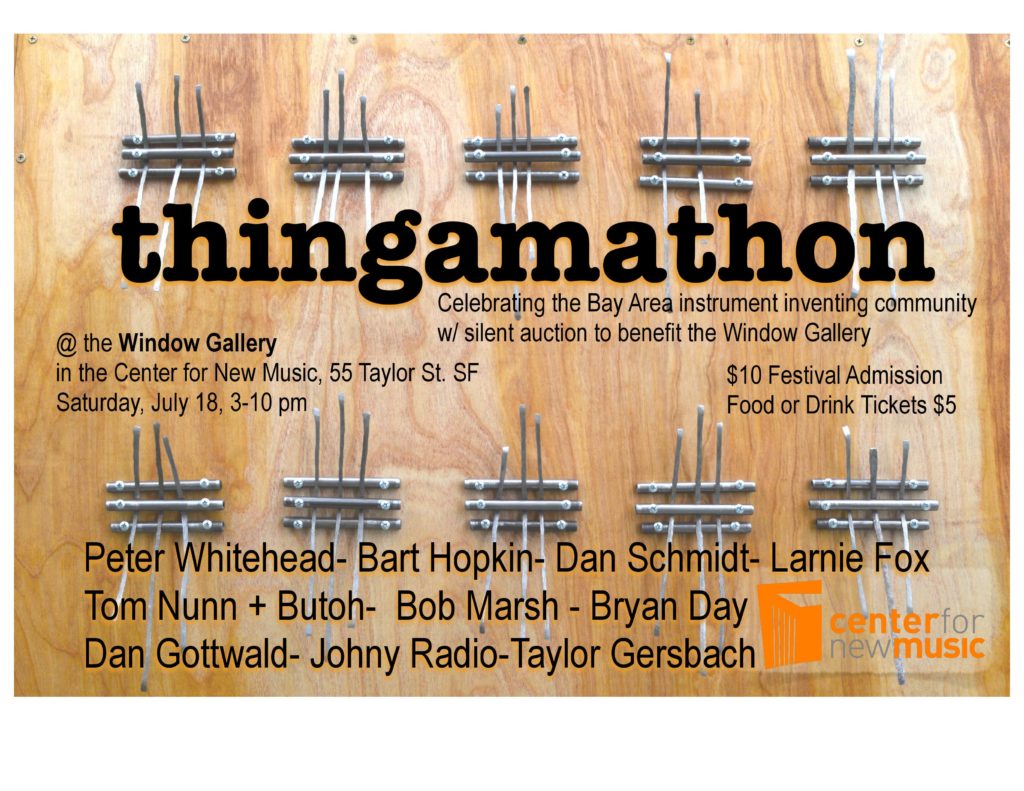 The First Annual THINGAMATHON!!!!
a festival celebrating the Bay Area instrument inventor community
with silent auction to benefit the Window Gallery
$10 General, $20 Donor
Food or Drink Tickets $5 each (BBQ + Salad or 2 Beer/2 Wine)
Bid on an array of books, CDs and original invented instruments.
The Window Gallery at the Center for New Music presents the work of contemporary makers of unusual and newly invented musical instruments; both emerging artists and recognized pioneers. The emphasis is on originality in concept and design, recognizing the seminal role of the search for new sounds in the expansion of musical horizons. Equally essential to the exhibits are notions of beauty, craft, and humor.
Join us in a celebration of the Bay Area's thriving instrument inventor community; all proceeds will benefit the Window Gallery.
Performance Schedule
4:00 Taylor Gersbach, with audience participation
4:30 Johny Radio
5:00 Dan Gottwald and the Analogous Ensemble
5:30 Dan Schmidt: works for American Gamelan (current exhibition in the Window Gallery)
6:00 Bad Jazz: Bryan Day, Tania Chen, Ben Solomon
6:30 Bob Marsh: Sonic Suit #10, The Falling Angel
7:00 Larnie and Bodhi Fox
7:45 Bart Hopkin
8:30 Peter Whitehead
9:15 "Nothing But Now": a Ritual Oratorio; Tom Nunn, Dean Santomeri & Bob Marsh; Butoh dancers Ronie Baker and Christina Braun; Members of the Cardew Choir
---
Can't attend? You can still support the Window Gallery's one-of-a-kind exhibits by making a contribution to the cause.
Donate Online to the Window Gallery

Donations by check may be sent to Center for New Music, 55 Taylor Street, San Francisco, CA 94102. Be sure to write "Window Gallery" in the memo line. Your contributions are tax-deductible!