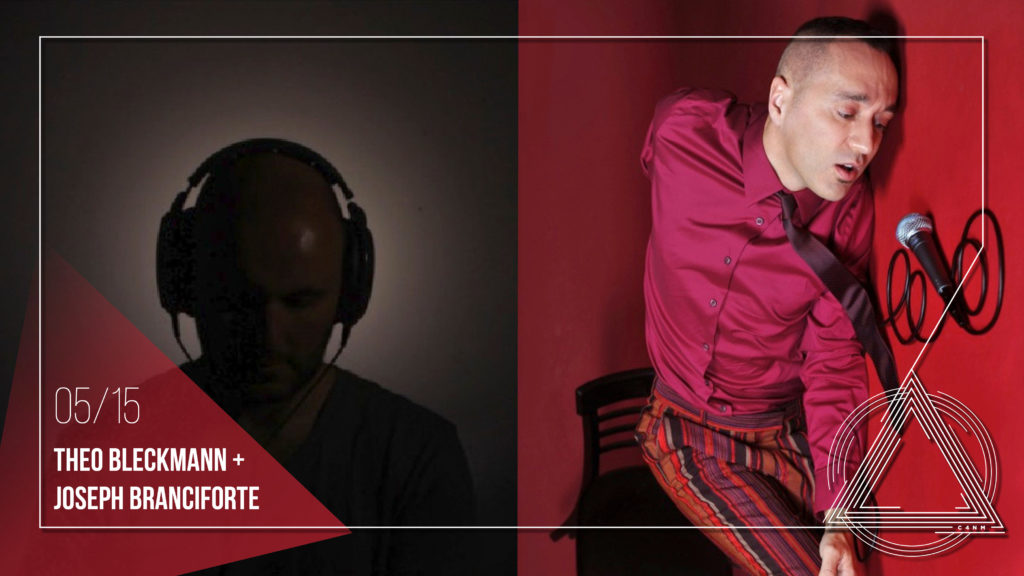 Theo Bleckmann + Joseph Branciforte / Album Release for LP1 / 9pm
Theo Bleckmann / voice + electronics
Joseph Branciforte / modular synthesizers, fender rhodes, tape loops, and processing
A new and unexpected collaboration between Grammy-nominated vocalist Theo Bleckmann (ECM) and electronic musician/producer Joseph Branciforte that merges the warmth and fragility of the human voice with the clicks and whirs of machines, modular synthesizers, and broken tape loops.
Bleckmann is widely known for his arresting and hauntingly emotive voice, an instrument capable of producing all manner of otherworldly sounds and textures. Contextualized here by Branciforte's contrasting palette — artificially synthesized tones, deep subharmonic oscillations, and gently layered sheets of noise — Bleckmann's soundworld can be appreciated in a wholly new light.
Armed with an array of looping devices, guitar pedals, found objects, and sound-making machines, the pair patiently builds and dissolves nuanced sonic tapestries, with a shared musical language drawing upon ambient, choral, microsound, and free improvisation.
Bleckmann and Branciforte will be celebrating the release of their debut recording, LP1, available in both vinyl and high-resolution digital editions via the greyfade label (www.greyfade.com).
Billy Gomberg is a musician living in San Francisco.
"My interest is in creating a space, real or imagined, poetic or remembered, where a relationship can develop, where we can share some of each other's inner language and experience. Musical material from analog & digital synthesis and processing, in addition to various fidelities of field recordings, lay ground and illuminate our duration there. Broadly, I am making ambient music, formed from familiar sources but under the influence of less bucolic moods than the genre implies. I am of the city as much as I am of nature, my practice brings me comfort through its exploration of emotion and experience, not a balm but a means to articulate a poetry of our inner lives made available in this exchange of performing and listening."
Billy's solo LP Slight At That Contact was pressed by Students of Decay and released in October 2016, and recent cassettes Transition and Beginners, were released in 2017 and 2018 (respectively) on Dinzu Artefacts, with A Changed Meaning issued by Strange Rules coming between them.
Extinguishment, a duo with Anne Guthrie under the name Fraufraulein, was released by Another Timbre in early 2015, and their follow-up Heavy Objects was released by Marginal Frequencies in 2017.
Billy Gomberg Bandcamp