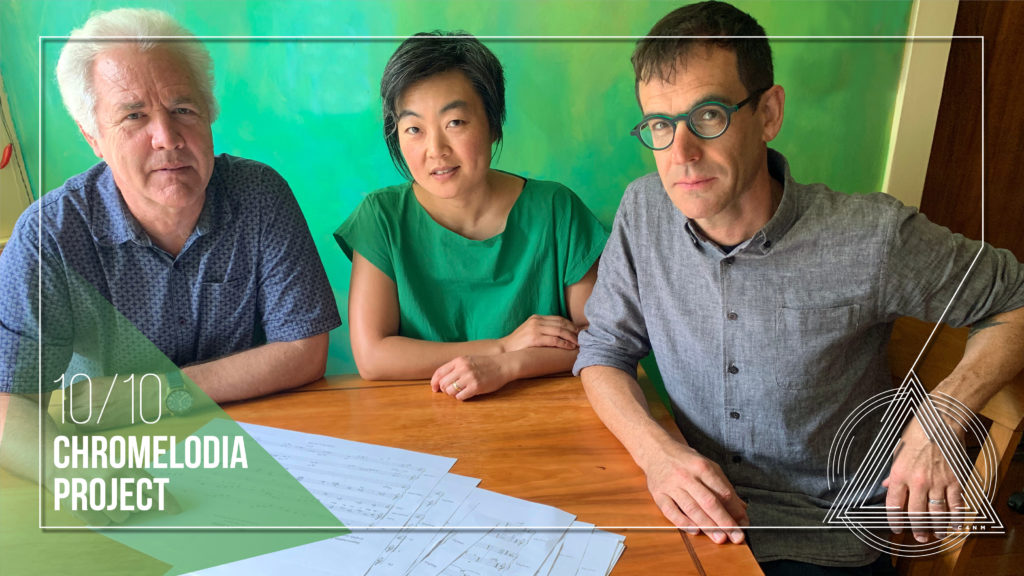 The Chromelodia Project was formed in 2016 to explore just intonation, improvisation, and interactive electronics in a chamber music setting. Its members, Chris Brown, Theresa Wong, and Kyle Bruckmann,  are classically trained musicians who also have well-established reputations as improvisors. The band provides a setting for them to expand the tonal pallette of their music through extemded just intonation, beginning with the 43-tone scale of the American iconoclast composer and instrument-builder Harry Partch. This foundational tuning system for expanding pitch sensibility beyond the equal tempered scale offers three to five intonation alternatives for each of the familiar 12 notes of traditional European music. Partch taught it to his singers and string players using a retuned reed organ he named "Chromelodeon", and Brown has tuned his electronic keyboard in the same way to teach his pieces to Wong and Bruckmann, providing the rationale for the band's name.
This program features the premiere of Chris Brown's "Some Centre" (2019), a song cycle based on 5 poems by Emily Dickinson, here in its completed version including interactive electronics and improvisation. A performance of the fully notated score for each of the five songs is interleaved with improvisations based on their microtonal modes, with computer generated rhythms related to the mathematical proportions that define their tones. The program opens with a performance of Brown's "First Light" (2016) based on poetry by Jackson Mac Low; each of its short, chorale-like songs also provide harmonic frameworks for meditative improvisations.

Chris Brown is a composer, pianist, and electronic musician, who makes music with self-designed sonic systems that include acoustic and electroacoustic instruments, interactive software, computer networks, microtonal tunings, and improvisation. His compositions are designs for performances in which people bring to life the musical structures embedded in scores, instruments, and machines. His early work frequently included electroacoustic instruments he invented and built, like the "Gazamba" (1982), an electric percussion piano featured in Alternating Currents (1984), commissioned for the Berkeley Symphony for orchestra and three soloists. He designed and built his own computer-controlled analog signal processing system for the environmental sound piece "Lava" (1992), for brass, percussion, and live electronics. "Talking Drum" (1995-2000) was a MIDI network installation that explored polyrhythm, distance, and  resonance in large architectural spaces. It was later extended this concept with a homemade low-power FM radio system for the audience interactive installation series "Transmissions" (2002-9) with Guillermo Galindo. He has been a member since 1986 of the pioneering computer network music band "The Hub", which received the 2018 Giga-Hertz Prize from ZKM-Karlsruhe in Germany. Last year he was commissioned by the City of Berkeley to compose "Flow in Place" (2018), an eight channel sound installation for the Downtown Berkeley BART station plaza. Throughout his career he has composed solos for acoustic instruments with interactive electronics, and for computer alone, using self-authored software for his compositions and improvisations. Since 2005 he has written music in just intonation, often integrating rhythmic structures that parallel the proportions used in their tunings.
Theresa Wong is a composer, cellist and vocalist active at the intersection of music, experimentation, improvisation and the synergy of multiple disciplines. Bridging sound, movement, theater and visual art, her primary interest lies in ?nding the potential for transformation for both the artist and receiver alike. Wong has presented her work internationally at venues such as Fondation Cartier in Paris, Yerba Buena Center for the Arts in San Francisco, Cafe Oto in London, Festival de Arte y Ópera Contemporánea in Morelia, Mexico and The Stone and Roulette in New York City. She is the recipient of grants from the Center for Cultural Innovation, American Composers Forum, San Francisco Friends of Chamber Music and Meet The Composer. Wong is a Civitella Ranieri Foundation Fellow and has also been awarded artist residencies at the Headlands Center for the Arts and Yaddo. She currently works and resides in the San Francisco Bay Area.
Composer/performer Kyle Bruckmann's work extends from a Western classical foundation into gray areas encompassing free jazz, electronic music and post-punk rock. A busy and varied performance schedule and appearances on more than 80 recordings have led to his recognition as "an excellent composer, striking the right balance between form and freedom" (Signal to Noise), "a modern day renaissance musician" (Dusted) and "a seasoned improviser with impressive extended technique and peculiar artistic air" (All Music Guide). Shortly after moving to the San Francisco Bay Area in 2003, he joined forces with acclaimed new music collective sfSound and with Quinteto Latino (a woodwind quintet specializing in Latin American composers). He is now also a member of the San Francisco Contemporary Music Players, Eco Ensemble, and Splinter Reeds. He has worked with the San Francisco Symphony and most of the area's regional orchestras remaining active in an international community of improvisers and sound artists.
This concert by the Chromelodia Project is made possible through the Musical Grant Program, which is administered by InterMusic SF, and supported by the Clarence E. Heller Charitable Foundation, the Hewlett Foundation, and San Francisco Grants for the Arts.

Thanks to Intermusic SF for their generous support of this concert through their Musical Grant Program.