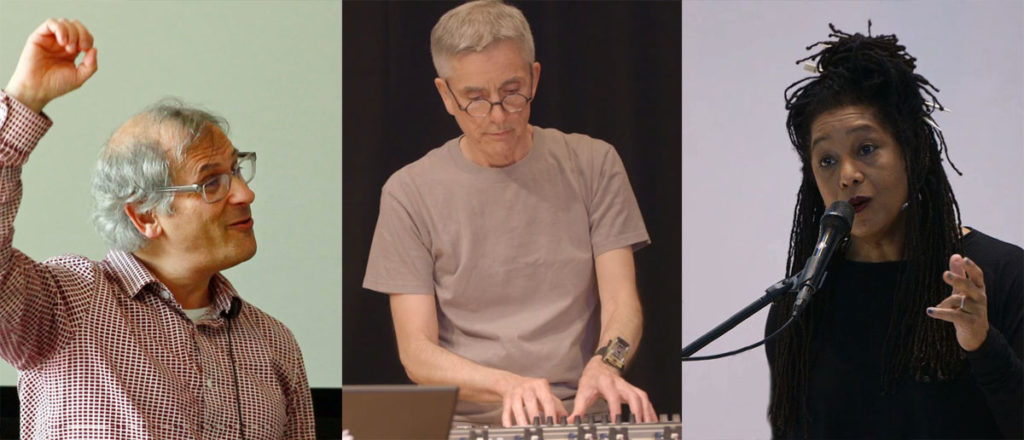 Composer/performers Pamela Z, Donald Swearingen, and Eric Lyon will perform composed and improvised works for gesturally controlled electronics and voice, in various combinations of solos, duos, and trios.
Eric Lyon (Blacksburg, VA) is a composer and computer music researcher. Major areas of focus include computer chamber music, spatial orchestration, and articulated noise composition. Recent compositions include "Spirits", a 43-channel electroacoustic piano composition for the ZKM Kubus,"Noise Variations" for ensemble mise-en, and "The Book of Strange Positions" for the violin duo String Noise.
Donald Swearingen (Oakland, A) is composer, performer, multimedia artist, and designer of interactive performance systems and installations. For the past 20 years, his work has revolved around the use of movement and gesture as the source of media control in an expanded, computer-assisted performance environment, leading to the design custom instruments and software for both himself and other artists, including Pamela Z, Miya Masaoka, Dohee Lee, Thea Farhadian, and Guillermo Galindo.
Pamela Z (San Francisco, CA) is a composer/performer and media artist who makes solo works combining voice with electronic processing, samples, gesture activated MIDI controllers, and video. In addition to her solo performance work, she has a growing body of commissioned chamber works (including pieces for Kronos Quartet, Bang on a Can Allstars, and Claire Chase) as well as inter-media gallery works including multi-channel sound and video installations.