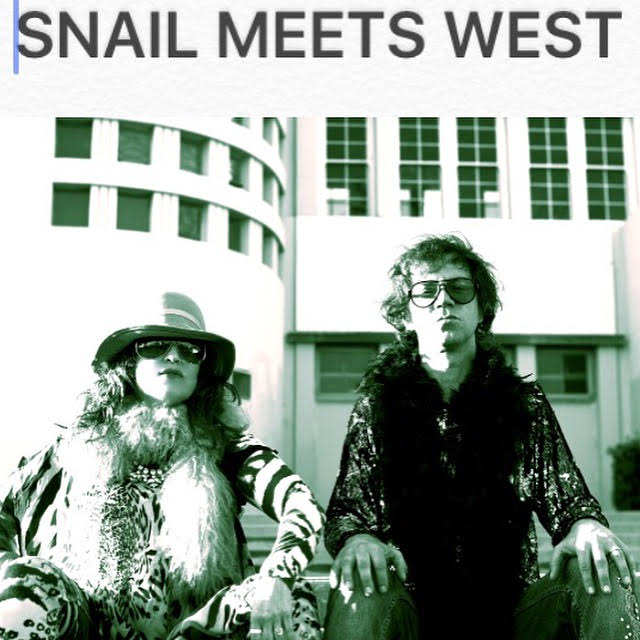 SNAIL MEETS WEST
Snail Meets West is the free jazz duo of indie spacerock musician Azalia Snail of NYC and multi-instrumentalist music maestro Dan West of Los Angeles. The project is inspired by and a tribute to the late great Ornette Coleman. Dan West, who was a student of Grammy Award winning composer/arranger Clare Fischer, has played with Maynard Ferguson, Paula Kelly and Joe Williams. He is a graduate of Cal State Northridge and an alumni of Cal Arts. Snail has learned from studying the great free jazz drummers~~ amongst them, William Hooker and Denardo Coleman.
They are also in the electro-pop rock band LoveyDove and have toured the world with acts such as Sebadoh, Low, Trumans Water, King Missile, El Vez, and many others. SMW is out on the Union Pole label: 
http://unionpole.com/updl22.html
JOROBA/NORTON/ROBINSON/
Described as a 'percussive dervish' (Coda) Donald Robinson is a technical master of the drums. He is a stalwart of the of San Francisco bay area avant-garde jazz scene, playing and recording
with many of the area's improvisational players, from saxophonists John Tchicai, Marco Eneidi and Larry Ochs to koto player Miya Masaoka and pianist Matthew Goodheart, and with prominent visitors like Cecil Taylor, Wadada Leo Smith, George Lewis, trumpeter Raphe Malik and Canadian pianist Paul Plimley. Much of this work has featured the combination of Robinson and bassist Lisle Ellis as rhythm section: 'the best bass-drums tag
team on the scene' (Jazz Times). His longest musical association, dating from the 1970's, was with the late tenor saxophonist Glenn Spearman.
Tristan Norton is a guitarist, bassist, composer, and improvisor and graduate of the California Jazz Conservatory who has performed in many capacities in the Bay Area music scene namely as a jazz artist and new music artist. Jaroba (James Robert Barnes) is a Woodwind, electronics, Invented Insturments, and Photographer. As a composer who has written music film, and stage. Has been awarded by the Kennedy Center. Studied saxophone with Frank Litell, Steve Adams.