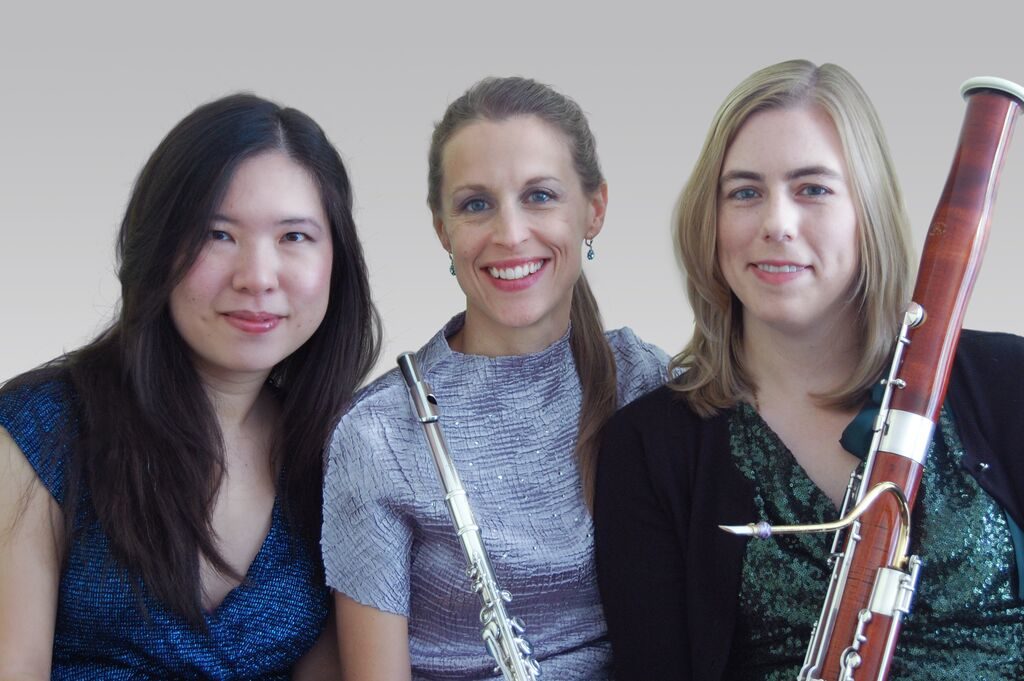 Silver Keys Trio
Christina Guenther, flute
Susan Nelson, bassoon
Geneva Fung, piano
California Tour, Fall 2015
Program
I Might Speak (2015)*
Kyle Hovatter (b.1986)
1. I Might Speak
2. With Tongues of Angles
3. Yet Without Love
4. I
5. Have Now Become
6. A Clanging Symbol
7. Resounding
Trio for Flute, Bassoon, and Piano (2013)
Michael Schachter (b.1987)
I. Mystery
II. Serenity
III. Ferocity
Mountain Roads (2015)*
Chelsea Williamson (b.1989)
I.
II.
III.

*indicates World Premiere

Flutist Dr. Christina Guenther joined the Stephen F. Austin State University School of Music faculty in 2005. She performs actively in the greater East Texas area, throughout the United States, and has also performed in Central and South America. Guenther is a founding member of the Gemini Flute Duo and the Silver Keys Trio, performs with the Stone Fort Wind Quintet, and was principal flute of the former regional Orchestra of the Pines (2005-2008). She has performed/presented/adjudicated at the festivals/conferences of the National Flute Association, the Texas Music Educators Association, the Texas Flute Society, the Houston Flute Club, the Florida Flute Association, the Mid-South Flute Society, the Society of Composers, Inc., the Classical Music Society, and at the Flute Society of Kentucky as winner of the Young Artist and Concerto Competitions. Guenther plays regularly with the Shreveport (LA), Longview (TX), Marshall (TX), and Texarkana (TX) Symphony Orchestras. She performed Christopher Rouse's Flute Concerto in 2007 and the Bach Suite in B Minor in 2013, both with the Orchestra of the Pines. 

An enthusiastic proponent of new music, Guenther has commissioned and premiered several works for flute, including: The Ghosts of Mesa Verde for two flutes (2013) by Stephen Lias; Duo for flute and piano (2009), 3NF for flute and marimba (2006), and Currents for two flutes (2005) by Alan Scott; CRUSH for flute and marimba (2006) by James Barry; and Duo Concertante for flute and percussion (2003) by Laurence Sherr. In the summers, she teaches at Creative Flutist Masterclasses Summer Music Camp in Austin, Texas. Her talented students have been winners in regional competitions, have been accepted into advanced degree music programs, and have gone on to successful music careers in education and arts administration upon graduating from SFA. Guenther is published in the National Flute Association's FQ Plus, Flute Talk, The Flute View, and the Texas Bandmasters Association's Bandmaster Review. 

Guenther holds degrees from Florida State University (D.M., M.M.) and Rutgers, the State University of New Jersey (B.M.); her primary teachers were Eva Amsler, Stephanie Jutt, Charles DeLaney, Bart Feller, and Laura Carnibucci. Christina Guenther plays Emanuel silver flute #117 and a Roosen ebony flute.
Dr. Susan Nelson is the Assistant Professor of Bassoon at Bowling Green State University (BGSU), Ohio, and enjoys an active career as a performer, teacher, and clinician. Dr. Nelson is an advocate for new music as well as chamber music for the bassoon, and is the current director of the non-profit organization Bassoon Chamber Music Composition Competition (BCMCC). She has also taught bassoon and theory at Stephen F. Austin State University and played with the Stone Fort Wind Quintet in Nacogdoches, Texas. In the summer Dr. Nelson teaches at the Bocal Majority Bassoon Camp and BGSU's Double Reed Camp. She has performed with the Classical Music Festival in Eisenstadt, Austria, Michigan Opera Theatre, Shreveport Symphony Orchestra, Toledo Symphony Orchestra, Oklahoma City Philharmonic Orchestra, Ann Arbor Symphony Orchestra, Adrian Symphony Orchestra, and Helena Symphony, among others. Dr. Nelson taught at both Adrian (MI) and Heidelberg (OH) Colleges and was a member of the Heidelberg faculty wind quintet. She also held the position of principal bassoon in the Great Falls Symphony and was a member of the Chinook Winds quintet in Great Falls, Montana. She can be heard on Elements, the newest release from the BCMCC through MSR Classics, which features the winning works from the 2012 and 2014 BCMCC competitions. Dr. Nelson is a graduate of the University of Kansas, the University of Oklahoma, and the University of Michigan. Her primary teachers include Jeffrey Lyman, Carl Rath, and Alan Hawkins.
Pianist Dr. Geneva Fung is a native of Hong Kong. She holds a Bachelor of Arts (Honors) degree from Hong Kong Baptist University, a Master of Music degree from Texas State University, and a Doctor of Musical Arts degree from The University of Texas at Austin. She studied and coached with Chin-chin Tan, Ming-Qiang Li, Mary Mei-Loc Wu, Timothy Woolsey, Rick Rowley, Anton Nel, and Betty Mallard.
Fung has appeared as an active soloist, chamber musician and accompanist in Hong Kong and the United States. Prior to her appointment at Stephen F. Austin State University, she regularly collaborated with the finest musicians and music societies in the Central Texas area, including Cheryl Parrish, Juli Wood, Christopher Holmes, Paula Bird, Christopher Haritatos and the Gilbert and Sullivan Society at Austin. In frequent demand as a collaborative pianist, she has performed in numerous vocal and instrumental recitals and master classes. At SFA, Fung serves as accompanist for choral union, opera productions, student recitals, competitions, auditions and master classes, and she participated in the recent SFA master classes with Twyla Robinson and Evelyn Lear.