C4NM Gallery Opening Receptions are from 6-8pm and feature an hour long reception followed by a talk/demonstration by the artist
6pm – Reception
7pm – Talk/demonstration
Free and open to the public!
Shape Studies Artist Statement:
For as long as I can remember I have been attracted to sound. First through playful curiosity, building make-shift instruments from household items. As a child of a Trinidadian immigrant, the steel pan is intrinsic to my initial interest in instrument design. Growing up, I was surrounded by photos, drawings of steel pans, miniatures pans and Calypso and Soca music. As a child, I did not understand the political and social implications of transforming colonial garbage into a complex and stunning instrument. I did not grasp the resilience required to create this new instrument after the traditional instruments of your culture had been stolen and outlawed. Although I could not fully appreciate the depth of this design, I felt from an early age that an instrument was something anyone could make to fulfill a need.
Clay is currently my preferred musical medium because of its malleability and connection to the domestic realm. I first became curious about ceramics while listening to the sounds of colliding bowls and cups while washing dishes. How can we celebrate our own unique existence through sound? In considering the transformative possibilities of sound, the ability of vibration to bring the mind back to the present moment while also hearing timbres that my grandmothers and great grandmothers might have heard in their kitchens, I still feel that I can make any shape with clay.
I believe that new instrument design can help empower all of us to explore music and sound free from the toxic perfectionism still prevalent in many types of music practices today. Perhaps, by exploring how to build and play new instruments, these untethered vessels can help us to focus more on the sound an instrument creates, rather than the success of playing it to an established standard.
Before focusing on experimental music, I completed formal studies in classical music and architecture. In both of my degrees, I created opportunities for myself through directed study courses to study the physics of sound, sonic phenomena, and traditional musical instrument design. This research directly influences my work designing instruments, and making music with them.
To make musical instruments, I combine ancient tools, techniques, instrument design formulas, with new processes of exploration. I apply established formulas for tuning to a-typical shapes. I create musical scales by gradually transforming shapes. I embrace the fluidity of clay to explore a multitude of approaches. Even when working with mathematical formulas, timers, and precise measurements, I privilege my intuition.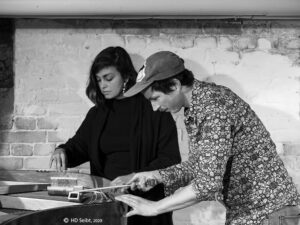 Bio
Roxanne Nesbitt is a designer, musician, composer, and sound artist of Indo-Caribbean and European ancestry. Following formal studies in classical double bass and architecture, Roxanne works between the fields of music and design. Her research explores radical instrument design, the meeting place of composition and improvisation, sculptural ceramics and participatory sound installation. Roxanne collaborates with instrument designers, musicians, composers, and choreographers to create work.
Her instruments have been played at Gadeamus Muziekweek in Utrecht, November Music in Den Bosch, Bauchhund in Berlin, Array Space in Toronto, and the Western Front in Vancouver. Roxanne has made instruments and sound sculptures for violinist Ilana Waniuk, composer Niloufar Nourbakhsh, the International Contemporary Ensemble and many self-initiated projects. She celebrates process making work that is intimate, inquisitive, and exploratory. Roxanne is currently based on the unceded territories of the Musqueam, Squamish, and Tsleil-Waututh Nations (Vancouver, Canada).