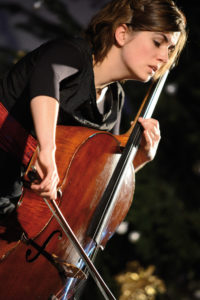 French cellist Séverine Ballon performs new solo works written by local composers Franck Bedrossian, Erik Ulman, and Stanford Graduate Composers.
PROGRAM
Erik Ulman Permission for solo Cello 2014
Franck Bedrossian The spider as an artist 2014
— interval —
Constantin Basica FROMFORMS for solo cello, electronics and video 2014
Andrew A. Watts FEEDBACK SHIFT II for amplified cello and pre-recorded sounds 2014
Nick Virzi Gravity for solo cello 2014
Iván Naranjo deshielo for solo Cello 2014
Eoin Callery Who heard what and when? for amplified cello, prepared diskclavier and live electronics 2014
Andrew Greenwald new piece for solo cello 2014
Séverine Ballon studied cello at the Hochschulen für Musik in Berlin and Lübeck with Joseph Schwab and Troels Svane. In 2004-2005 she was a participant in the International Ensemble Modern Academy. She has also undertaken further studies in contemporary cello technique with Siegfried Palm, Lukas Fels and Rohan de Saram. In 2006-2007, she was a solo cellist in the Toulouse Chamber Orchestra, before deciding to specialise in contemporary music performance. Séverine is a member of the ensembles ELISION (Australia), Ensemble Sillages and multilatérale (Paris) and works regularly with such ensembles as Klangforum Wien, musikFabrik (Cologne), Ictus, Ensemble Inytercontemporain… In 2008-2009 she was at Akademie Schloss Solitude (Stuttgart) for a six-month residency. She attaches particular importance to working directly with composers (Helmut Lachenmann, Liza Lim, James Dillon, Jonathan Harvey…) and has premiered several solo works (Liza Lim, Erik Ulman, Stefano Bulfon, Alex Sigman…). She has recently collaborated with composer David Coll on his multimedia work 68 at IRCAM, and on an installation project with photographer Evi Keller. She regularly performs in a duo with electronic artist Sébastien Roux. Séverine Ballon has been a prize-winner of the 2004 international contemporary music performance competition Gioia del Colle (Italy) and of the Marie-Luise Imbusch Foundation.