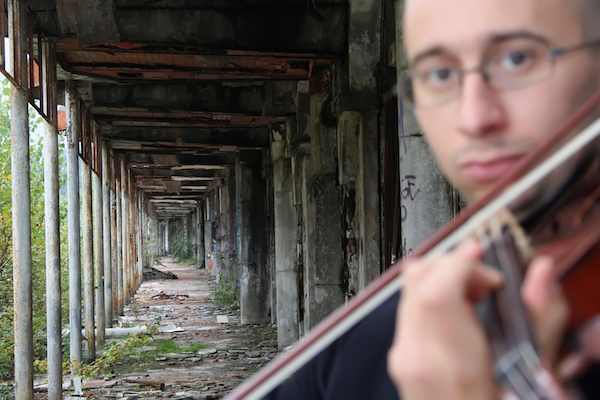 Marco Fusi
Italian new music specialist Marco Fusi visits the bay area with a program of contemporary violin and viola works by some of the most innovative Italian composers working today.
PROGRAM
Pierluigi Billone – ITI.KE.MI. for solo viola (1995)
Filippo Perocco – Ruvida per violino con risonatore (2014)
Salvatore Sciarrino – 6 capricci per violino (1975)
Marco Fusi's appearance is made possible by the Italian Cultural Institute of San Francisco
---
MARCO FUSI, violinist, violist and composer, has studied with Dimitrios Polisoidis, Ernst Kovacic and Jeanne-Marie Conquer. Marco has performed with conductors and soloists including Pierre Boulez, Lorin Maazel, Peter Eotvos, Beat Furrer, Susanna Malkki, Vladimir Ashkenazy, Gustav Kuhn, Jurg Wyttenbach, Jean Deroyer, and Marco Angius. He has premiered new works by Ferneyhough, Eotvos, Sciarrino, Billone, Scelsi, Cendo among others.
Marco has had the opportunity to perform concerts in renowned halls such as the Muziekgebouw in Amsterdam, KKL Konzertsaal in Lucerne, Royaumont abbey Paris, Auditorium Parco della Musica in Rome ,Beyond Baroque in Los Angeles, Experimental Intermedia in NYC, Tchaikovsky Concert Hall in Moscow, and the Bela Bartok Concert Hall in Budapest.
Marco has collaborated with Ensemble Linea (Strasbourg), Interface (Frankfurt), Proton (Bern), Phoenix (Basel), l'Arsenale (Treviso), MotoPerpetuo (NYC), Ecce (Boston), Algoritmo (Rome) and Handwerk (Koln). His complete recording of John Cage's Freeman Etudes was released by Stradivarius; he has been invited to present this project, giving concerts, masterclasses and lectures at University of Southern California, Columbia University, Arizona State University, Basel Musikhochschule, and the Milan Conservatory.
During August 2012 he was part of the "Haas 3rd string quartet project", working with the composer on his 3rd string quartet, performed in Lucerne and NYC. Incoming projects are devoted to Pierluigi Billone's ITI.KE.MI (concerts in Milano, Barcelona, Boston, London, Paris, Strasbourg, Chicago, San Francisco, Los Angeles, New York); a recording of Salvatore Sciarrino complete works for violin and viola and a recital in Milano Musica, featuring Romitelli's Ganimede, alongside with works by Scelsi and Xenakis.
Thanks to his collaboration with Pierluigi Billone, in 2015, November 15th, Marco will give the world premiere of a new work by Billone for solo violin; the concert, celebrating Helmut Lachenmann 80th birthday (in this occasion Marco will play as well Toccatina for solo violin), will be part of a special edition of Eclat Festival, Stuttgart. Marco was a member of Lucerne Festival Academy from 2007 to 2012, under the artistic and musical direction of Pierre Boulez.