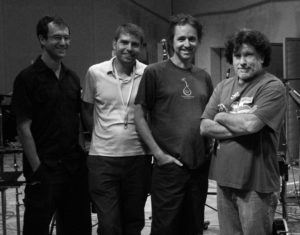 Andrew Raffo Dewar presents the premiere of his Ekphrasis Suite, a set of compositions developed as sonic translations of the austere drawings of visual artist Pete Schulte. Dewar will perform with his Interactions Quartet (above right), featuring the composer on soprano saxophone, Gino Robair (vibraphone, percussion), Kyle Bruckmann (oboe, english horn), and John Shiurba (acoustic and electric guitars).
sfSound clarinetist Matt Ingalls opens the concert with a performance of Helmut Lachenmann's Dal Niente (Interieur III) (1970). Like other Lachenmann compositions from this period, Dal niente is indebted from a technical perspective to the idea of a "musique concrète instrumentale", in which all of the sounds point away from themselves to a certain extent toward the preconditions of their production, bringing the latter into the structural events as a kind of "corporal" experience. The "instrument" becomes a "device": a characteristically manipulated filter for the player's breath as controlled by the composition and its interpretation. The independent modification in finger positions, types of attack, and the forms of articulation in air pressure thus become discernible as a multi-level polyphony. Artificial structures of time and elementary perception of sound processes – which are more objects of observation than of the sort of "listening" which is directed at expressivity – condition each other and relocate the expressivity that was ousted from the single gesture to the emphatically concentrated experience of an awareness of their anatomy.
Ekphrasis Suite by Andrew Raffo Dewar's Interactions Quartet has been made possible with support from Chamber Music America's 2012 New Jazz Works: Commissioning and Ensemble Development program funded through the generosity of the Doris Duke Charitable Foundation.
Biographies
Andrew Raffo Dewar (b.1975 Rosario, Argentina) is a composer and soprano saxophonist. He has had the good fortune to study with a number of masters of contemporary music, including Steve Lacy, Anthony Braxton, Alvin Lucier, Bill Dixon, and he has also had a long involvement with experimental and traditional Indonesian music. Dewar has been noted as "having the rare ability to translate his knowledge into something beautiful" (Foxy Digitalis), and his music has been described as "absorbing" (Dusted Magazine), "enshrouding," and "evoking something unnatural and plugged-in" (Bagatellen). Approaching the soprano saxophone as "a piece of metal capable of making sounds" (Richard Grooms, The Improvisor), Dewar's conception at times "sounds almost electronic in the way it pulsates" (Bruce Gallanter, Downtown Music Gallery, NYC), leading one writer to comment that "you don't have to know what that means to appreciate that this will not be a traditional sax solo" (Flagpole Magazine). In addition to leading his own ensembles and performing in collaborative groups with musicians from around the world, he performs with and appears on recordings by the Anthony Braxton 12+1tet and the Bill Dixon Orchestra. His own music can be found on Porter Records, Rastascan Records, Striking Mechanism, and dEN Records.
Oakland, CA-based composer/performer Kyle Bruckmann's work extends from a Western classical foundation into genre-bending gray areas encompassing free jazz, electronic music and post-punk rock. He is a member of acclaimed new music collective sfSound, the San Francisco Contemporary Music Players, and Quinteto Latino. He has worked with the San Francisco Symphony and most of the area's regional orchestras, while becoming firmly enmeshed in the vibrant local improvised music community. From 1996 until his westward relocation, he was a fixture in Chicago's experimental music underground; long-term affiliations include the electro-acoustic duo EKG, the art-punk monstrosity Lozenge, and the Creative Music quintet Wrack.
Gino Robair has performed and recorded with Tom Waits, Anthony Braxton, John Zorn, Nina Hagen, Terry Riley, Lou Harrison, John Butcher, Derek Bailey, Peter Kowald, Otomo Yoshihide, and the ROVA Saxophone Quartet. He is one of the "25 innovative percussionists" included in the bookPercussion Profiles (SoundWorld, 2001), as well as a founding member of the Splatter Trio and Pink Mountain. His opera, I, Norton, based on the life of Norton I, Emperor of the United States, has been performed throughout North America and Europe.
John Shiurba is a composer and guitarist whose musical pursuits include improvisation, art-rock, modern composition and noise. Shiurba has recorded and toured the U.S. and Europe as a member of the bands Eskimo, The Molecules and Spezza Rotto, as a member of the Merce Cunningham Dance Company, Anthony Braxton's ensemble and the SFSound Group, and as an improvisor. Shiurba has conducted the premieres of his compositions at ODC in 2005 ("Moon Cycle" for SFSound) at New Langton Arts in 2002 ("Triplicate") and at SFAlt in 2002 ("5×5 1.4" for SFSound). Shiurba was invited to play at the Seattle Improvised Music Festival in 1998, at the High Zero Festival in Baltimore in 1999, at the SFAlt Festival in 2004 and at the Olympia Experimental Music Festival in 2002 and 2004, and at the Push International Performing Arts Festival in Vancouver in 2007. As a guitarist Shiurba has developed a unique and personalized approach to the guitar. Through the use of extended techniques and unusual preparations, he expands the traditional sound range of the instrument, producing stunning, often unrecognizable results. Cadence Magazine calls Shiurba a 'wildly creative guitarist… anti-jazz, anti-everything else, yet utterly compelling.'
Reviled for his "shapeless sonic tinkering" by the Los Angeles Times, Oakland musician Matt Ingalls is a composer, clarinetist, concert producer, and computer music programmer. Often incorporating elements of improvisation, his music is heavily influenced by his long involvement in computer music. His composerly solo improvisations explore extended clarinet techniques that interact with the acoustic space, often as combination tones. Matt is the founder and co-director of sfSound, a new music series, ensemble, and internet radio station devoted to new ideas and traditions of experimental music, performance art, live electronic music, Bay Area composition, and the various facets of contemporary improvisation.