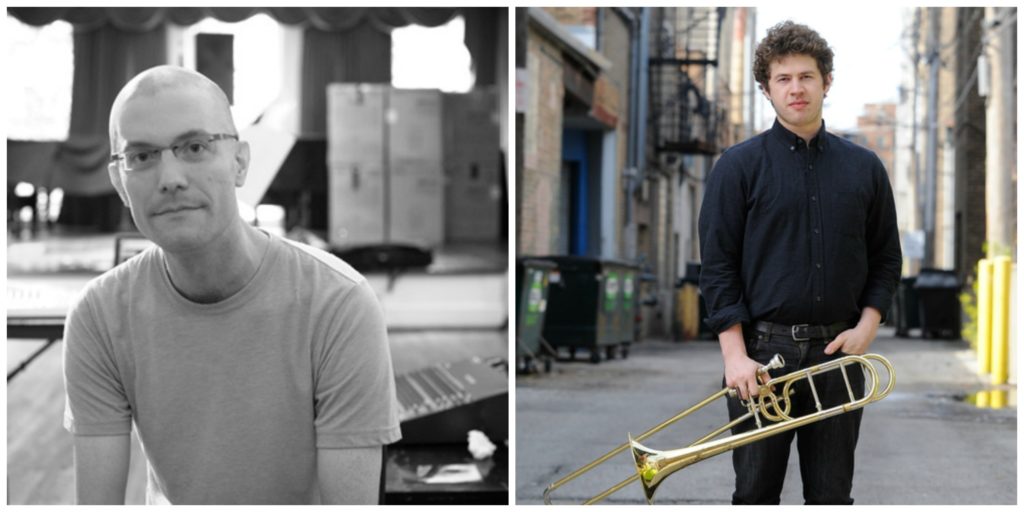 For sfSound's mid-summer freakout, they brazenly problematize instrumentalism, embodiment, and the piece-hood of a piece. Co-founder-made-good Chris Burns and post-trombone monster Weston Olencki join sfSoundGroup in a program of works by Burns, Pierluigi Billone, and Evan Johnson, culminating in an irresponsible evocation of John Cage's ghost for a free fantasia on Cartridge Music (1960).
Christopher Burns: Quant Theseus
Pierluigi Billone: mani.mono
Evan Johnson: a general interrupter to ongoing activity
Kyle Bruckmann/Christopher Burns/Matt Ingalls vs. John Cage: Cartilage (1960/2015)
pierluigi billone's mani.mono moves beyond any form of ritualized theater and into ritual itself. twenty-five minutes for solo performer and spring drum, and instrument whose hollow cavity resembles that of our own body – skin stretched over resonating chamber. the instrument responds to touch, to the body, which may activate or dampen its alienating timbre. mani.mono takes a magnifying glass to every possible gesture, every possible method of interacting with this foreign instrument, turning a single touch into a teeming ecosystem.
evan johnson's a general interrupter to ongoing activity is delicately poised between impossibilities – the voice is fractured, decoupled from itself, where sibilants, whistles, fricatives, teeth, tongue have the potential to both sound and prevent other parts of the vocal apparatus from sounding. johnson's notation is overcrowded, over-detailed, over-extended; phrases are pushed barely past the length of the breath, layers overwrite other layers – the work is essentially the bodily navigation of "…the boundary between audible and inaudible, communicable and private, vocal and muscular."
http://www.westonolencki.com/
Weston Olencki is a San Francisco-based trombonist specializing in the performance and production of new music. Weston is a member of Fonema Consort, Wild Rumpus, ATHLETICS, and has performed regularly with Ensemble Dal Niente, a.per.iod.ic, Chamber Cartel, and the Chicago Symphony Orchestra. He is a recipient of a Kranichsteiner Stipendenpreis from the 47th Internationales Musikinstitut Darmstadt (IMD). An active commissioner of new repertoire, Weston has premiered/commissioned new works by Peter Ablinger, Katherine Young, Pablo Chin, Monte Weber, Dave Reminick, and Joan Arnau Pamies with noted US premieres from Elliott Carter, Bernhard Lang, Simon Loeffler, and Ming Tsao. He holds a B.M. cum laude from Northwestern University with degrees in trombone performance and musicology.
http://sfsound.org/~cburns/
Christopher Burns is a composer and improviser developing innovative approaches to musical architecture. His work emphasizes trajectory, layering and intercutting a variety of audible processes to create intricate forms. The experience of density is also crucial to his music: his compositions often incorporate materials which pass by too quickly to be grasped in their entirety, and present complex braids of simultaneous lines and textures. Several recent projects incorporate animation, choreography, and motion capture, integrating performance, sound, and visuals into a unified experience.
Christopher's work as a music technology researcher shapes his work in both instrumental chamber music and electroacoustic sound. He writes improvisation software incorporating a variety of unusual user interfaces for musical performance, and exploring the application and control of feedback for complex and unpredictable sonic behavior. In the instrumental domain, he uses algorithmic procedures to create distinctive pitch and rhythmic structures and elaborate them through time. Christopher is also an avid archaeologist of electroacoustic music, creating and performing new digital realizations of music by Cage, Ligeti, Lucier, Stockhausen, and others. His recording of Luigi Nono's La Lontananza Nostalgica Utopica Futura with violinist Miranda Cuckson was named a "Best Classical Recording of 2012" by The New York Times.
A committed educator, Christopher teaches music composition and technology at the University of Wisconsin-Milwaukee. Previously, he served as the Technical Director of the Center for Computer Research in Music and Acoustics (CCRMA) at Stanford University, after completing a doctorate in composition there in 2003. He has studied composition with Brian Ferneyhough, Jonathan Harvey, Jonathan Berger, Michael Tenzer, and Jan Radzynski.
Christopher is also active as a concert producer. He co-founded and produced the strictly Ballroom contemporary music series at Stanford University from 2000 to 2004, and has contributed to the sfSoundGroup ensemble in the San Francisco Bay Area since 2003. Since 2006, he has served as the artistic director of the Unruly Music festival in Milwaukee.