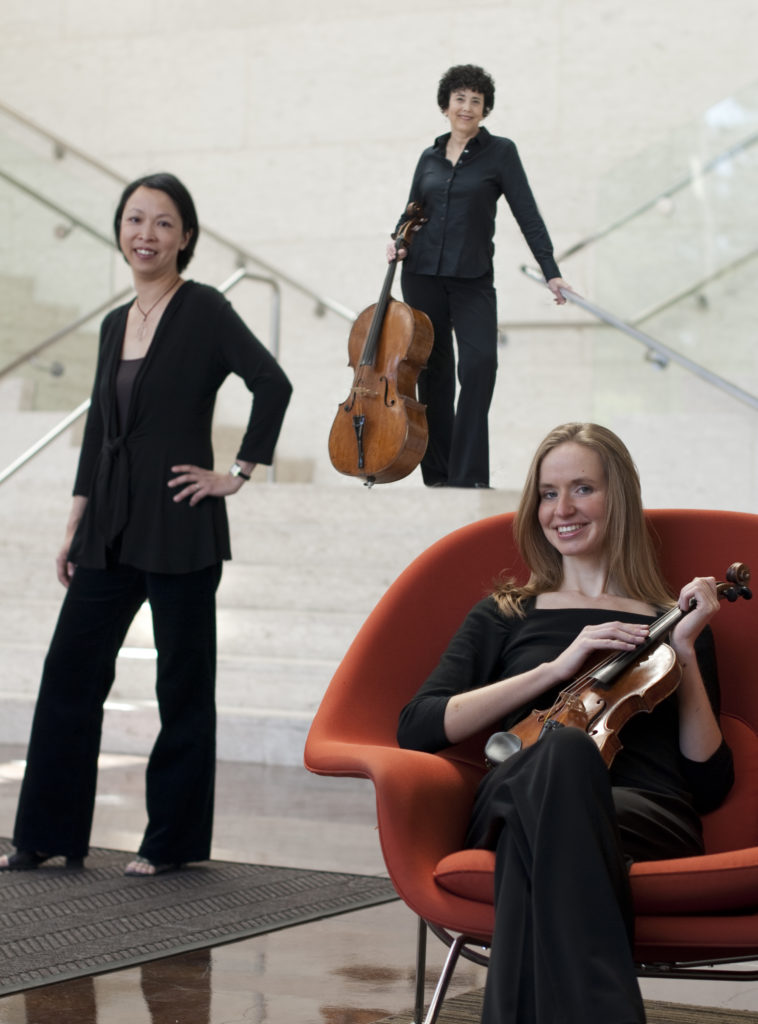 Trio 180
Ann Miller, violin

Nina Flyer, cello

Sonia Leong, piano
Program
Elegie, op. 23 – Joseph Suk (1874-1935)
Piano Trio In E Minor, Op. 90 'Dumky' – Antonin Dvorak (1841-1904)
180 Shift – Robert M. Greenberg (1954-) Commissioned by Trio 180
Primavera Portena / Oblivion / La Muerte del Angel – Astor Piazzolla (1921-1992)

Trio 180 (formerly New Pacific Trio), in residence at the University of the Pacific Conservatory of Music, is quickly gaining recognition throughout the United States. This talented ensemble is made up of celebrated concert violinist Ann Miller, Grammy-nominated cellist Nina Flyer, and award-winning pianist Sonia Leong. The trio has given concerts and master classes throughout the West Coast, with a featured appearance in Guadalajara, Mexico in March 2009. An active advocate of new music, the trio was awarded a Barlow Grant in 2006 to commission eminent composer Chen Yi's first piano trio, Tibetan Tunes, published by Theodore Presser. In addition, the trio has premiered works by Allan Crossman (Icarus), Jorge Liderman (Suite del Sur; Sidewalk recorded on Albany Records), Derek Jacoby (Trio No. 2), Francois Rose (Gently, Wild Rose Petals), Cindy Cox, UC Berkeley (Wave, recorded in summer, 2010) and has performed frequently on the Composers, Inc. series in San Francisco.
The 2013-14 season brings performances across California, including Santa Rosa, Gualala, Georgetown, Berkeley, and Sacramento as well as a return to Sundays at 3 in Columbia, Maryland. The trio continues its residency at Old First Church in San Francisco in November, with its popular interactive lecture Inside the Piano Trio, featuring the works of Robert Schumann. This season will also include the world premiere of Robert Greenberg's 180 Shift, commissioned by and written for Trio 180. The 2014-15 season highlights include a performance for Composers Inc. and a concert tour to Vancouver, Canada.