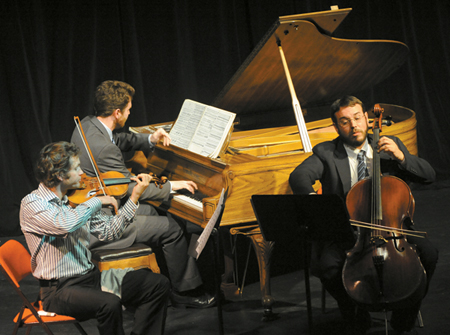 Festival director Ian Scarfe will be joined by violinist Edwin Huizinga, violist Stephen Fine, and cellist Hannah Addario-Berry for a special preview of the Trinity Alps Chamber Music Festival's 2014 Summer Programs.
Held in the scenic Trinity Alps Wilderness from June 15-30, this summer's programming includes one weekend devoted to the chamber music of Brahms, and a second weekend featuring Aaron Copland's Pulitzer Prize-winning Appalachian Spring, in its original version for chamber ensemble.
Though it began as a summer retreat for Bay Area classical musicians, this festival has quickly grown into one of the premier presenters of classical chamber music in Northern California. With an emphasis on youth outreach and school shows, the festival has performed for thousands of youth without access to live classical music, including a recent tour featuring a 11-musician chamber music arrangement of Prokofiev's "Peter and the Wolf."
Ian Scarfe, piano
Edwin Huizinga, violin
Stephen Fine, viola
Hannah Addario-Berry, cello
Violin Sonata in G Minor – Claude Debussy
Asturiana, Songs from Spain and Argentina for Viola and Piano
Cello Sonata in C Major, Op 119 – Sergei Prokofiev
Piano Quartet in C Minor, Op. 60 – Johannes Brahms




SFMusic Thursdays are an outgrowth of San Francisco Friends of Chamber Music's acclaimed annual event, SFMusic Day . Live + Free. This new bi-weekly series extends the reach of that celebration of the Bay Area's vibrant, eclectic music scene year-round. Small ensembles in the SFFCM community – excellent and ambitious performers of Early Music, Chamber Music, New Music, Jazz and Creative Music – are free to present, on their own terms, concert programs in the uniquely intimate and accessible environment of C4NM.