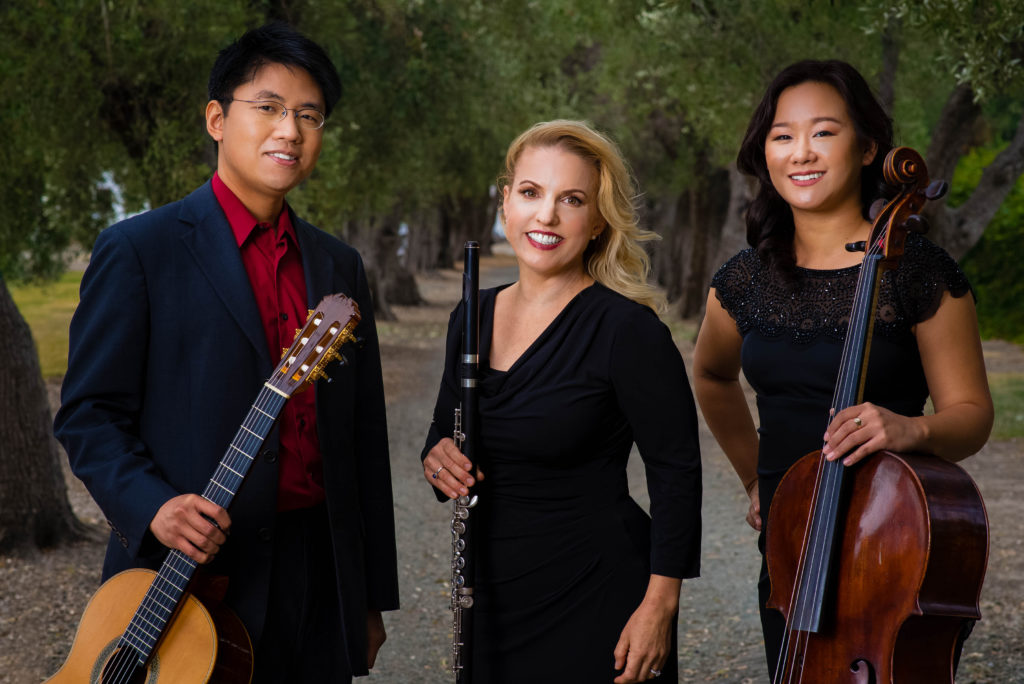 Black Cedar is the winner of a 2014 Musical Grant from San Francisco Friends of Chamber Music and an affiliate ensemble with San Francisco Friends of Chamber Music. It is the only ensemble entirely devoted to creating, discovering, and re-imagining chamber music for flute, cello, and guitar. Their debut album will be released later this year featuring new commissions by Garrett Shatzer, Durwynne Hsieh, and David Smith, plus Klaus Hinrich Stahmer's never-recorded Debussyana (1985) and Nathan Kolosko's Hungarian Trio (2012).
The Santa Cruz Sentinel writes, "Hats off to them…their connectivity with each other was most apparent…as was their ability to convey their joy to the audience." (January 2015) And the San Francisco Examiner writes, "Black Cedar has done a wonderful job of making the case that chamber music can involve approaches to instrumentation not usually expected." (March 2015)
Black Cedar's appearances include Trinity Chamber Concerts and the Subterranean Arthouse in Berkeley; Noontime Concerts, Tangents Contemporary Guitar Series, the Emerald Tablet, and the Forte House in San Francisco; the Deep Valley Chamber Music Series in Ukiah; Classical Revolution and Last Fridays @ Pro Arts in Oakland; Second Fridays @ Arlington in Kensington; San Jose State University, Hakone Gardens, and the Foothill Chamber Music Series in the South Bay Area; Santa Cruz Chamber Players; and the Davis Art Center in Davis. They have performed live on 91.5 KKUP in San Jose, 91.7 KALW in San Francisco, and 90.5 KWMR in Marin County. Upcoming concerts include the Rainbow Mansion in Cupertino, the Carmel Valley Library in San Diego, and both the Music at Noon Series and the Crocker Art Museum in Sacramento.
Steve Lin performs on a cedar guitar made in 1971 by Jose Ramirez. Nancy Kim performs on an eighteenth-century cello by William Forster Jr. Kris Palmer performs on a grenadilla wood flute made by Verne Q. Powell in 2002.
"Life is so delicate," says Chinary Ung, when describing the casual twists of fate that kept him in the United States in the late 1960's and prevented him from returning to his native Cambodia and being caught in the crosshairs of the murderous Khmer Rouge. Days before his return flight after completing his first degree, a chance meeting in an elevator led to a graduate scholarship at Columbia University, thus keeping him in the West. "If I did not go (to that office), and I did not take that elevator at exactly the perfect time, I would have been sent back to Cambodia (permanently)." With Pol Pot's disdain for intellectuals, "I would be gone in no time at all," says Ung. His three brothers and one sister perished in the genocide. Following a decade away from composing to aid his fellow countrymen, Ung wrote Luminous Spirals in 1997, and he drew upon the idea of a spiral – something that circles back but continues going.
American composer Nathan Kolosko's Hungarian Trio (2012) gives a musical depiction of traditional Hungarian folk melodies in the slow movements and traditional Hungarian dance steps in the fast movements, using techniques in all three instruments that mimic their Hungarian counterparts: the ütőgardon, or percussive cello, the cobza, a multi-stringed folk instrument of the lute family, and the Hungarian shepherd's flute.
Klaus Hinrich Stahmer was born in Szczecin, Poland in 1945 but soon fled west to Germany with his family upon the approach of the Soviet military during the post-World War II East-West divide. Beyond his life as a composer, Stahmer has been active in German cultural policy, serving as a member of the German Music Council, where he helped repair relations between Germany and Israel and between Poland and Germany. Debussyana (1983) uses snippets of some of Claude Debussy's most well-known works to create a free-flowing cadenza for three voices.