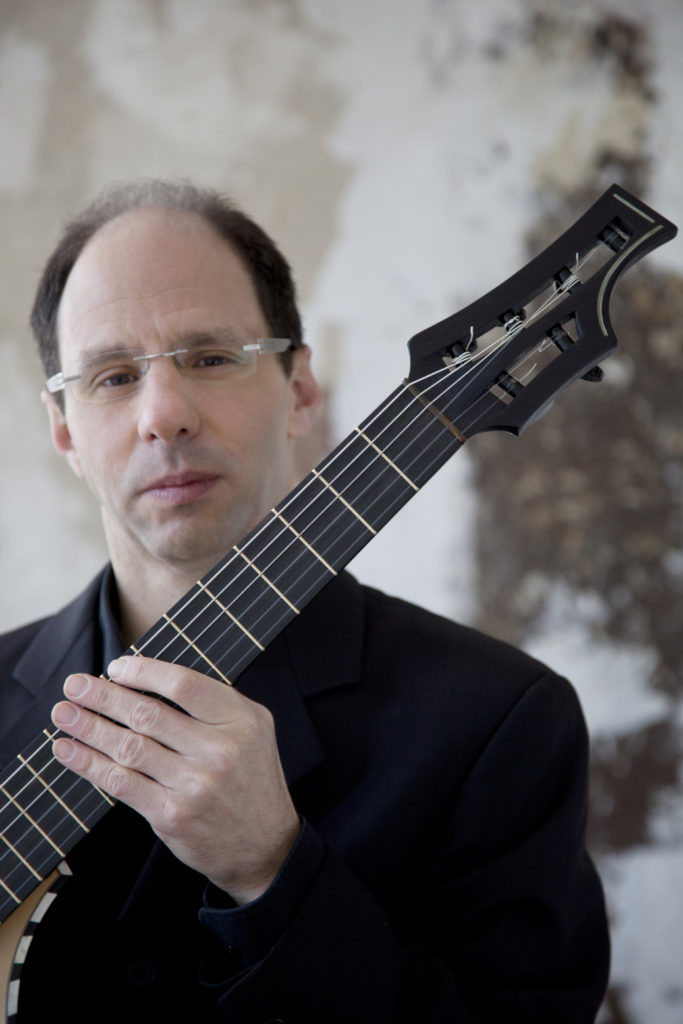 Contemporary music expert and guitar virtuoso Seth Josel performs "point/wave," an immersive, evening-length new work written for him by composer Catherine Lamb. Scored for steel string guitar and environmental sounds culled from the live performance space, "point/wave is an aggregate composition with an indefinite return. Resonating points of the guitar smear and coalesce with the filtered environment, creating a continuously fluctuating, cyclical tonality."
About Catherine Lamb:
Catherine Lamb (b. 1982, U.S.) is a composer dedicating herself to the elemental interaction of tone—by the investigation into partial theory (extended just intonation) and variations in presence of materiality/field within unfolding forms/structures. She has written for numerous musicians/ensembles in North America and in Europe. Her most influential mentors have been Mani Kaul, James Tenney, and Michael Pisaro. She currently resides in Berlin.
About Seth Josel:
Seth Josel has become one of the leading instrumental pioneers of his generation. After acquiring his Bachelor of Music degree at the Manhattan School of Music Seth Josel enrolled at Yale University and earned the Master of Music, the Master of Musical Arts and the Doctor of Musical Art degrees. His teachers included Manuel Barrueco and Eliot Fisk. He is recipient of numerous awards and prizes including a Fulbright-Hays grant from the United States government and the Artists Stipend from the Akademie Schloß Solitude, Stuttgart. As ensemble player and soloist he has been involved in the first performances of more than one hundred works. He has collaborated and consulted closely with such composers as Mauricio Kagel, Helmut Lachenmann, Tristan Murail, and James Tenney. In addition, he has been highly committed to working with several of the leading young composers of our time, including Peter Ablinger, Richard Barrett, and Chaya Czernowin. He has concertized throughout Europe as well as the US, Canada, Israel and Japan, and he has been a guest performer with leading orchestras and ensembles, including the New York Philharmonic, the BBC Symphony Orchestra, the Southwest German Radio Orchestra, La Monnaie, and the Schönberg/ASKO Ensemble of Amsterdam. From 1991 till 2000 he was a permanent member of the musikFabrik. In recent seasons he has been guesting regularly with KNM Berlin, Ensemble SurPlus as well as with the Basel Sinfonietta. He is a member of the Amsterdam-based electric guitar quartet, Catch. Josel has appeared as a soloist at several major European festivals including Salzburger Festpiele, Donaueschingen, Huddersfield, MaerzMusik, and musikprotokoll. In addition to his 3 solo CDs featuring American music (New World Records, CRI, O.O. Discs), he has recorded with Ensemble Musikfabrik NRW, the DSO Berlin, Rundfunksinfonie-Orchester Berlin, Rundfunk-Sinfonieorchester Saarbrücken, ASKO/Schönberg Ensemble, and Champ d'Action. He also recorded Berio's "Sequenza XI" for the complete "Sequenza" cycle released on Mode Records as well as Peter Ablinger's "33-127". He is the co-founder of www.sheerpluck.de, a website database dedicated to the contemporary guitar literature, and he is the co-author of The Techniques of Guitar Playing published by Bärenreiter Press.