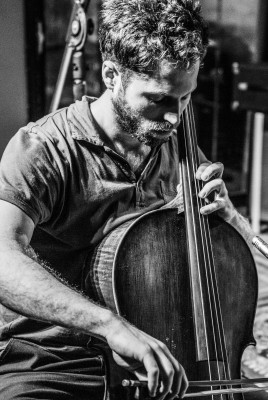 Teddy Rankin-Parker
Matches
Over two nights, Rova members will team up with long-time associates and first-time co-conspirators to present 4 sets of duo performances. Hear the Rovas work outside their 'comfort' zones to investigate new possibilities with their fellow travelers.
Saturday, March 21:
Steve Adams, with Vinny Golia, woodwinds
Jon Raskin with Teddy Rankin-Parker, cello
---
Steve Adams, with Vinny Golia, woodwinds
Likeminded multi-instrumentalists Steve Adams and Vinny Golia have been playing together since 1988 in a wide variety of ensembles, though rarely as a duo. The C4NM concert will feature Steve's new 30 minute piece A Mysterious Abundance of Quinces for bass flute, contra alto clarinet and electronics, as well as pieces from their CD Circular Logic.
Steve Adams joined Rova in 1988, and is also a member of the Vinny Golia Large Ensemble, the Matt Small Ensemble, and the Bill Horvitz Band, as well as leading his own groups. He has been a member of Composers in Red Sneakers, a Boston composers' collective, and the bands Birdsongs of the Mesozoic and Your Neighborhood Saxophone Quartet. Adams has released six recordings under his own name on the 9 Winds and Clean Feed labels, the latest of them being Surface Tension with bassist Ken Filiano and drummer Scott Amendola. Adams's compositions have been performed at the Bang on a Can festival and The Works festival presented by Meet the Composer/Reader's Digest, and recorded by the violin/marimba duo Marimolin. He is a graduate of the School of Contemporary Music in Brookline, Massachusetts, and studied composition with Alan Crossman, Christopher Yavelov, and Thomas Oboe Lee, saxophone with David Birkin, and Indian music with Peter Row and Steve Gorn. Adams received a California Arts Council Fellowship in 2000 and a Meet the Composer/Reader's Digest grant in 1993, and teaches at Mills College.
As a composer Vinny Golia fuses the rich heritage of Jazz, contemporary classical and world music into his own unique compositions. Also a bandleader, Golia has presented his music to concert audiences in Europe, Canada, Mexico, Japan, Australia, New Zealand and the United States in ensembles varying dramatically in size and instrumentation. Mr. Golia has won numerous awards as a composer, including grants from The National Endowment of the Arts, The Lila Wallace Commissioning Program, The California Arts Council, Meet the Composer,Clausen Foundation of the Arts, Funds for U.S. Artists and the American Composers Forum. In 1982 he created the on-going 50 piece Vinny Golia Large Ensemble to perform his compositions for chamber orchestra and jazz ensembles. More:http://www.vinnygolia.com/bio.html
Jon Raskin, with Teddy Rankin-Parker
Teddy Rankin-Parker is an American cello player based in Oakland, CA, who specializes in improvisation and avant-garde music. Rankin-Parker currently works in a wide variety of areas, including solo performance, chamber orchestras, performance art, free improvised settings, electro acoustic music and composition. Teddy has performed, toured, and/or recorded with dozens of artists, including the International Contemporary Ensemble (ICE), Iron & Wine, Glen Hansard, Primus, the Chicago Sinfonietta, Joffrey Ballet, AACM, Chicago Folks Operetta, Opera Cabal, Renee' Bakers Modern Orchestra Project, and Nicole Mitchell's Black Earth Ensemble.
Jon Raskin has been a member of Rova for the past thirty-plus years, exploring the relationship of improvisation and composition, developing and honing the language of ensemble music, and researching linguistic possibilities for the saxophone. He has performed and/or recorded with Anthony Braxton, Fred Frith, Sam Rivers, Tim Berne, John Butcher, Wadada Leo Smith, and Henry Kaiser. Current CDs featuring his compositions include All At Once (Relative Pitch) with the FPR Trio, A Short History (Jazzwerkstatt), Juke Box Suite (Not Two) and Let's Go (Black Saint) by Rova; Jon Raskin Quartet (Rastascan) with Liz Allbee, George Cremaschi, and Gino Robair; Kaolithic Music, jaw-harp music recorded in a 587-gallon vase (Evander Music). He is working on several new recordings, one with JR Quartet, a Rova CD of graphic scores composed by himself and Steve Adams, and a compilation from the 2 + 2 series that Phillip Greenlief and Jon Raskin presented at the 21 Grand Gallery in Oakland, California. www.jonraskin.com
---