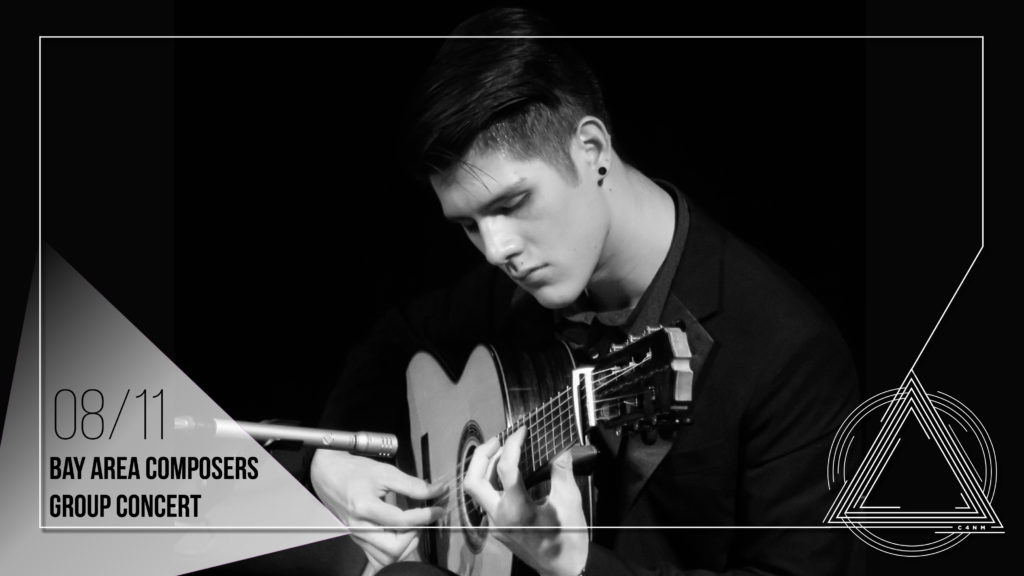 Collection of new pieces composed by Bay Area composers. New music performances for classical guitar, flute, and bassoon. Music by composers Randall Krieger, Feona Jones, Michael Flory, Elijah Pontecorvo, and Sean Martin.
Artist Bios:
Roberto Granados is a guitarist and composer from Hayward California. Inspired at a young age by the music of Jimi Hendrix, Roberto began studying guitar at the age of six with Hungarian classical guitarist Gyorgy Vass. At the age of eight, he also became a student of Bay Area-based flamenco guitar virtuoso Jason McGuire. Roberto has since studied with distinguished guitarists Marc Teicholz and Sergio Assad of the San Francisco Conservatory of Music, and has taken masterclasses from numerous prominent guitarists including Diego del Morao, Paco Serrano, Juan Manuel Cañizares, Berta Rojas, David Tanenbaum, Muriel Anderson, Douglas Lora, and Carlos Barbosa-Lima.
Since beginning his study of the guitar, Roberto has taken part in performances at many venues across the country, including on NPR's "From the Top," at the 36th Annual Emmy Awards, for Barack Obama at a fundraiser for the Democratic National Committee's Organizing for America program, and as a soloist with the California and Santa Cruz Symphonies. More recently, Roberto has played in the Bay Area-based San Francisco Guitar Quartet,
performed with singer Jon Anderson of the progressive rock band Yes, and worked with ukulele virtuoso and composer Jake Shimabukuro.
Roberto holds a Bachelor of the Arts degree in Music at California State University East Bay, where he studied under prominent classical guitarist Marc Teicholz. He is currently pursuing a Masters of Music degree at the Yale School of Music under professor Benjamin Verdery. Roberto continues to teach, arrange and compose music for classical and electric guitar, and works with audio production and experimental composition in his free time. He writes and produces progressive electric guitar-based music in his project The Halcyon Effect, and has collaborated with various progressive metal artists including Visenya, Adam Bentley of Arch Echo, and Bay Area-based Archaeologist.
Randall Krieger is a composer, guitarist, and educator from the Bay Area. He is always looking for new and exciting ways to express his voice through music. He blends styles and influences from many different genres in his compositions while always trying to adapt and stay new. He plays in a progressive metal band called Anisoptera, and can be seen performing his own compositions throughout the Bay Area.
Elijah Pontecorvo is a musician and composer native to San Francisco. Self-taught on the electric bass, Elijah has been performing actively since 2010. He has studied music performance and composition at both San Francisco State University and City College of San Francisco. While Elijah's composing and songwriting is often informed by his passion for avant-garde and extreme music, he also finds inspiration in more conventional musical traditions, with a focus on classical, rock, jazz, and international folk musics. More broadly, Elijah's artistic influences draw from poetry, paintings, and cinema.
Tom Dreiman is a freelance percussionist/composer and teacher, who is living and working in Hayward. He graduated with a BA in music performance and composition in 2017. Tom currently teaches drums and percussion at Mt. Eden High School, plays drums with his brass band (west grand brass band), and donates his time to community orchestras around the East Bay