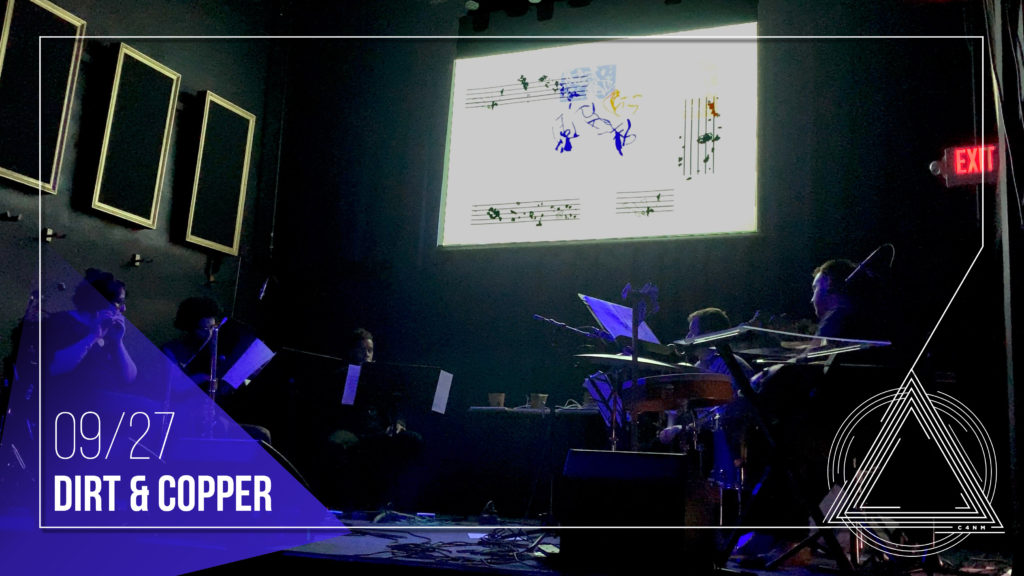 Dirt and Copper will be joined by artist Rebeca Bollinger for an evening of interdisciplinary works exploring the liminal spaces between sonic, textual, and visual modes of interpretation. Each piece is a sonic process generated / refracted in the visual field.
In collaboration with composer and percussionist Tony Gennaro, three of Bollinger's bronze instruments have been adapted into a hybrid musical score. Just as the "imperfections" of the castings tell the history of each object, their details provide inspiration and guide the ensemble's real-time creation. Rodolfo Córdova will join the ensemble as featured vocalist and Bollinger will provide live visuals during the performance.
New works by John Ivers, Julie Herndon, Michelle Lee, and Matt Robidoux will also be performed.
Dirt and Copper is a Bay Area collective dedicated to the performance of radical new music. Comprised of composer-performers, Dirt and Copper prioritizes diverse programming, new avenues of interpretation, and distinct performances.
Dedicated to unravelling the gradients between modes of sounding, Dirt and Copper's performances incorporate substantial performative agency and draw from a range of sources including modular structures, text, graphics, structured improvisation, and traditional western notation. Dirt and Copper provides a laboratory for collaborators to explore new approaches to interpretation and performance.
Working within a generative practice, Rebeca Bollinger identifies the nuances that reside between unstable ground and order. She gives this study visual form and language while working in several mediums including sculpture, photography, video, performance, writing, drawing, and installation.
Her work has been featured in exhibitions such as Art in the Anchorage curated by Creative Time (New York); the California Biennial (Orange County Museum of Art); Bay Area Now (Yerba Buena Center for the Arts); and the SECA Award Exhibition (SFMOMA). Solo exhibitions include Henry Art Gallery (Seattle); Feigen Contemporary (New York); Rena Bransten Gallery (San Francisco); The LAB (San Francisco); and Walter Maciel Gallery (Los Angeles) along with group exhibitions at Ballroom Marfa, Krannert Art Museum, Asian Art Museum, Museum Fridericianum, Hunter College, the De Young Museum, and Pacific Film Archive, among others.
*No one will be turned away at door due to lack of funds.