The performing arts have a deep and significant footing in queerness and while performing arts spaces are not inherently queer, they are essentially other than ordinary and quite often fabulous. Music is a queer art, it has no gender, and arouses feelings beyond gender and relationship boundaries. Music is the drag our feelings wear when they come out for tips and instruments are the queer body of music.
While the instruments of the orchestra feel dominated by old white male money and conservative values, at the experimental fringe where we imagine new possibilities there is ample room for a rainbow of expression.
The window gallery for invented instruments sits at the heart of the SF Transgender Cultural District. To speak from and to the community, we have commissioned 3 queer artists to explore the concept of "queering the instrumentarium."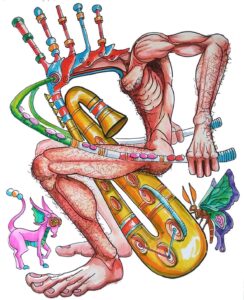 Pink and pearl rhinestone guitar
Oscar Gallegos Zamora
Artist Bio:
Oscar Gallegos Zamora is a gay collage and assemblage artist. He grew up in the suburbs of Orange County after immigrating to the U.S. from Mexico. He moved to San Francisco at 18 to study fine art at San Francisco State University. He lives and works in the Castro where he helps to coordinate local art events like the Castro Art Mart. He is an avid collector of vintage physique magazines and queer art. You can see more of his art on his website oscargallegos.com or on all social media at @thecandycoven
Artist Statement:
My assembalge work consists of found objects such as weapons, animal skulls, and figurines which are painted and hand-stoned to be transformed into sparkly, rhinestone-encrusted art objects. These sculptures focus on beautifying the darker parts of my personal experience as an HIV-positive, gay, femme man. The bedazzled weapons relate to my everpresent anxiety of being gay bashed while my animal skulls acknowledge my ongoing fear of dying of AIDs due to a lack of access to proper healthcare.
Ten Instruments I Never Learned To Play
Michael Jaecks
Artist's bio:
Michael Jaecks is an artist and queer sober housedad living and working in Minneapolis, MN. He thinks of himself as an Aries, who doesn't take stock in astrology, except in situations where it can conveniently explain away his bad decisions.
Artist's Statement:
My current work is a daily discipline guided by memory, whimsy, and interactions on social media. The fantastical, sometimes surrealist results sometimes prompts a viewer to suspect I'm under the influence of some drug, disorder or spell, but that couldn't be further from the truth. Instead, I hope the viewer considers the possibility that the work itself is a psychoactive prescription I've written for them, metaphorically speaking.
A Sureal Sonata
Alisson Gothz –
Artist bio:
Coming from the punk and goth subcultures, Alisson Gothz started experimenting with make-up and art by the age of 15. Artists such as David Bowie and Salvador Dali inspired his looks which soon turned him into a well-known avant-garde drag performer in his native country of Brazil.
As the idea of becoming a walking piece of art grew stronger, he started taking self-portraits to immortalize these creations. These portraits grabbed the attention of curators who displayed the works in international art galleries.
Alisson moved to Oakland/California (USA) almost ten years ago setting aside his art to focus on his career and new relationship. He regained his artistic spark after working with queer youth and minorities in desperate need to take a journey into self-discovery and self-love. He started using his creations to inspire people and make them feel they are worthy, they are loved, and they can become their own masterpiece.
Alisson identifies as a queer, non-binary artist who uses any/all pronouns.
Website: www.alissongothz.com
Instagram: @alissongothz
Artist Statement
Beauty is in the eye of the beholder. You only see the beauty in my portraits because you have a divine beauty inside of you. With this divine beauty inside of you, you can express yourself through that and become empowered. You share this beauty with others and surround yourself with nothing but good vibes.
This process allows you to become your own masterpiece – you celebrate your own uniqueness and don't let anyone sculpt you into something you're not.
When I was a teen, I found the punk and goth subcultures in my native country of Brazil. The freedom to express oneself through clothes, art, and makeup took hold as I discovered David Bowie, Andy Warhol, Salvador Dali, and Leigh Bowery. I began experimenting with makeup, using my face as a canvas, and transforming my body into works of art that mirrored the icons who inspire me. My looks took to the stage, and I became a well-known avant-garde drag performer.
The stage was not enough. I wanted my creations immortalized, so I started taking self-portraits and shared them with friends and on social media. My portraits grabbed the attention of curators all over the world, and they included them in shows, campaigns, and galleries in Sao Paulo, Rio de Janeiro, Madrid, Paris, Amsterdam, Belfast, San Francisco, and New York.
In 2013, I moved to Oakland, CA. Navigating a new country as an immigrant Latinx artist took all of my attention, and I focused on my career and personal life. I felt adrift. I needed inspiration.
I started working with queer and immigrant youth who were searching for themselves and representations of who they could be. My artistic practice reignited, and I realized my art was more than the paint on my face, the costumes I wore, and the photos I took. My art is a journey into self-discovery and self-love, and it can be used to inspire others, letting them know that they are worthy and loved and their own masterpiece.
Now, my work takes a critical view of social and cultural issues. I deconstruct the various dimensions of gender and propose a conversation on identity, prejudice, racial, and sexual differences.
My name is Alisson Gothz. I am an international artist who bridges diasporas and icons.
And you are the artist of your own life.