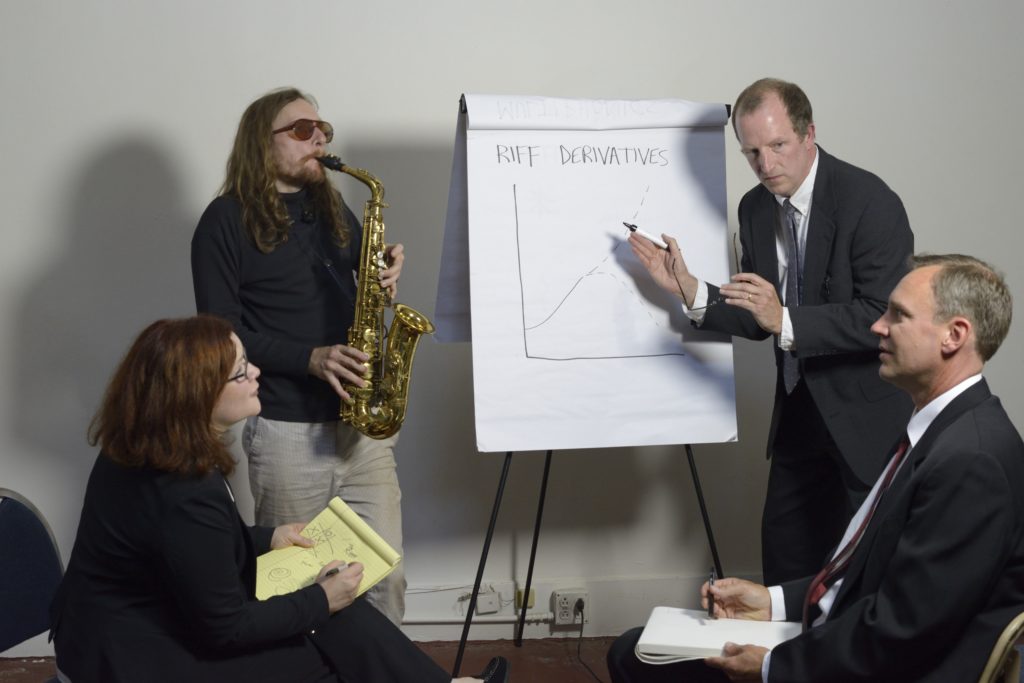 "Play or Die": a call to action by Anthony Braxton in the seventies. We're still in agreement. Improvised music has to be heard live to be best appreciated! AND musicians practicing this rugged discipline must perform to a live audience as often as possible in order to evolve, in order to feed the mind. Tonight Larry Ochs and Jordan Glenn join forces for a meeting of sounds. Sparks should fly. And following that set, the great but under-appreciated "Bristle" – led Randy McKean – will take the stage and blow you away with its magnificent combination of composition and improvisation. And Bristle's instrumentation is unique: Lisa Mezzacappa on bass, Cory Wright on clarinets, and Murray Campbell on violin and oboes join McKean on sax and make up this special quartet.
bios:
LARRY OCHS — sopranino, tenor saxophones (www.ochs.cc)
As a saxophonist he has made more than 30 recordings and 50 tours with ROVA SAXOPHONE QUARTET in North America, Europe and Japan (1977 – present.. Most recent CD: A Short History (2012). www.rova.org
Other touring bands: REMPIS-JOHNSTON-OCHS: "free" horn trio, touring USA May 2015 (CD Spectral on Aerophonic, 2014). KIHNOUA (2007 to present): with Dohee Lee, vocals, Scott Amendola and guest string players; The Sybil's Whisper released 2012. LARRY OCHS – DON ROBINSON DUO: 2011 to present (The Throne on Not Two, 2015). LARRY OCHS SAX & DRUMMING CORE (2000 – present): 4 CDs including April 2016 release on Rogue Arts – Wild Red Yellow: Satoko Fujii, Natsuki Tamura, Amendola, W. Winant, M. Bossi. JONES JONES with Vladimir Tarasov and Mark Dresser (2008-present): We All Live the Same Way (2009) on SoLyd
===================
BRISTLE: Bristle's unique reeds and strings sound explores the boundaries and links between modern jazz and chamber music, between intricate compositional schemes and free improvisation spaces. In addition to its two CDs Future(s) Now(s) (Queen Bee) (named one of the Top 20 CDs of 2014 by KQED Arts) and Bulletproof (Edgetone), Bristle has performed at venues throughout California and the Northwest, including San Francisco's Center for New Music, Seattle's Racer Sessions, the Eagle Rock Center for the Arts in LA, and Sacramento's In the Flow Festival. The group began in 2009 when Randy McKean invited fellow reeds player and composer Cory Wright to form a group to play their original compositions; both share a love of traditional jazz and its experimental, creative offshoots. Lisa Mezzacappa was drafted to anchor the group on bass, and brought her formidable talents as composer and bandleader to the mix. The addition of Murray Campbell, with his rare talent of doubling equally well on violin and oboes, gave the foursome an agile, elastic quality that influences the writing and performances of this drummerless quartet. Equally at home in both hushed concert halls and raucous clubs, Bristle seeks to mix the high and the low, the serious and the playful in one compelling package.
Alto saxophonist/clarinetist Randy McKean is carrying on the tradition of those performer/composers who have revitalized creative music from the inside out, drawing upon its rich history of ideas to produce his own unique forms of expression. McKean leads or co-leads several bands, including the chamber jazz quartet Bristle, the saxophone quartet Goggle, the avant-folk duo Sawbones, the acoustic-electronics duos Wild Horsey Ride, Zap!, and The Gargantius Effect, and his latest project, the African trance band Tumble. McKean's releases include the CDs Wild Horsey Ride, Bristle's Bulletproof (Edgetone), So Dig This Big Crux (Rastascan), the Great Circle Saxophone Quartet's Child King Dictator Fool (New World), and the electronic release Gargantius Effect +1+2+3 (w/Han-earl Park, Gino Robair & Scott Looney). He studied with trumpeter Paul Smoker and composers Anthony Braxton, David Rosenboom, and Maggi Payne. He currently lives in the Sierra Nevada foothills town of Grass Valley, CA.
Reeds player Cory Wright, educated at Oberlin Conservatory and the University of Southern California, has been involved in both the jazz and creative music worlds for the past 20 years, including time spent in New York, Los Angeles and his current home in the San Francisco Bay Area. Cory has played in ensembles lead by Anthony Braxton, Vinny Golia, Eddie Gale, Adam Rudolph and Yusef Lateef. He is currently a member of bay area groups Bristle, Wiener Kids, the Nathan Clevenger Group and the Oakland Active Orchestra, and leads his own projects Green Mitchell and the Cory Wright Outfit.
Lisa Mezzacappa is a San Francisco Bay Area-based bassist, composer, and curator. An active collaborator in the Bay Area music community for 13 years, her music spans avant-garde jazz to ethereal chamber music, scores for experimental film and immersive sound installations. Mezzacappa was voted "Rising Star" bassist in the Downbeat 2013 and 2014 critics polls, and leads her own groups Bait & Switch, Nightshade, the Lisa Mezzacappa Trio, Eartheaters and the Interlopers, and co-leads the ensembles duo B., Cylinder, BODABODA, LMNOP, and Les Gwan Jupons. She has released her music on the Clean Feed, NoBusiness, Leo, NotTwo, Evander and Edgetone record labels, and has recorded as a sideperson for the Tzadik, Kadima and Porto Franco labels. Her own label, Queen Bee Records, was launched in 2013 and focuses on releasing the work of her West Coast creative musician peers
Murray Campbell, originally from Scotland, comes from a prodigiously talented musical family. He studied electronic music in the Netherlands and plays double reeds in the Auburn Symphony and many other regional symphonies and chamber music groups. He is a member of Beaucoup Chapeaux, Gargantius Effect, Bristle, and Lisa Mezzacappa's Interlopers.