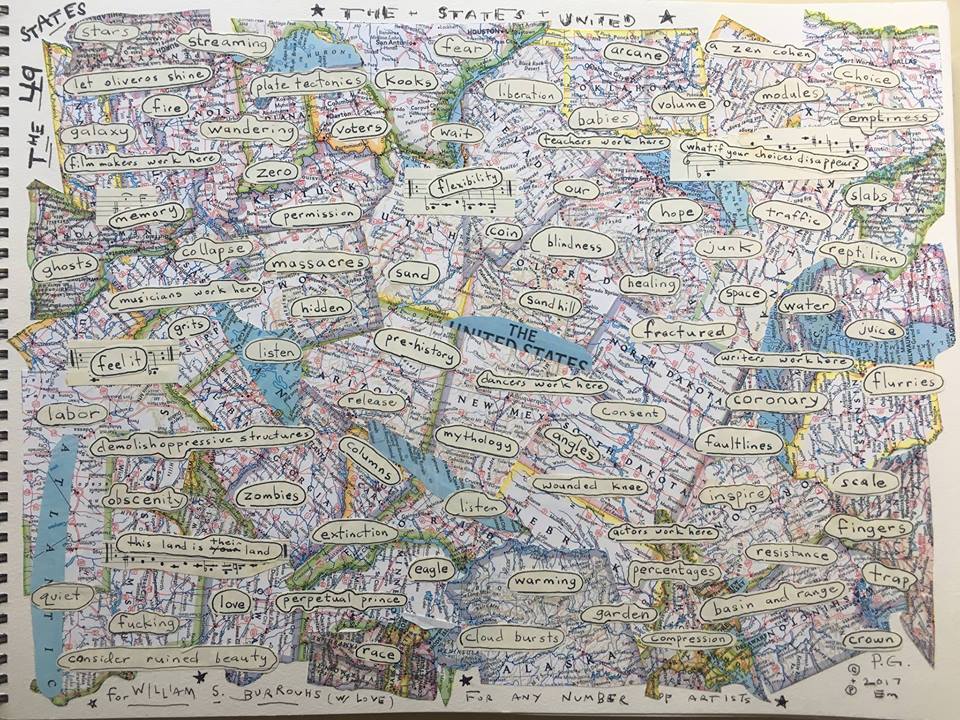 Phillip Greenlief Presents 6 on the 6th – premiering THE STATES UNITED
featuring:
Kyle Bruckmann – oboe, English horn
Evelyn Davis – prepared piano
Phillip Greenlief – tenor saxophone, Bb clarinet, composition
Claudia La Rocco – voice, text
Lisa Mezzacappa – bass
Tim Perkis – live electronics
Donald Trump was elected 45th President of the United States on November 6th 2016. This November 6th, Phillip Greenlief and musicians will perform THE STATES UNITED, a map score originally composed for any ensemble or group of performers from diverse disciplines. The composition, like many of Greenlief's MAP SCORES are open works intended to inspire artists to create works based on images and an assortment of compositional elements. In this case, the map sources are the states of the union, and the cues are text based – words intended to inspire musicians to improvise.
The words presented in THE STATES UNITED have a connection to our history, our current state of affairs and our future – while some are clearly politically charged, others are ambiguous, some are meant to provoke, some are open ended and can be interpreted in a variety of ways.
We hope you will join us for the premiere of this timely work.