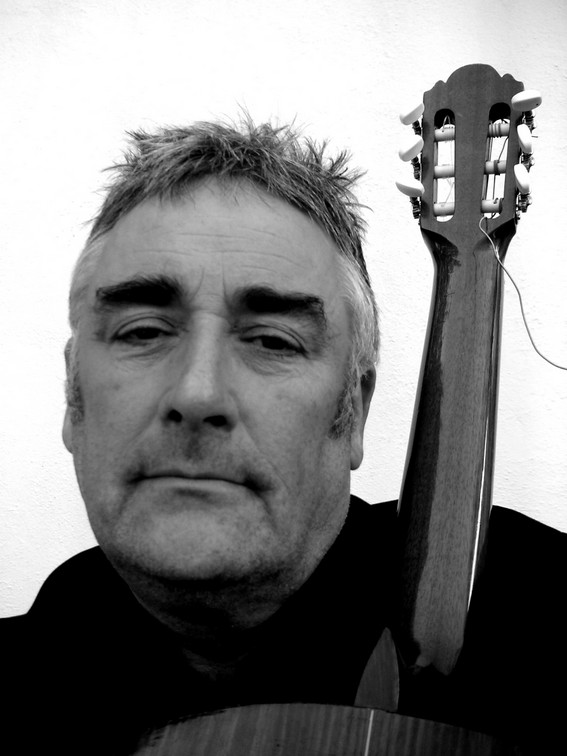 The second in a monthly series of improv music to soundless films at The Center For New Music. Benjamin Ethan Tinker is curating this series with Center For New Music curator Tania Chen. This evening the film will be the dialouge-less "Dementia (aka Daughter of Horror)" (1955) by John Parker.
"May be the strangest film ever offered for theatrical release." – Variety
Come here the ecstatic sounds of the trio of Fred Frith, Beth Custer and Christina Stanley!
Though the point of reference for many remains the iconic band Henry Cow, which Fred Frith co-founded in 1968 and which broke up more than 30 years ago, Fred Frith has never really stood still for an instant.
In bands such as Art Bears, Massacre, Skeleton Crew, Keep the Dog, Tense Serenity, the Fred Frith Guitar Quartet, Eye to Ear, and most recently Cosa Brava, he has always held true to his roots in rock and folk music, while exploring influences that range from the literary works of Eduardo Galeano to the art installations of Cornelia Parker. The release of the seminal Guitar Solos in 1974 enabled him to simultaneously carve out a place for himself in the international improvised music scene, not only as an acclaimed solo performer but in the company of artists as diverse as Han Bennink, Chris Cutler, Jean-Pierre Drouet, Evelyn Glennie, Ikue Mori, Louis Sclavis, Stevie Wishart, Wu Fei, Camel Zekri, John Zorn, and scores of others. He has also developed a personal compositional language in works written for Arditti Quartet, Asko Ensemble, Bang on a Can All-Stars, Ensemble Modern, Concerto Köln, and ROVA Sax Quartet, for example. Fred has been active as a composer for dance since the early 1980s, working with choreographers Bebe Miller, François Verret, and especially long-time collaborator and friend Amanda Miller, with whom he has created a compelling body of work over the last twenty years. His film soundtracks (for award-winning films like Thomas Riedelsheimer's Rivers and Tides and Touch the Sound, Peter Mettler's Gambling, Gods, and LSD, and Deborah Kaufman and Alan Snitow's Thirst, to name a few) won him a lifetime achievement award from Prague's "Music on Film, Film on Music" Festival (MOFFOM) in 2007. The following year he received Italy's Demetrio Stratos Prize (previously given to Diamanda Galas and Meredith Monk) for his life's work in experimental music, and in 2010 was awarded an honorary doctorate from the University of Huddersfield in his home county of Yorkshire. Fred currently teaches in the Music Department at Mills College in Oakland, California (renowned for over fifty years as the epicenter of the American experimental tradition), and in the Musik Akademie in Basel, Switzerland.
Beth Custer is a San Francisco based composer, performer, bandleader, and the proprietor of BC Records. She has over thirty-five recordings out with her ensembles The Beth Custer Ensemble, Eighty Mile Beach, Clarinet Thing, Trance Mission and Club Foot Orchestra. Beth composed for the contemporary chamber ensembles Left Coast Chamber Ensemble, Zeitgeist, Earplay, City Winds, Turtle Island and Kronos String Quartets; for the theatre productions of Campo Santo Theatre, Berkeley and San Diego Repertory Theatres, Magic Theatre, California Shakespeare, Overtone Industries, and Cornerstone Theatre; for the dance troupes AXIS Dance Company, Joe Goode Performance Group, Roco Dance, Flyaway Productions, Ledoh, Harupin Ha, and Osseus Labyrinth; for the films of Cathy Lee Crane, Julie Wyman, Melinda Stone, George Spies, and Koohan Paik. She created KQED's Independent View theme with her band Eighty Mile Beach and composed for CBS/Film Roman's Twisted Tales of Felix the Cat with Club Foot Orchestra. Beth created four musicals with award winning writer Octavio Solis in LA and SF. Her collaborative scores with inventor and MacArthur Fellow Trimpin lead her to compose Vinculum Symphony, a site-specific, large-scale work that unites chamber musicians with experimental instrument builders. Her numerous awards include a six-week artist residency in an Italian castle at Civitella Ranieri Center and she was the first Bay Area artist to receive a second artist's residency at the Marin Headlands Center for the Arts. Other residencies include Montalvo Arts Center in Saratoga, CA, a McKnight Fellowship in Minneapolis, and with the SPaNk Ensemble at the University of Wyoming. She received the prestigious Meet The Composer New Residency grant wherein she was awarded $120,000 over three years to collaborate and create music. Other awards include MTC and American Composer's Forum Commissioning grants, three San Francisco Arts Commission Individual Artist grants, three Zellerbach Family Fund awards, a Gerbode award, and an Argosy Foundation recording grant. She also received the prestigious Aaron Copland Recording Fund award to release her 65-minute live film score for the rare Soviet Georgian silent film My Grandmother. The Beth Custer Ensemble has performed live with the film all over the world for over 10 years.
Christina Stanley is a Bay Area based violinist, improviser, multi instrumentalist, vocalist, electronic musician and songwriter who began piano at 5 and violin studies at the age of 8. she attended the San Francisco Conservatory of Music from ages 15-18 where she studied with li lin and eventually earned a full performance scholarship to San Francisco State University where she earned her Bachelors of Music and studied violin with Daniel Kobialka, Jassen Toderov and the Alexander String Quartet. After touring Europe and the US with various music groups, she attended HB studio in New York City where she studied theatre,dance and voice for two years. She then went on to earn an MFA in Music Performance and Literature from Mills College, where she studied violin with David Abel,composition and improvisation with Fred Frith and Roscoe Mitchell, and won the Margaret Lyon prize for excellence in music. She is currently an active performing musician and teacher, working as a solo artist as well as a member of various groups including the R&B group Tony! Toni! Toné! With whom she appeared at the Warfield, The Fox Theater and Yoshis SF and Oakland. Her solo compositions are published on Self Help Tapes. As a studio musician, she has appeared on albums for kill Rockstars, 4AD and Beggars Banquet/rough trade. She has been a featured Solo performer for the San Francisco Electronic Music Festival, a vocalist for the William Winant percussion ensemble, and has premiered works by George Lewis and Roscoe Mitchell for Mutable Music under conductor Petr Kotik. Her original painted graphic scores have been featured at the Outsound New Music Summit in San Francisco, Temple Ad Hoc in Los Angeles and Rock Paper Scissors Gallery in Oakland. She is currently working on a recording project with the ROVA Saxophone Quartet and recording and writing an album with the band Silent pictures. She is passionate about working with living composers and composing new music.