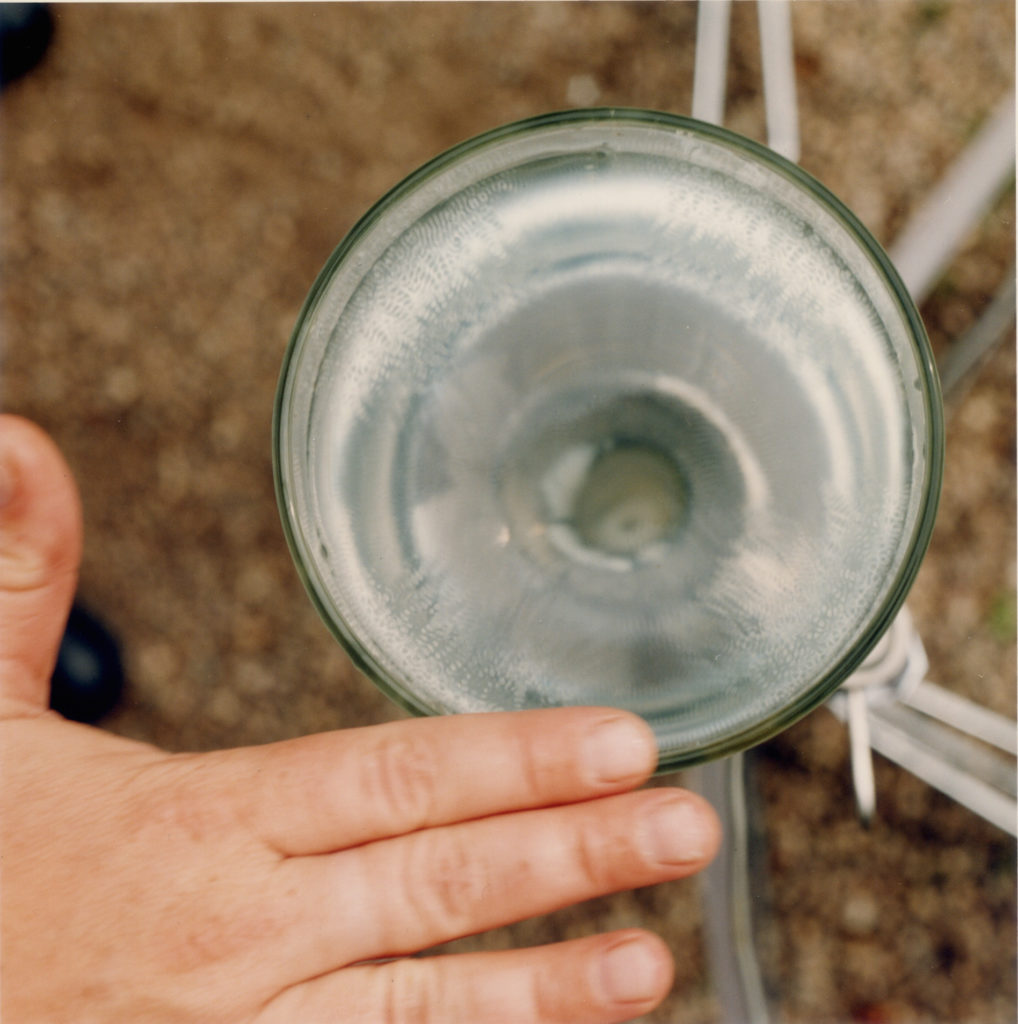 ARTIST TALK AND DEMONSTRATION
Thursday, November 10, 2016, 6 to 8 PM
Join the artist for a free opening reception! Talk and demonstration will begin at 7 PM and will feature a performance of In Two Directions, for piano and electronics, 1998, with pianist Jennifer Peringer.
About Sliding Sonorities
The exhibit Sliding Sonorities explores the sonic manifestations of the physical motion of sliding in two original musical instruments by Krystyna Bobrowski, Gliss Glass and the Sliding Speaker Instrument. While the instruments may be played individually, the design of the exhibit encourages musical interaction, collaboration and cooperation among visitors.
Gliss Glass
Krystyna Bobrowski
Gliss Glass is an original instrument consisting of a series of custom glass vessels of various sizes, filled with water, interconnected by a system of tubes and valves. Though much larger than a wineglass, the instrument is played in much the same way, by running a wet finger or hand around the rim. The glass vessels are lightly amplified to pick up subtle squeaks, sloshes and scrapes.
The musician controls the water level and flow through the instrument by manipulating the valves and vessel heights. As water drains or fills a glass vessel, the frequency rises or falls respectively. By making use of the basic principle of hydraulic equilibrium, the instrument creates naturally slow, shifting glissandos.
Gliss Glass was created by Krystyna Bobrowski during a residency at the Akademie Schloss Solitude in Stuttgart, Germany, 1997-98, and debuted by Bel Canto at the Internationale Ferienkurse für Neue Musik, Darmstadt, 1998.
Sliding Speaker Instrument
Krystyna Bobrowski
The Sliding Speaker Instrument consists of a loudspeaker tied to a string inside a five-foot long acrylic tube mounted in a modified cymbal stand. The loudspeaker acts as a moveable stop for the tube, in effect changing the tube's length and resonance. As the musician slides the speaker up and down the tube, she slides through the harmonic resonances of the drone-like audio material being played. The Sliding Speaker Instrument was created by Krystyna Bobrowski and was debuted at the San Francisco Electronic Music Festival, 2004.
Artist Statement
I make work based on my direct experience with sound and acoustic phenomena. Through installations, instrument building, composition, and improvisation, I invite people to actively share this experience in a cooperative way. Communication, social interaction and cooperation are all part of music making and community making in general; yet, they are often unspoken and unseen. What is the sound of cooperation?
Physics and acoustic phenomena inform my work. I use the acoustic principle of resonance to create a physical filter sweep in the Sliding Speaker Instrument; the physics of hydraulic equilibrium to create slow, shifting glissandos in the instrument Gliss Glass. These effects could be created easily with electronics alone; however, I choose to use the inherent limits of physical materials. With electronics I can make a glissando of any speed; with a vessel of water the glissando can only move as quickly as the water can drain. Choosing to work with physical limits creates a natural form and develops an intuitive understanding of the phenomenon behind them.
About the Artist
Krystyna Bobrowski is a composer, musician and sound artist. She designs and builds her own instruments using natural materials and everyday objects, often modifying an object's sound through physical manipulation and/or the use of electronics. The sounds of rocks and rocking chairs, seaweed and wine glasses, twigs and motors, leaves and water-filled tubes have all found their way into her pieces. Bobrowski is most known for the Gliss Glass, an original instrument consisting of a series of custom glass vessels of various sizes, filled with water, and interconnected by a system of tubes and valves.
In addition to performing her own work, she has performed and recorded the pieces of other composers including David Behrman, Anthony Braxton, John Cage, Alvin Curran, Lou Harrison, Larry Polansky, Wendy Reid and Christian Wolff. She has performed a number of times with the Merce Cunningham Dance Company and continues to collaborate with musicians in the Bay Area improvised music community. She performs and collaborates extensively with the improvisation ensemble Vorticella: Erin Espeland, Brenda Hutchinson and Karen Stackpole.
Bobrowski received her M.F.A. in Electronic Music and Recording Media from Mills College and her B.A. in Computers and Music from Dartmouth College where she first met and studied with Christian Wolff. She lives in Oakland, CA and teaches at the College of San Mateo (CSM) where she instituted the CSM Electronic Music Program. She has been an artist-in-residence at the Exploratorium, San Francisco, CA, Headlands Center for the Arts, Marin, CA and the Akademie Schloss Solitude, Stuttgart, Germany. Her scores are available through Frog Peak Music, a composers' collective.