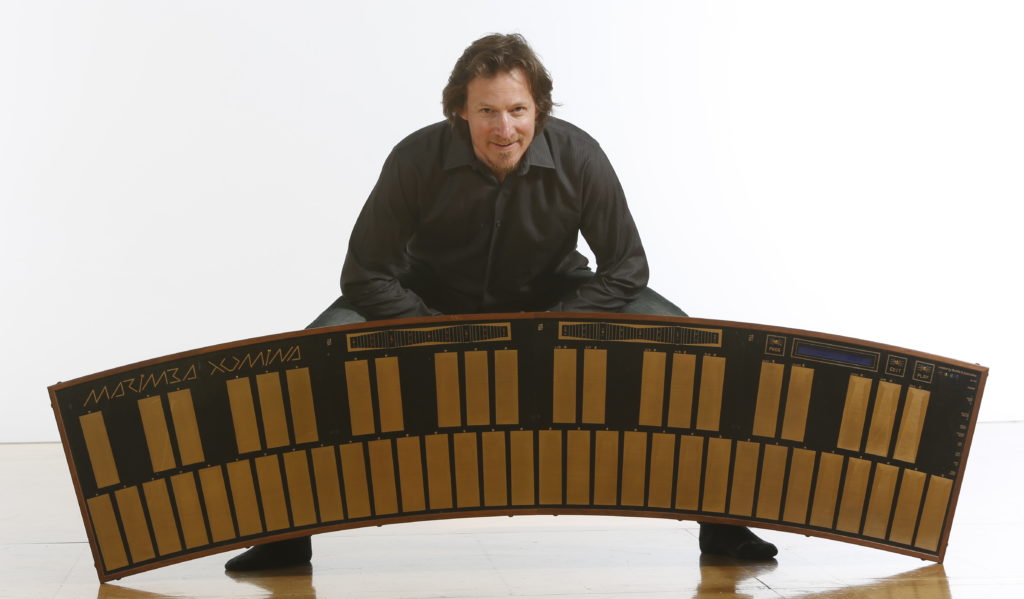 Joel Davel conjures Don Buchla: Instruments for Electronic Expression
Reception: 6pm
Curator Discussion and Demonstration: 7pm
Curated by Joel Davel
"In my many years working for Don Buchla, I had the pleasure of witnessing his drive to create innovative musical controllers. While many Buchla fanatics hail his modular synthesis designs, Don interest in them was often more about how a creative interface might inspire new composition. I first met Don when he introduced Thunder at Mills College in 1990. I had already experienced composing on his modular system and in particular his set up for computer control of it — a system that he installed at Northing Illinois University. But now Don was moving towards making live (portable) controllers that were in sync with my own needs as a performer/composer. By 1995 I was able to get deep enough into helping those innovations along to become the circuit board designer and the alpha tester for all the new ideas. I hope that by presenting works of Don's that focus on those years from 1989 to the end of this life, and being allowed to interact with them, gallery visitors might get a glimpse of the Don I knew much more than any recording or talk could."  -Joel Davel
Don Buchla (1937-2016)
Educated in physics, physiology, and music, Don Buchla's multi-faceted creativity was applied to fields as diverse as space biophysics research, musical instrument design, and multi-media composition. A UC-Berkeley alumnus, he spent the majority of his life as a resident of Berkeley, enjoying both the experimental and academic stimulation it offered. Much of his work was centered on the refinement of communication channels between man and machine, notably the invention of mobility aids for the visually handicapped, the development of instrumentation for bio-feedback and physiological telemetry, and the design of interactive electronic musical instruments and performance-oriented music languages.
With encouragement from Morton Subotnik in 1963, Don began to focus his efforts more on electronic musical instrument design. That led to many collaborations with musicians, composers, and researchers over the years in addition to performing with and co-founding such groups as the Electric Weasel Ensemble, and the Muse and the Fuse. From 1989 to 2004 — while other commercial sound resources flooded the market — Don focused on developing several exotic controllers that provide expressive alternatives to traditional musical input devices including Thunder, Lightning II, Wind, Rain, Marimba Lumina, and the Piano Bar. In his final years he revisited the 200 series—the"electric music box" series that made him a legend in the 1970's—by creating the 200e series modular.
Joel Davel worked with Don Buchla for over 20 years in many roles–his primary task being the PCB designer for all of Buchla's post-1995 designs including the Marimba Lumina, Lightning III, Moog Piano Bar, and all of the 200e series. Davel also performed alongside Don Buchla. Reviewing an event featuring Bob Moog and Don Buchla the Wall Street Journal wrote: "percussionist Joel Davel blew everyone away with his virtuosic improvisation on the Marimba Lumina, an electronic invention that emulates and extends the vocabulary of conventional mallet instruments, and the [Buchla] Lightning, played by waving wireless wands in space."
Davel's closest musical partnership is with Paul Dresher as part of the Dresher/Davel Invented Instrument Duo, Electro-Acoustic Band, and Double Duo quartet—an international touring group.  Davel has recording credits on marimba and electronics with groups led by electronic-diva Amy X Neuburg, violinist Kaila Flexer, and guitarist Jack West among others. He is Inspired by movement and storytelling and has enjoyed work with The California Shakespeare Theater, West Edge Opera, South Coast Repertory and composing and performing live for over six dNaga dance productions.
Now with Buchla USA, Joel works in his role as lead engineer to keep Don's creative vision and designs alive.
Davel holds Bachelor of Music from Northern Illinois University and MFA from Mills College.