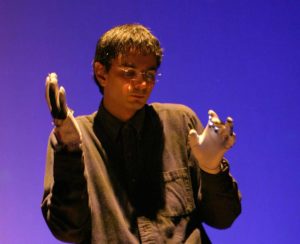 Rafael Toral plays electronic music today as a jazz musician would play his instrument, applying jazz discipline and working practices to his abstract electronics. The result is truly evolutionary music, once described as "a brand of electronic music far more visceral and emotive than that of his cerebral peers". Melodic without notes, rhythmic without a beat, familiar but strange, meticulous but radically free, it is riddled with interesting paradox. Toral has developed a musical system to physically play experimental electronic instruments and puts it to practice with large-scale project Space Program — a complex network of recordings and performances to deliver music that is full of clarity and space, articulating silence and sound in a thoughtful, yet physical way.
Formerly known for his drone/ ambient work with guitar and electronics and acclaimed records such as Wave Field (1994) or Violence of Discovery and Calm of Acceptance (2000), he has radically renewed his approach to music, launching the jazz-inspired and alien-sounding Space Program in 2004, using experimental electronic instruments.
Toral's long time connection with Sei Miguel is central to the development of the Space Program. Other collaborations include Jim O'Rourke, Evan Parker, John Edwards, Joe Morris, Tatsuya Nakatani, Chris Corsano, Manuel Mota, David Toop, Alvin Lucier, John Zorn, Phill Niblock, Christian Marclay, Sonic Youth, João Paulo Feliciano, Rhys Chatham, Lee Ranaldo, C Spencer Yeh, Dean Roberts… In 1998 he became a member of MIMEO electronic orchestra. Its other members are Keith Rowe, Thomas Lehn, Kaffe Matthews, Marcus Schmickler, Jérome Noetinger, Christian Fennesz, Peter Rehberg, Gert-Jan Prins, Cor Fuhler and Phil Durrant. Since 2008 he directs the Space Collective, a slowly developing orchestral group.
Also active in visual and spatial arts, Toral has produced video and several installations from 1994 to 2003.
Rafael Toral has performed throughout Europe, Canada, USA, Mexico, South Korea, Japan, New Zealand and Australia. He has been active performing and giving workshops.
Eric Glick Rieman is a composer/improviser and instrument manipulator, whose interests at the moment include the lengths of rat's tongues, snail trails, and plate tectonics. His fascination with putting sounds into space has led him into performing with the amplified innards of a modified Rhodes electric piano, and this, as well as piano, has been his primary performance instrument for the past 17 years.
http://www.ericglickrieman.com
Angst Hase Pfeffer Nase recordings are electroacoustic sound collage, utilizing analog tape mangling, re-purposed electronics, and computer tomfoolery. Live, Chris Cooper's prepared guitar and electronics are his portable simulacra. The physicality of various objects on the strings and pickups, and the chaotic fluctuations of the feedback and processing, combine into a mottled science fiction landscape. He is also a member of eight-piece improvisation ensemble The BSC (with Bhob Rainey, Greg Kelley, Howard Stelzer, and four others), broken jazz-rock ("noise") band Fat Worm of Error, beatless techno trio White Limo, and an un-named guitar duo with Bill Nace. He has had releases on the record labels Load, Ultra Eczema, Ecstatic Peace!, Open Mouth, Senufo Editions, Resipiscent, and Birdman.