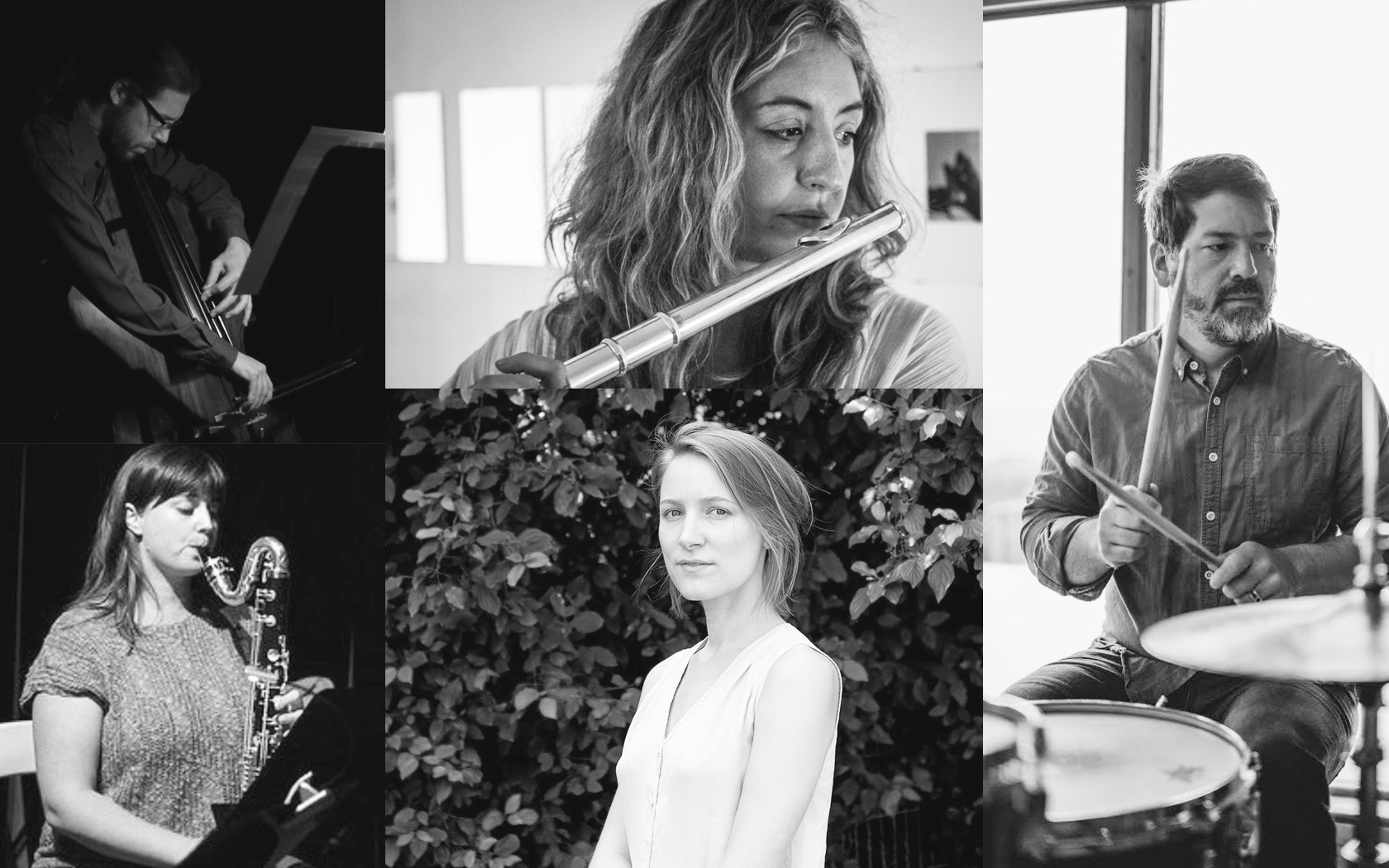 Two visiting pairs of accomplished experimental performers bring an ambitious program of solo and duo works to the Bay Area: from LA, Christine Tavolacci and Scott Worthington perform muto infinitas, a new hour-long work by Catherine Lamb for bass flute and double bass. Red Desert presents Cloudseeding 4 by Devin Maxwell, for solo bass clarinet and electronics, plus works by Pauline Oliveros and Alvin Lucier.
Program: Red Desert (Katie Porter, clarinets & Devin Maxwell, percussion)
Pauline Oliveros: Single Stroke Roll Meditation (1990) 4′
Devin Maxwell: Cloudseeding 4 for solo bass clarinet & electronics (2017) 30′
Alvin Lucier: Music for Snare Drum, Pure Wave Oscillator, and One or More Reflective Surfaces (1990) 8′
Christine Tavolacci, bass flute & Scott Worthington, double bass Catherine Lamb: muto infinitas (2017) 60′
muto infinitas

To conceive the presence of an individual or even a specific space, to think of that space as one will of a being, is to draw a distinction by arranging a boundary with separate sides so that a point on one side cannot reach the other side without crossing the boundary. – Mani Kaul The perception of space in an unfolding composition for bass flute and double bass – composed by Catherine Lamb, performed by Christine Tavolacci and Scott Worthington.
Catherine Lamb (b. 1982, Olympia, Wa, U.S.), is a composer exploring the interaction of elemental tonal material and the variations in presence between shades and beings in a room. She has been studying and composing music since a young age. In 2003 she turned away from the conservatory in an attempt to understand the structures and intonations within Hindustani Classical Music, later finding Mani Kaul in 2006 who was directly connected to Zia Mohiuddin Dagar and whose philosophical approach to sound became important to her. She studied (experimental) composition at the California Institute of the Arts (2004-2006) under James Tenney and Michael Pisaro, who were both integral influences. It was there also that she began her work into the area of Just Intonation, which became a clear way to investigate the interaction of tones and ever-fluctuating shades, where these interactions in and of them-selves became structural elements in her work. Since then she has written various ensemble pieces (at times with liminal electronic portions) and continues to go further into elemental territories, through various kinds of research, collaboration, and practice (herself as a violist). She received her MFA from the Milton Avery School of Fine Arts at Bard College in 2012 and is currently residing in Berlin, Germany.
Christine Tavolacci is a Los Angeles based flutist, composer and educator specializing in contemporary and experimental music. Christine is active as a soloist, improviser, curator and chamber musician both in California and internationally. She is co-founder and co-director of Southland Ensemble, as well as a member of the Dog Star Orchestra and Gurrisonic. Her playing has been released on Orenda Records, Slub Music(Japan) and Tzadik.
Scott Worthington is a double bassist and composer based in Los Angeles. As a performer, he plays in chamber ensembles, orchestras, recording studios, and as a soloist. His music has been commissioned by the Library Foundation of Los Angeles, Loadbang, the Ekmeles Vocal Ensemble, and numerous soloists. As a performer-composer, Worthington has released two albums to critical acclaim on Populist Records. The most recent, Prism, features his own music for solo bass with electronics and bass ensemble and was named one of The New Yorker's top ten classical albums of 2015 by Alex Ross. In 2017, Worthington became the principal bass of the Redlands Symphony and the Artist Teacher of Bass at the University of Redlands.

RED DESERT is the duo project of clarinetist Katie Porter and composer/percussionist Devin Maxwell. We have been performing, commissioning, creating and championing interesting music for 17 years. Founded in Brooklyn, NY but now calling mountains of Utah home, our repertoire prominently features experimental composers, especially ones that strive to challenge and enrich our understanding of what music is and can be. Recordings of Red Desert can be heard on Phill Niblock's XI label (NY), Edition Wandelweiser Records, and Infrequent Seams (NY).
KATIE PORTER is a clarinetist and curator who specializes in experimental chamber and solo music. She currently works to commission, record and present new chamber music through her arts non-profit, LISTEN/SPACE. Her curatorial work includes 50+ performances at her music venue, Listen/Space, in Williamsburg, Brooklyn (2008-2011), 25 new commissions and recordings for chamber ensemble for the Listen/Space Commissions (2015-17), 3 annual residencies for musicians and composers in Tollgate Canyon, Utah (2015-17), Co-founder of the VU Symposium for experimental, improvised, and electronic music at the Park City Library in Park City, Utah (2016-ongoing), curator of VU 2 (2017), a day-long concert of fixed media electronic music at the Park City Library, Utah, curator at ELMS (Experimental Listening and Music Sessions) in Boston (2017) and of ongoing commissions and concerts with her percussion/clarinet duo, Red Desert.
As a clarinetist, Katie's recent performances include Morton Feldman's Bass Clarinet & Percussion at Abrons Art Center (NYC), new commissions with Daniel Goode's Flexible Orchestra at Roulette (NYC), Arthur Russell's Instrumentals for the American Mavericks Festival at The Kitchen (NYC), Peter Gordon's LOLO at Roulette (NYC), solo concerts at Dog Star Orchestra (LA), with Craig Shepard at Issue Project Room (Brooklyn), Michael Pisaro's Asleep, Street, Pipes, Tones at Experimental Intermedia (NYC) and The Stone (NYC) and Tombstones with Julia Holter at Issue Project Room (Brooklyn), Christian Wolff, Tom Johnson, and other American experimentalists with the Dedalus Ensemble (France), music of Wandelweiser composers at the Twin Cities Wandelweiser Festival (St Paul), solo clarinet works of Giacinto Scelsi at Scelsiana (Italy), Morris Rosenzweig's 2005 and Counting: Katrina on the NOVA Chamber Music Series (SLC), Brian Harnetty's Shawnee,OH at the Contemporary Art Center (Cincinnati) and the Wexner Art Center (Columbus), and the premier of John Luther Adam's SILA at Lincoln Center (NYC). Katie can be heard on the record labels: Editions Wandelweiser, FOOM, Infrequent Seams, Mode Records, Gravity Wave, XI Records, Moniker, La Société Expéditionnaire and Dust to Digital, among others. Her songs are published by Good Child Music NYC and have been performed with her band, Lady Lucille, at the Ontological-Hysteric Theater (NYC), Triskelion Arts (Brooklyn), Pianos (NYC), Joe's Pub (NYC), SXSW (Austin), the Cakeshop (NYC), LadyFest (Chicago) and on the BBC Network.
Composer DEVIN MAXWELL's chamber music has been described as "amiably strident…clusters hammered insistently" by the New York Times and orchestral works "a beautiful puzzle, … fitting between plucks and pedals that build pyramid melodies" by the American Record Guide. He has recently been commissioned by the NEXT Ensemble (Ogden, UT), MMM… (Tokyo), BENT FREQUENCY (Atlanta), ENSEMBLE DEDALUS (Paris), the Deer Valley Music Festival Emerging Quartets and Composers for the SKYROS QUARTET (Lincoln, NB) and featured at The Stone (NYC), Abron's Art Center (NYC), the Ontological Theater (NYC), BLIM (Vancouver), ARTSaha (Omaha), the Wulf (Los Angeles), Monkeytown (NYC), Dartmouth College, Columbia University, NYU, Boston Conservatory, and Kenyon College. Two of his orchestral compositions, Six Short Places and Chester, NJ have been premiered at the Ostrava Days Festival in Czhechia. Awards include the Nief Norf Composition Prize, the Leroy Robertson Prize, "Best Experimental Film" New York Independent Film Festival, New Music USA/Commissioning Music USA, and an Honorable Mention at the American Composer's Orchestra 2013 Underwood Readings. His music is critically examined in the book Boring, Formless Nonsense; Experimental Music and the Aesthetics of Failure by Eldritch Priest, and the 2012 journal Postmodern Culture. Maxwell frequently collaborates with choreographer Jessica Gaynor Dance (NYC), filmmaker Rollin Hunt (Los Angeles), graphic designer Phillip Niemeyer (Austin), photographer Svavar Jonatansson (Iceland), clarinetist Katie Porter (RED DESERT) and violist/songwriter Anni Rossi (NYC). Maxwell is a graduate of The Cincinnati College-Conservatory of Music, California Institute of the Arts Composer/Performer and Ph.D. in Composition at the University of Utah. He is currently an adjunct professor at the University of Utah School of Music and Westminster College.
The first album dedicated solely to his compositions DEVIN MAXWELL WORKS 2011-14 was released on Infrequent Seams (NY) in June 2016 and features new works for orchestra, electronics, string quartet, solo and chamber ensembles and his compositions are published by Good Child Music New York and Éditions musique SISYPHE.