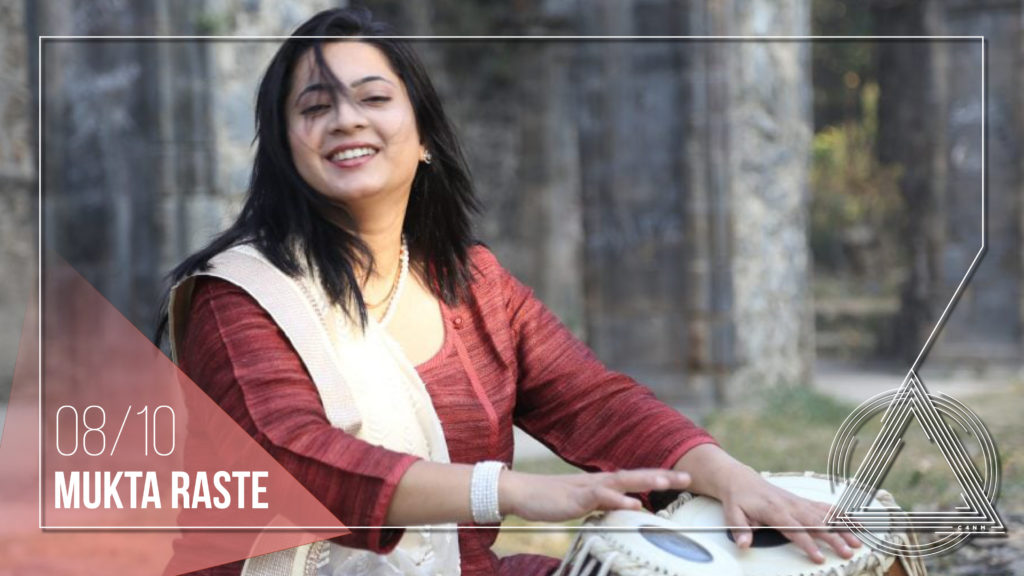 Renowned tabla player Mukta Raste has traveled from Mumbai, India to perform at C4NM as part of her international tour. Part of her performance will be joined by harpist Jennifer Ellis. Mukta Raste and Jennifer Ellis met through the U.S. State Department's One Beat program in 2016.
Mukta Raste began her musical life as a student of Indian classical vocals and harmonium, before switching over to the tabla, an instrument which has earned her nationwide acclaim. Consistently rated as a top performer at national tabla competitions, Mukta has earned prestigious awards from the Indian Ministry of Culture, Joan Memorial Scholarship and other nonprofits. "In tabla playing, each 'Taal' is set in a rhythmic cycle yet it grants immense scope for improvisation and sets free my imagination. I feel this should be relevant to our society also," explains Mukta, who continues to search for new ways to engage her community through the arts. Along with her constant gigging, Mukta has worked extensively with WIFT (Women in Film and Television) at U.S Consulate Mumbai along with other socially focused organizations engaging with women and the disabled.
Committed to pushing the boundaries of harp performance, Jennifer R. Ellis (D.M.A. University of Michigan, M.M. Cleveland Institute of Music, B.M. Oberlin) has performed ninety premieres. She embraces firsts; she was the first harpist to be a One Beat Fellow, a fellowship through the U.S. State Department, the first harpist to attend Bang on a Can, Fresh Inc., and Splice summer festivals. She has served as a featured performer for the Festival of New American Music, Sound of Late, Spitting Image Collective, Omaha Under the Radar, Kerrytown Edgefest, Creative Arts Orchestra, and OINC. Her recordings run the gamut from American Indian fusion (Dha Re Dha with Sumkali) to solo improvisation ("January Lullaby" on Persist) to new music for harp and saxophone (Launch with Jonathan Hulting-Cohen). An acclaimed performer, she has received the Alice Chalifoux Prize, Rackham Centennial and Graduate fellowships, AT&T Foundation and Conservatory Deans' scholarships, and holds prizes in the Ann Arbor Society for Musical Arts, Coeur d'Alene Young Artists, LMC of Seattle, and Inez Stafford competitions. She currently teaches for Harps Etc. and the San Francisco Conservatory of Music, where she specializes in community engagement.