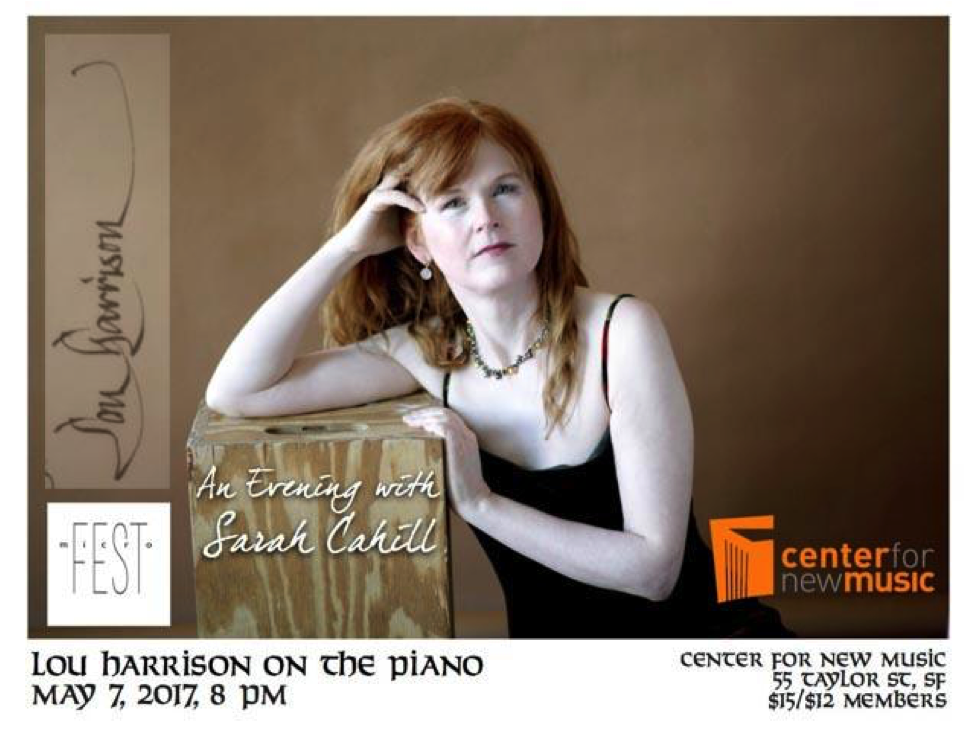 "Equal temperament destroys everything and is not for the human ear," Lou Harrison once said.  While the equal-tempered piano was not his favorite instrument, he composed a dazzling range of solo piano music.  Sarah plays his Summerfield Set, several movements from the Suite, two Cembalo Sonatas, the early Jig and Range-Song, and several unpublished and rarely performed works.
Sarah Cahill, recently called "a sterling pianist and an intrepid illuminator of the classical avant-garde" by The New York Times, has commissioned, premiered, and recorded numerous compositions for solo piano. Composers who have dedicated works to her include John Adams, Terry Riley, Frederic Rzewski, Pauline Oliveros, Julia Wolfe, Yoko Ono, and Evan Ziporyn, and she has also premiered pieces by Lou Harrison, Ingram Marshall, Toshi Ichiyanagi, George Lewis, Leo Ornstein, and many others.
Recent appearances include a concert at San Quentin of the music Henry Cowell wrote while incarcerated there, Lou Harrison's Piano Concerto with the La Jolla Symphony and Steven Schick, performances at the San Francisco Symphony's Soundbox, a residency at Dickinson College, and performances in New York at Le Poisson Rouge, Roulette, and the Stone. She has performed classical and contemporary chamber music with artists and ensembles such as pianists Joseph Kubera, Adam Tendler, and Regina Schaffer; violinists Kate Stenberg and Stuart Canin; the Alexander String Quartet; New Century Chamber Orchestra; Left Coast Chamber Ensemble; and many more.
Cahill has been featured on more than twenty albums on the New Albion, CRI, New World, Other Minds, Tzadik, Albany, Cold Blue, Pinna and Artifact labels. She recently finished recording a two-CD set of Terry Riley's solo and four-hand music with pianist Regina Schaffer for the Irritable Hedgehog label.
Cahill's radio show, "Revolutions Per Minute", can be heard every Sunday evening from 8 to 10 pm on KALW, 91.7 FM in San Francisco. She is on the faculty of the San Francisco Conservatory, and curates a monthly series of new music concerts at the new Berkeley Art Museum.
For more information, visit www.sarahcahill.com.