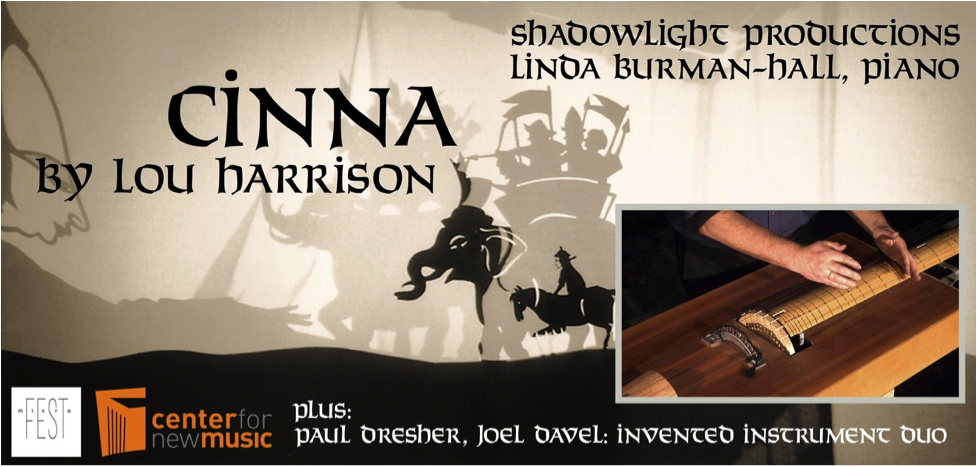 World Premiere of Lou Harrison's CINNA as a Shadow Play
ShadowLight Productions
Just Intonation Tack Piano
Linda Burman-Hall
Moving Parts for Hurdy Grande
Paul Dresher & Joel Davel
Pre concert panel discussion at 7pm with: Larry Reed, Paul Dresher, and Daniel Schmidt, music at 8pm
In 1957, Lou Harrison was inspired to write incidental music for a 17th century French play, Cinna, by Pierre Corneille.  The play is a grand political intrigue, set at the beginning of the Roman Empire, dealing with loyalty, revenge and forgiveness. Although he intended for it to be performed with puppets, the performance didn't materialize in his lifetime.
Working with pianist Linda Burman-Hall, shadow master Larry Reed will bring Harrison's vision to life, utilizing new types of Romanesque shadow figures inspired by Harrison's rod puppet designs. The play will be condensed to its essence to create a unique and enriching evening, weaving music, language and shadows together seamlessly.
The Dresher/Davel Invented Instrument Duo
Performing live on a pair of huge invented musical instruments, the Duo of acclaimed composer, performer & instrument inventor Paul Dresher and percussionist-extraordinaire Joel Davel consistently generate excitement and wonder.
Playing the 15-foot Quadrachord or the 10-foot Hurdy Grande—both controlled by Don Buchla's magical Marimba Lumina—Dresher and Davel create lush textures and rhythmically propulsive grooves that fascinate the ear and the eye. Exploring unique sound-colors amplified by live digital looping, this electro-acoustic duo creates complex sonic layers as rich as a full orchestra.
Audiences are sonically immersed and visually overwhelmed both by the sight and sound of these sculptural inventions as well as the energetic and imaginative ways Dresher and Dave interact with them physically.