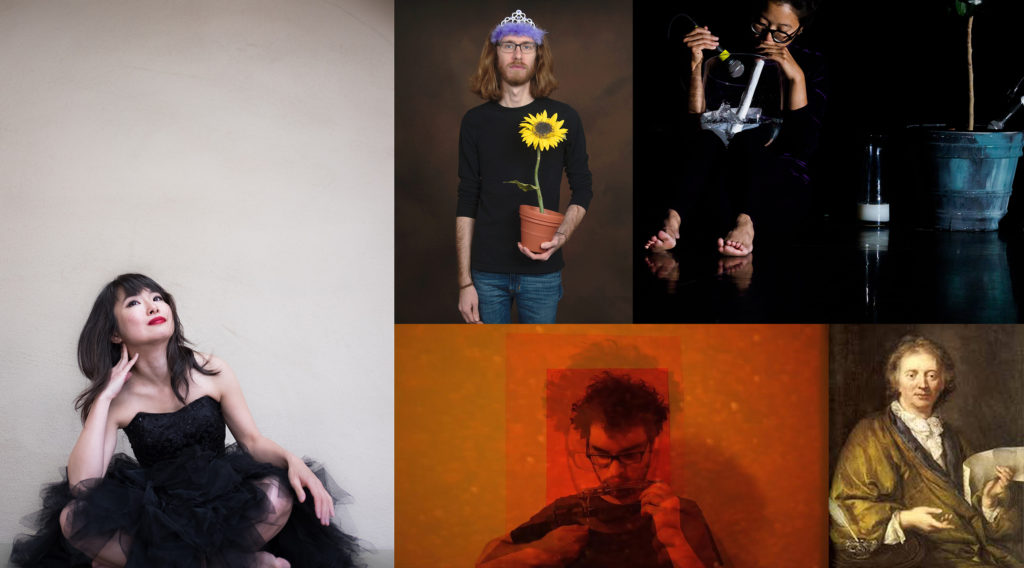 Pianist Mari Kawamura plays new works by Joey Bourdeau, Anthony Vine, Annie Hui-Hsin Hsieh for piano and electronics, as well as François Couperin's 'Ordre 18ème de clavecin' (1722).
François Couperin: Ordre 18ème de clavecin (1722)
Joey Bourdeau: Imaginary Concerto (2018)
Anthony Vine: Soft Margins and Wide Peripheries (2018)
Annie Hui-Hsin Hsieh: Chamber of Glistening Whispers (2018)
Mari Kawamura is a concert pianist whose curiosity and wide-ranging interests have taken her in many directions. Her repertoire includes pieces by William Byrd, late Scriabin, Xenakis, Cage and several contemporary Japanese composers. She has been collaborating with composers for many years and has premiered many works by young composers. She has appeared in the major festivals, such as Tanglewood Music Center, Spoleto Festival USA and the Darmstadt International Summer Course and has given both solo and chamber music concerts in various venues, including Jordan Hall (Boston), Regent Hall (London) and Kirsten Kjær Museum (Denmark). Her 2013 performance of Xenakis's Dikthas at the SICPP in Boston was described as "an unrelenting volcanic eruption" by NEWMUSICBOX. Kawamura holds a Master's degree from the Royal Academy of Music, where she achieved the DipRAM prize for her outstanding final recital. Her master's thesis "Realization of Music for Piano 21-36" focused on "performers' own discretion in Cage's music, which is indeterminate with respect to its performance." Her teachers included Vadim Sakharov, Tatiana Sarkissova, and Stephen Drury. Kawamura is now pursuing her DMA degree under Aleck Karis at the University of California, San Diego.
Joey Bourdeau: Imaginary Concerto (2018)
Written for Mari Kawamura in 2018, Imaginary Concerto is a work for piano and electronics which takes the performer on a journey through a series of surreal imagined landscapes, and musical situations. Quoting extensively from various areas of the piano repertoire, as well as from Francis Couperin's L'Art de Toucher le Clavecin, the work takes a playful and personality-driven look at the nature of virtuosity and performance in general. Throughout the work, the personalities of the composer, performer, and quoted materials often interact in surprising ways, addressing in particular the virtuosity of flexibility and range, while creating a diverse and chaotic environment.
Anthony Vine: Soft Margins And Wide Peripheries (2018)
Soft Margins and Wide Peripheries consists of a number of modules—ranging from single held notes, to multiple pages of events—built from an interconnected reservoir of piano harmonics. The material is cast in a series of grids, in which the spacing and proximity of events between and within these grids illuminates the subtleties of the harmonic and timbral qualities of each string and harmonic. These simple forms attempt to discourage a syntactical mode of listening, inviting one to take notice of peripheral facets of each harmonic sonority (e.g. variance in articulation on a single harmonic, how the decay of a note blooms or dissipates). The influence of Agnes Martin and Mei Mei Bersenbrugge loom largely in this piece.
Annie Hui-Hsin Hsieh: Chamber of Glistening Whispers (2018)
This piece portrays a scenario of an intimate conversation between the pianist and the piano. Treated as a big resonating echo chamber, the interior of the piano is tickled, caressed, soothed, inspected and provoked by the various ways the pianist is instructed to articulate the strings. Like a piece of foam soaking in centuries of repertory memory, the piano slowly and gradually awakens to respond to the initiations of the pianist, emerging from a passive state to become a sounding partner to the pianist. The audience is invited to be the onlookers to this partnership, being given a glimpse into this intricate and personal engagement.