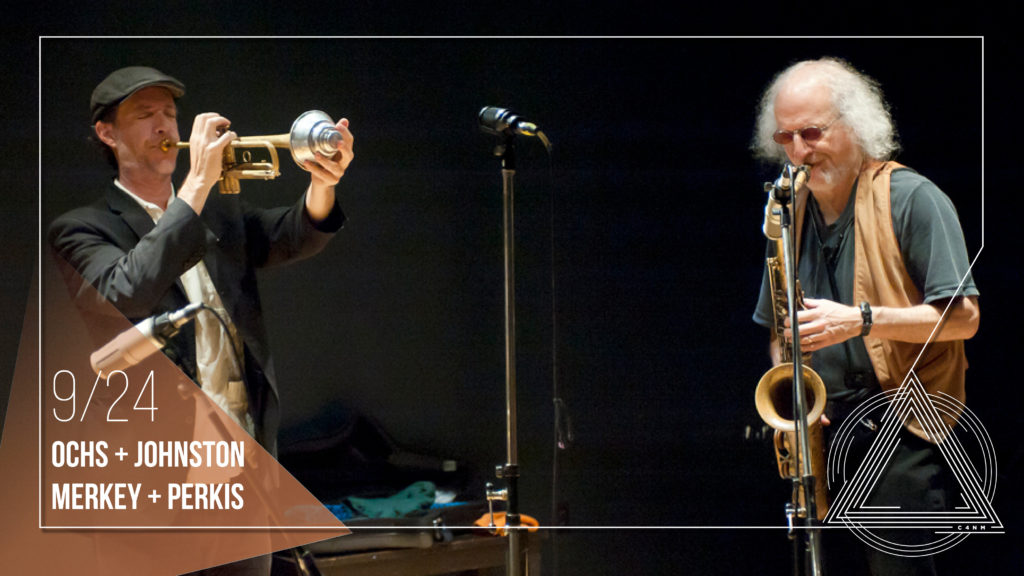 Larry Ochs – saxophones
Darren Johnston – trumpet
Madalyn Merkey – electronics
Tim Perkis – electronics
After years performing in the all-winds improvisation trio SPECTRAL, Ochs + Johnston get together for a special first-time quartet meeting with electronics masters Tim Perkis and Madalyn Merkey. The hope here: to combine improvising sensibilities, setting each other up time and again to capitalize on structural possibilities that give rare and meaningful form to an otherwise very spontaneous music.
MADALYN MERKEY is a composer and performer of live computer music based in the San Francisco Bay Area. Her recent work observes the principles of acoustic instruments and material spaces to design real-time sound synthesis programs for site-specific performances. In 2015, Merkey translated the pioneer electronic music text, Due scuole di musica elettronica in Italia (1968) by composer Enore Zaffiri (b. Turin, 1928), from Italian to English. She first realized the audio portion of Zaffiri's projects at Mills College in 2014 as part of her MFA thesis in Electronic Music. She then completed further research at the Conservatorio di Musica Luigi Cherubini in Florence, Italy. The translation, Two Schools of Electronic Music in Italy, is forthcoming from Die Schachtel.
TIM PERKIS is a well-known figure in the worlds of improvised and electronic music. He is also a founding member of several electronic music ensembles, including FuzzyBunny, Splendor Generator and the pioneering computer network band The Hub. Recordings of his music are available on the Artifact, Tzadik, New World and EMANEM labels, among others. His documentary film NOISY PEOPLE(2007) and NOISY PEOPLE podcast (2015) are available at noisy people.net and perkis.com.
Since settling in San Francisco in 1997, Canada-born trumpeter/composer/songwriter DARREN JOHNSTON has collaborated and recorded with an extremely diverse cross-section of artists, yet always finds ways to be true to his own unique voice in each context. From straight-ahead jazz luminaries such as bassist/composer Marcus Shelby, to experimental icons like ROVA, Fred Frith and Myra Melford, rising star in the singer/songwriter world like Meklit Hadero, or traditional Balkan brass band giants Brass Menazeri. As a bandleader he has made his mark with the award winning The Nice Guy Trio, The Darren Johnston Quintet, the category defying Broken Shadows, and more. Johnston was featured as one of Downbeat Magazine's "25 Trumpeters for the Future," and has been listed multiple times in the critic's polls. His debut quintet recording, "The Edge of the Forest" received four stars by four very different critics in the Downbeat "Critics Polls," and was given an honorable mention by the Village Voice for the top 10 CDs of the year. Johnston has a BA from the Cincinnati Conservatory of music, and an MFA in composition from Mills College. He has received commissions for dance companies such as Kunst-Stoff, and Robert Moses' Kin, and AXIS Dance, presenting organizations such as Intersection for the Arts, the De Young Museum, and the Yerbas Buena Garden Festival, and his music has been used in a few independent films. His original works have been supported by the Zellerbach Family Fund, Meet the Composer, and SF Friends of Chamber Music. In June of 2013, he will premiere his upcoming commission from the Yerba Buena Gardens Festival, "Letters From Home," developed in collaboration with choreographer Erika Chong Shuch, for which he is forming a multi-generational chorus with over eighty participants, the Trans-Global People's Chorus. As an educator, Johnston currently teaches privately, at the Community Music Center in San Francisco's Mission district, the Oakland School for the Arts, and as adjunct faculty at the University of California, Berkeley.
As a member of Rova Saxophone Quartet since 1977, LARRY OCHS has made more than two-dozen CDs and 40 tours to Europe and Japan. He has recorded dozens of CDs with his other touring bands including Larry Ochs Sax & Drumming Core with Scott Amendola, Don Robinson, Satoko Fujii, and Natsuki Tamura ("Stone Shift"- 2009 CD; next CD in 2015 on Rogue Art) and Kihnoua with vocalist/performance artist Dohee Lee, Scott Amendola and special guests ("The Sybil's Whisper"- 2012 CD – music samples here). He is performing in and composing for more "collective" bands such as: East-West Collective – with Didier Petit, Sylvain Kassap, Miya Masaoka, Xu Fengxia ("Humeurs" – 2014 CD – music samples); Ochs-Robinson Duo with drummer Don Robinson (2014 CD = The Throne – www.larryochs.nadcamp.com); Jones Jones – with Mark Dresser and Vladimir Tarasov ("We All Feel the Same Way"- 2010 CD- music samples); Maybe Monday – with Miya Masaoka and Fred Frith (Unsquare -2008 CD); Shelton-Ochs Quartet with Aram Shelton, Kjell Nordeson and Mark Dresser; Trio Dave Rempis- Darren Johnston- Larry Ochs (Spectral- 2014 CD – preview track). He has performed with Kronos Quartet, John Zorn, Steve Lacy, Anthony Braxton, Nels Cline, John Lindberg, Scott Amendola, Andrew Cyrille, Butch Morris, Marilyn Crispell, Henry Kaiser, Wadada Leo Smith, Peggy Lee and many others).