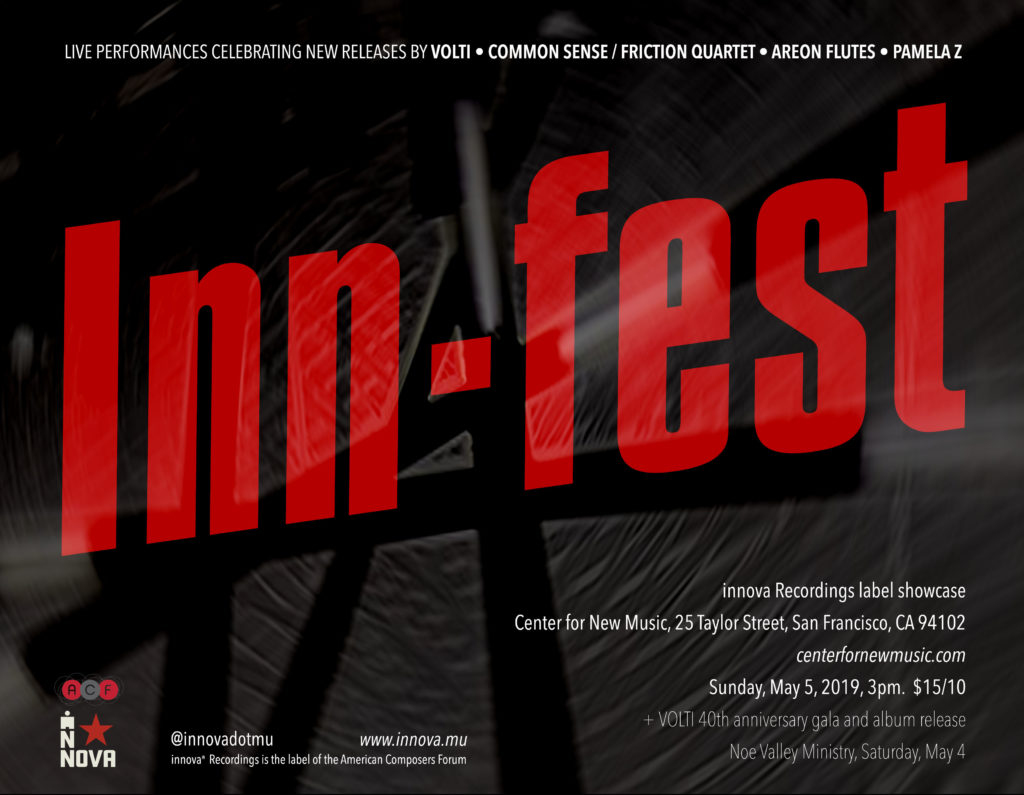 Inn-fest, the annual Innova label showcase, is coming to the Bay Area, May 4-5, 2019 and will feature a smorgasbord of regional acts from its roster of visionary musical artists. Inn-fest is a two-day celebration that celebrates a range of groundbreaking music on the Minnesota-based label, tied to brand new and recently released albums. From daringly a cappella choral music, to dazzling flute trios, audacious string quartets, and breathtaking vocals with electronics, there will be much sonic tastiness to sample.
Innova, the record label of the non-profit American Composers Forum, has been called the premier label for American new music. Its catalog of over 650 titles encompasses diverse genres, concepts, and approaches — all somehow non-conformist, individualistic, and groundbreaking. More than just a record label, Innova coaches artists throughout the process of releasing their work into the wider world. Artists keep 100% of all rights and income — the highest in the business. Innova also produces annual live events such as Inn-fest, now in its fourth year having previously been at The Stone and National Sawdust in New York, and Studio Z in St. Paul.
The program includes sets by:
• Friction Quartet performing selections from Spark, an album of works by members of Common Sense Composers' Collective: Dan Becker, Marc Mellits, John Halle, Carolyn Yarnell, Belinda Reynolds, Melissa Hui, Ed Harsh, and Randall Woolf;
• Areon Flutes (Jill Heinke Moen, Kassey Plaha, Meerenai Shim) performing selections by Ryan Brown and Cornelius Boots from their albums NO ERA and Thrive;
• Volti 'Singing Without a Net for 40 years' vocal ensemble under the direction of Robert Geary, reprising selections from their new album the color of there seen from here; and
• Pamela Z, works for solo voice and electronics from her upcoming Innova album, A Secret Code.